A Maharashtrian girl who is elder than a Punjabi Munda fell in love. A beautiful film actress who is pursued by every other man in the industry fell for a producer. A one-sided love story that turned into a promise of forever. Whose love story it might be? None other than Sonali Bendre-Goldie Behl's Love Story. Their love story is no less than a romantic saga.
Let's scroll down to find out the details.
Must Read the following:
Sonali and Goldie first met on the sets of Naraaz
They first met in 1994 on the sets of the film Naraaz. Goldie found her attractive and fell for her instantly. Sonali Bendre's reputation preceded her, so Goldie had to try different track to impress her.
Goldie commented her on slow eating pace. To his horror, the comment upset her. But it broke the ice and they started talking. And hence, Sonali Bendre-Goldie Behl's Love Story progressed because of the most absurd reason, food!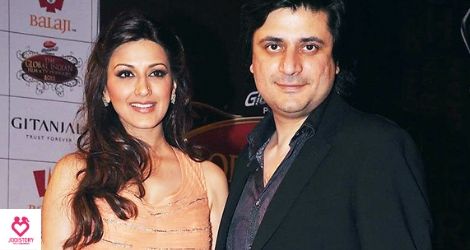 Sonali Bendre-Goldie Behl's Love Story bloomed on the sets of Angaarey
Goldie produced and also assisted Mahesh Bhatt on the sets of the film Angaarey. The task led Goldie to converse with Sonali more and more.
He grasped the opportunity. Soon, they became friends and hanging out more often. Goldie would also visit the sets of Major Saab to meet his friend Abhishek Bachchan. Luckily, Sonali was a part of it and hence they would see each other frequently.
Goldie's proposal to Sonali
At first, the attraction between them was one-sided. Sonali was in denial. Later, Goldie's chivalric and humble behaviour impressed Sonali.
Long drives and heated political discussions played a pivotal role in their relationship. They could talk about anything and their bond strengthened. Goldie's acceptance of Sonali as an actor and celebrity helped. Their understanding and compatibility with each other finally led to love.
At Abhishek Bachchan's party, Goldie gave a dream proposal to his lady-love. He got down on one knee and popped the question. Much to his immense happiness, Sonali agreed!
Sonali Bendre-Goldie Behl's marriage
On November 12, 2002, the couple tied the pious knot in a lavish ceremony. The wedding saw the presence of Cheif Minister of Maharashtra, Vilasrao Deshmukh.
Other celebrities from the field of entertainment, sports and politics also graced the ceremony. The wedding saw the presence of Aamir Khan, The Bachchan's, Manisha Koirala, Kajol, etc.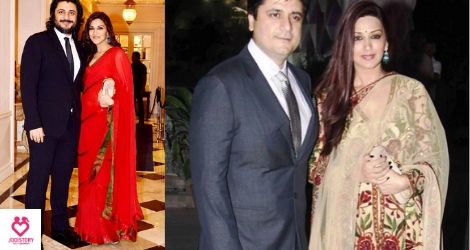 Sonali and Goldie's children
After three years of their blissful marriage, they welcomed their firstborn. Ranveer joined the team on August 11, 2005.
They take their responsibility as parents quite seriously. Even with her busy schedule, Sonali prepares Ranveer for his school. Goldie also spends time with his son and dotes on him.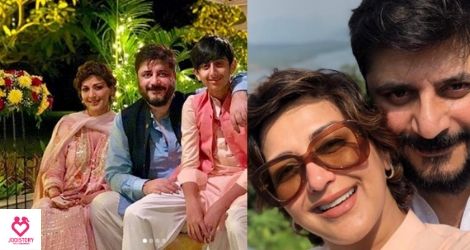 Sonali Bendre-Goldie Behl's Love Story test its limits
Unfortunately, in July 2018, Sonali was diagnosed with cancer. In this difficult time, her husband stood by her and offered his diligent support.
When the caring parents broke the sad news to their son, he handled it maturely. Sonali's family became her pillar of strength. Fortunately, she recovered and is back with her normal life.
Must Read the following:
Conclusion
It has been over two decades now, but their love is still strong. Till date, their most of conversation revolves around food. They understand each other well and know each other inside-out. Despite the difficult times, they emerged victorious due to their strong bond. No wonder Sonali Bendre-Goldie Behl's Love Story is a romantic saga. Isn't it?