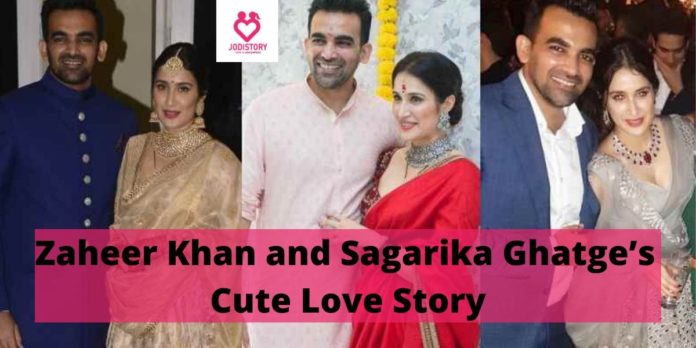 Cricketers and their love stories are more fascinating than others' love stories. And many of us may be aware of the love story of Virat Anushka, Dhoni Sakshi. But do you know Zaheer Khan too had a love story? Well, that's interesting to know each about Zaheer's Love story. He is an Indian ex-cricketer. He worked and played the game for the Indian national team from 2000 to 2014. Zaheer was the successful and best Indian pace bowler. He started his domestic career by playing for the city Baroda. Khan is married to Sagarika Ghatke. Are you excited to know all about Zaheer Khan and Sagarika Ghatge's cute love story? Then don't go anywhere. Join us to know all about Zaheer and Sagarika. How did they fall in love with each other ? Where did they meet?
How Zaheer and Sagarika Met?
Zaheer and Sagarika's love story is nothing less than a fairy tale. Both met in group outings owing to a mutual friend for the first time.
Something between them begun during their very first meeting.And it never became their last meeting. Both Became good friends.
Must-Read love Story
Sagarika and Zaheer eventually started dating and their romance blossomed into a dreamy love story.
Zaheer Khan Made their relationship public
The rumors about the pair had been dating was in the air. But from the start, they chose to maintain silence on this matter for a long period of time. The marriage of Yuvraj Singh-Hazel Keech made their first ever public appearance.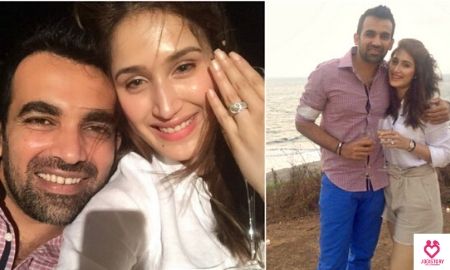 Both dated each other for approx nine months and when everything was sorted out both decided to make it official. And then Zaheer took to twitter to announce his relationship on twitter.
Zaheer Khan and Sagarika Ghatge Engagement
It was during the Indian Premier League (IPL) 2017 edition that Sagarika and Zaheer got engaged and posted a cute picture on Instagram. Making their relationship public.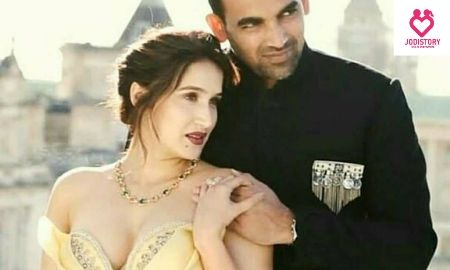 Both shared engagement pictures. And it started making rounds on social media soon after Khan announcement on Twitter.
Many of the big stars and cricketers like Sachin, Sehwag congratulated the couple.
Zaheer Khan and Sagarika Ghatge Wedding
The pair opted for a court marriage on 23 November 2017. They flooded the internet on fire with the adorable pictures of their Mehendi ceremony and marriage photo-shoot.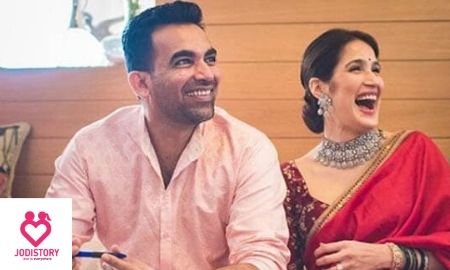 Ghatge looked stunning and gorgeous in different regal outfits. Zaheer Khan bowled many hearts with his suave and hot looks.
The Wedding Reception of Zaheer and Sagarika
Sagarika and Zaheer after their marriage in a private ceremony. Both organized the wedding reception. And the celebrity from the world of Bollywood and cricket made their way. And blessed the new couple along with the celebration.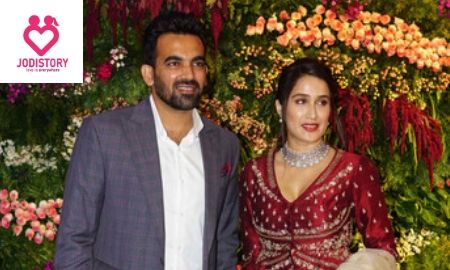 The wedding reception was in a Mumbai hotel, where Sachin, with his wife, marked their presence. Zaheer's close friend and teammate Yuvraj Singh with his wife Hazel also showed up their presence.
International tennis player Sania Mirza and ex-Miss Universe Sushmita Sen were also invited.
Sagarika Ghatke and Zaheer Khan romantic honeymoon
After a week of marriage. Sagarika and Zaheer were having the best time of their life at the Maldives.
The love-birds have shared pictures of their honeymoon outing on their Instagram handles.
Must-Read love Story
Captioning the picture, Sagarika wrote, "Stargazing and some lovely dinner on the cruise. Thank you for the most lovely surprise."
Conclusion
Isn't Zaheer-Sagarika's love story is like a Bollywood script? Zaheer and Sagarika's love story full of romance, love, laughter, and togetherness. I hope you all liked their fascinating love story. Do share your views on this love story in the comments section below!