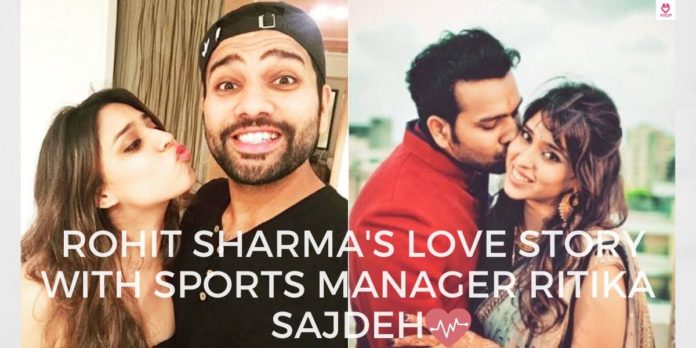 Who does know Rohit Sharma? The cute smiling Hitman Rohit Sharma the vice-captain of the Indian cricket team. And the most famous cricket icon and the captain of Mumbai Indians. Rohit Sharma Love story is full of Fairytale proposals and young romance. Come with me to know the Rohit Sharma love with sports manager Ritika Sajdeh.
Must-Read love Story
How Rohit Sharma Met Ritika Sajdeh
We all know about Rohit's record and achievement but only a few people know about Ritika Sajdeh, who is Rohit's lucky charm.
Many of us are unaware of the cute and romantic love story of Rohit Sharma and Ritika Sajdeh.
Actually Ritika happens to be his sports manager and a great pillar of support in Rohit's life.
Let's have a deeper look at the love story of a stunning couple of Indian cricket team.
Rohit first met Ritika Sajdeh at shooting. Actually Yuvraj Singh was shooting for an advertisement. And being his sports manager Ritika Sajdeh was with Yuvraj Singh.
In the first look, Rohit's eyes stuck on her beauty. However, instead of introducing Ritika to Rohit. Yuvraj wanted Rohit to keep away from Ritika, as Ritika was his Rakhi sister.
According to Rohit, "Ritika was sitting in Yuvraj's trailer. So before Rohit even spoke to her. Yuvi (Yuvraj Singh) told me not to speak to her as she was his sister".
How Rohit and Ritika fall in love
Soon Ritika becomes a Rohit's sports event manager and takes care of Rohit meetings as his managers.
Then their friendship slowly turns to love and the couple started dating each other.
They dated each other for six-year before officially announcing their relationship.
Rohit Sharma proposed Ritika Sajdeh in Borivali Sports club
On April 28, 2015, right-handed batsman with his long innings of relationship. He proposed to his lady love in the most romantic and unimaginable way.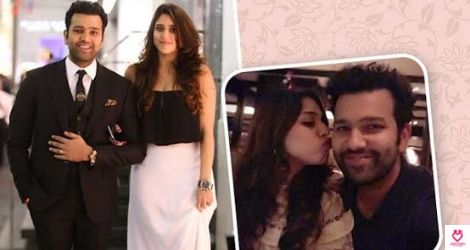 Rohit bows down on his knees with a solitaire ring in his hand. At the Borivali sports club Mumbai the place that holds great importance in his life.
It was the club where he started playing cricket at 11. This astonished Ritika and she accepted the proposal and said yes.
Rohit Sharma marriage Date with Ritika Sajdeh
After engagement with Ritika Sajdeh on June 3, 2015. Cricketer Rohit Sharma also expressed his feelings on social media.
He tweeted a wonderful tweet "From best friends to soulmates, couldn't get any better".
Six months after their engagement, they happy & romantic couple decided to marry. Then they tied the pious knot of marriage at Mumbai Taj Land's End on December 13, 2015.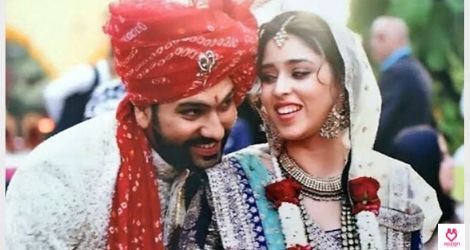 Ritika was looking stunning in lehenga. while Rohit Sharma appeared Handsom in perfectly tailored Raghavendra Rathore sherwani and red bandhej turban.
On the auspicious day of their wedding reception. Almost whole cricket visited. Also, many famous celebrities of Bollywood attend their wedding reception and blessed. Ritika sparkled in a blue lehenga while Rohit spotted in a stylish tuxedo.
Along with their wedding reception, Ambani also hosted a party for Rohit Sharma at his house Antilia. The couple also had a late honeymoon in June 2016 in Europe.
Social Life of Rohit Sharma
Apart from loving each other Rohit and Ritika are also very active on social media.
There are ample of posts and stories on Instagram and Twitter. After marriage, Rohit posted a picture of his wife Ritika with a loving caption.
"My beautiful wife can't take my eyes off her"
Rohit Sharma's Daughter
On December 13, 2018, Rohit Sharma & Ritika showered with a blessing. They had an entry of newly born baby girl "Samaira".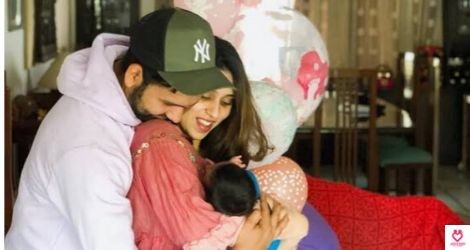 The proud father flew back from Australia to see his daughter and wife. Missing the fourth test against Australia in Sydney. That is family love.
Must-Read Love Tips
Rohit Sharma 2nd Anniversary Gift "Century" on ground
Rohit on his marriage anniversary dedicated a wonderful 3rd century as a gift from his bat to his wife.
Then Rohit kissed his ring finger on getting to the double century made his wife happy and emotional.
So this was the end of the love story of Hitman with his love Ritika. Rohit Sharma love with sports manager Ritika Sajdeh is mesmerizing.