If you love shopping then you must have visited "Indiamart" once or twice. And today you are going to read the love story of Dinesh Agarwal CEO, founder of Indiamart. Below is the life story of a man who has a perfect wife, a happy family, and satisfied entrepreneur life. Man with pure heart for personal life. And a sharp intelligent mind for professional life. Come and witness the Dinesh Agarwal love & success story with Chetna Agarwal (Indiamart).
Must-Read Love Story
Dinesh Agarwal Indiamart beginning
Dinesh Agarwal, Founder, and CEO of Indiamart is a leading internet entrepreneur, investor, and social worker. Not only this, but he's also the man behind the establishment of India's online marketplace and B2B business.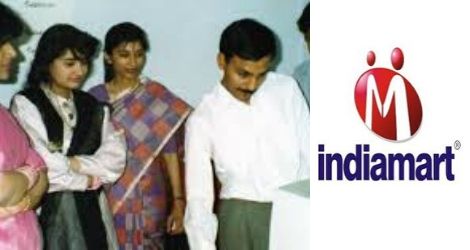 Born in a family of businessmen, yet he never wanted to be a businessman. However, fate has its own way of bringing Dinesh Agarwal close to entrepreneurship.
In this way, destiny made him one of the revolutionary business tycoons. A romantic husband and a responsible father along with motivational businessman.
DINESH AGARWAL LOVE STORY & SUCCESS STORY STARTED TOGETHER
When the hero of our story, Dinesh Agarwal came back from the U.S, with the intention of getting married. His parents showed him a photo of a cute Indian girl.
It was love at first sight for Dinesh. he fell in love with her beauty instantly. And decided to arrange a marriage with Chetna. Before marriage, Dinesh wished to meet Chetna.
The couple met for the first time. And within fifteen days of the meeting. They tied pious knot forever. And Chetna became Chetna Agarwal.
Chetna Agarwal Became co-founder of IndiaMART
After a happy marriage, Dinesh Agarwal returned back to U.S.A. Soon, after realizing the potential of the Internet across the globe. Then Dinesh decided to move to India along with his family.
The reason behind returning back to India as he wanted to start up something of his own. Although, he had no clue about it.
As the hero of our story, Dinesh progressed to realize his dreams. Meanwhile, our heroine Chetna Agarwal sacrificed her career to keep the family intact.
After some time Chetna Agarwal became Co-founder at Indiamart. Chetna belongs to a religious family. Obtaining a degree of M.com from Lucknow University. And then awarded by Gold Medal while pursuing ICWA at the national level.
Dinesh Agarwal (IndiaMART) happy family
Soon after their marriage, they were blessed with two sons. One of them named Amit and the other named Bharat. Dinesh's life has showered with the love of a wife. God blessed two sons. And his business became his identity. This could only have been possible in Dinesh's life with trust, love, and hard work.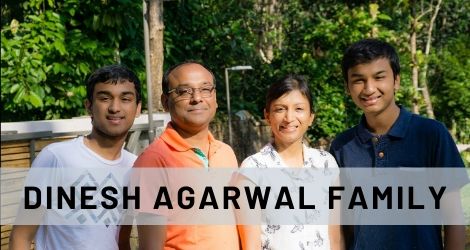 Dinesh Agarwal love for Chetna Agarwal
Chetna Agarwal used to visit the Indiamart's office along with her two kids. So that the entire family could spend some quality time together. Dinesh loved such moments as she would make his office feel like home to him.
Chetna Agarwal has been the guiding force of his actions. And she made significant contributions in turning her husband's dreams to reality.
Eventually, in earlier days of IndiaMART Dinesh Agarwal worked late in the office. Being cringy and bringing colleagues home was becoming a habit of Dinesh.
But Chetna Agarwal never complaint for his habit of coming home late and bringing colleagues together. And with a smile that won the hearts of millions.
She is a supportive wife and a responsible woman who not only looks after her family but lends an extra hand for the charitable work.
Chetna Agarwal love helped Dinesh Agarwal to successful in IndiaMART
Chetna loved to keep a track of all the cuttings from the newspapers and magazines that mentioned Indiamart. So that when it would be a hit, she had the entire journey on her fingertips.
On one hand, where their firm was advancing leaps and bounds. Chetna was extending her family-ties and the community as a whole.
The Dinesh Agarwal traveled all around the world from Khimsar to Barcelona. From the Maldives to Kashmir, the Canary Islands to Bali. And from West Indies to Greece and Mykonos.
Dinesh Agarwal cherished his love and successful life together. Together with Chetna Agarwal, they've built a family, a successful business.
With years passing by, people dream of getting old together yet this couple, instead, have grown young together. May it continues to remain so forever. I think you enjoyed Dinesh Agarwal love & success story with Chetna Agarwal (IndiaMART ).