When we say 'the richest man in the world', you know who we're talking about. He has marked his name on that spot from a very long time now and somewhere on the corner of our minds we envy him still now (right? Ha-ha). But did you know Bill Gates was robbed once? Who did it, and how love story of Bill Gates stared?
How did Bill Gates met Melinda ?
In summer 1986, freshly graduated from Duke University with a degree in Computer Science and Economics.
Melinda Ann French was working as an intern with IBM. But she told her recruiter that she had one more company called the Microsoft (an establishing company then).
For her surprise, the recruiter asked her to take up that job if she got through, as the chance of advancement was terrific. Melinda surely wanted that.
Must-Read Love Story
Six-and-half-years later, Melinda indeed had advanced, from software marketing tyro to general manager of information products such as Expedia and Encarta.
More importantly, she had advanced to a senior role in the heart of the CEO, Bill Gates (Yes, Melinda had robbed Bill's HEART!)
Born in 1964, Melinda grew up in Texas. Her father was Ray French, an engineer and house-rentals agent.
Melinda was always a goal- oriented kid throughout her schooling life. Her introduction to the cyber- world came at the age of 14, when her father bought home an Apple II. She soon started playing games and learned the basic programming language.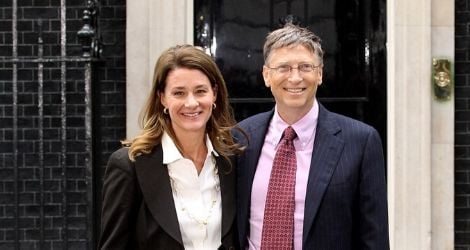 Bill always admired the fact that Melinda was more educated than him. They met each other in 1987, four months into her job.
When they attended the Expo trade-fair dinner in New York. Melinda recalls "He was funnier that I had expected".
Months went by before meeting Melinda in the Microsoft car park. He asked her out "Two weeks from now, are you free?".
But to our surprise, Melinda had turned him down by saying "Ask me when that time comes" and laughed.
Bill gates Married Melinda
But few months later, the two actually made their relationship a successful one. In 1993, they got engaged and on New Year's day 1994, the couple got married in Hawaii.
Melinda has been a lucky charm for Bill Gates, as exactly one year after their marriage, he was named the "Richest Man in the World".
Melinda has persuaded Bill in the concept of giving back to the society. In fact, her advice provoked William H Gates Foundation, which is run by Bill's father.
The couple then decided that the most pressing issue in the US was reforming the education system.
Melinda always wanted to take up such world related issue, she had made poverty their priority concern and doesn't fail in doing the same.
This couple is surely different from that of the other, their love for each other and the society will definitely bring Goosebumps to all of us.
Pure love made them meet and live a life which makes them the happiest couple. Not just their bank account, but their hearts are rich too!