Steve Jobs, born in California, was soon put up for adoption at birth.
He was born on February 24, 1955.
He was the chairman, chief executive officer (CEO), and a co-founder of Apple Inc. Well we all know about this huge pre-eminent. But do we know much about his personal life? Of course no. So today you are going to read Steve Jobs love life.
Steve Jobs dropped out of college soon, so he could check in to classes, which he found more interesting.
He was very smart, but totally direction less during that period.
Also Read : Love Story Of Mark Zuckerberg And Pricilla: The Unconventional Networking
Before leaving Reed College, Steve took a calligraphy class, which later inspired him to present a wide range of different styles of fonts on his first Macs.
You need to find what you love. And that is true, for your work and your relationship.
He took a job with video game manufacturer Atari to raise enough money for a trip to India and returned from there a Buddhist"
Steve Jobs, then 23, dated Chris Ann Brennan, his high school girlfriend.
They were on again and off again for several years.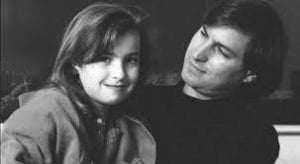 Chris later gave birth to their daughter, Lisa Brennan Jobs.
Jobs denied his paternity towards Lisa for sometime but then, were together for almost a year.
He later paid for her education at Harvard.
At 2003, she graduated, and now she works as a magazine writer.
As Apple's success boosted, Jobs became more critical and the couple even fought a lot and mostly did not even maintain contact.
He was kind and he was mean and he was attentive and he was aloof.
Sometimes he did not return my calls and other times he called constantly.
And those mixed messages played havoc with my instincts."
But this relationship didn't succeed even though Brennan loved Jobs so much!
In October, 1989, Jobs was supposed to give a lecture at Stanford Business School.
There he met Lauren Powell, who was a new graduate at business school.
As lucky as she was, she reached her classes late and therefore had to make herself comfortable in the aisle with her friend.
On asking about the seating arrangement, her friend joked to Jobs that Lauren had won a raffle and she has to take her to a dinner.
They had a quick laugh over there.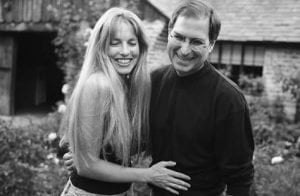 After the lecture, Jobs bolted out after her and soon met her at the parking area.
After a brief conversation, they came to a conclusion to meet on a Saturday for dinner.
After few seconds of leaving, I thought wow, I'd rather have dinner with her than the education group I'm supposed to meet, so I ran back to her car and said 'How about dinner tonight?" She said yes.
They ended up at a funky vegetarian restaurant for 4 hours and have been together since then.
Now love began
Often Jobs, Powell and their 2 friends.
would gather on the back lawn durring recess and hold -"chicken fights".
And in this way Steve Jobs love life began.
Lots of afternoons were spent at Job's home in Mountain View, making wooden swords and shields, staging competitions, or messing around in their back yard.
Also Read: Love Story of Melinda and Bill Gates: The Richness of Love
Jobs and Powell, both were mighty Sci-Fi fans who watched 50 'B movie on Thursday afternoons.
They collected all trading cards that featured scenes from many of those films.
Soon after college was over, Powell thought that their connection and friendship was done and dusted.
But….
"Sometimes life hits you in the head with a brick. Don't lose faith. I'm convinced that the only thing that kept me going was that I loved what I did. You've got to find what you love"
A year and a half later, Steve aged 36 and Lauren 27, got married in Yosemite National Park.
At the time of the wedding, Powell was pregnant with the couple's oldest child, Reed.
Then their daughters followed by -Erin in 1995 and Eve in 1998.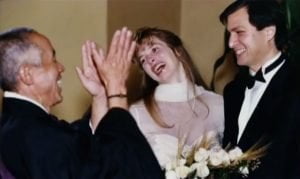 Around 50 people attended, including Jobs' adoptive father Paul Jobs and sister Mona Simpson.
Steve Jobs's lifestyle changed a lot after the birth of Reed.
He turned into a family man and also an affectionate father.
He was not much of a social person.
"I have a very simple life. I have my family and I have Apple and Pixar.
And I don't do much else."
The relationship with his children was not all that idyllic.
Although he had a special relation with his son Reed.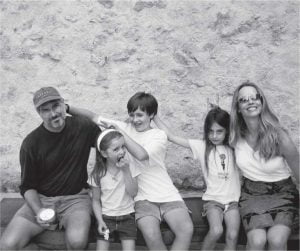 He apparently did not pay much attention to Erin, his second, quiet daughter; but he liked the strong will and temper of his youngest child, daughter Eve.
Overall Steve had a very quiet, typical life similar to millions of couples in America.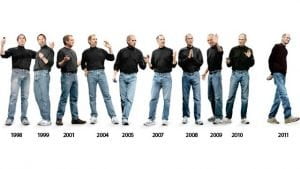 In one interview, he explained why he wore the same thing everyday, his famous black mock turtleneck?
To which he answered, "so I don't have to waste time picking what to wear every morning.. "
In October 2003, Jobs was diagnosed with cancer.In mid-2004, he announced to his employees that he had a cancerous tumor in his pancreas.
He did not pay much attention to his health, as he resisted his doctor's recommendations.
According to Harvard researcher Ramzi Amri, his choice of alternative treatment "led to an unnecessarily early death"
"Jobs's faith in alternative medicine likely cost him his life…. He had the only kind of pancreatic cancer that is treatable and curable…
Jobs died at his Palo Alto, California, home around 3 p.m. on October 5, 2011.
Also Read: Love story of Narayana Murthy: An Endless Act
He had lost consciousness the day before and died with his wife, children, and sisters at his side.
Powell was left widowed after Apple founder Steve passed away, aged 56,
Steve's final words were: 'Oh wow. Oh wow. Oh wow."
Jobs is buried in an unmarked grave at Alta Mesa Memorial Park, the only nonsectarian cemetery in Palo Alto.
Here's to a remarkable love story of Steve Jobs.
Even in his busy schedule he never seemed to stop loving his beloved wife, whom he started loving at the very first sight!
Love surely changes everything!