Known to be one of the youngest self-made billionaires of all time, the Social Networking King is without a doubt one of the sharpest minds in the industry. Yet, it is nothing different when it comes to love. He has a romantic tale of love, just like anyone of us – This is Mark Zuckerberg & Pricilla love story
I met an amazing girl on this day exactly 11 years ago. Priscilla, thank you for keeping me grounded, and for helping me keep my sense of wonder about the world as we grow together
Mark Zuckerberg met Pricilla Chan at a party in 2003
Their meeting was not something which would affect billions, rather, just the two people involved. Mark met Pricilla Chan, a sophomore from Boston, at a party in 2003.
The interesting part is they actually met at the waiting line of the washroom. They started conversing and the next thing you know, they started liking each other.
Soon, these two Harvard students, started dating. Few dayslater, mark took a major decision of his life – he dropped out of Harvard to run behind his dream- The Facebook.
Read More :
Mark Zuckerberg & Pricilla long distance relationship
Despite the long distance and Mark's workaholic nature, Pricilla always stood by him. Their love for each other and unconditional commitment was much stronger than any fame or fortune.
Pricilla, who specialised in Paediatrics, inspired Zuckerberg to promote organ donation on Facebook, and one of the very first people to join Facebook.
Their love was too strong that when Mark moved to California, Pricilla too shifted there and became a medical student at the University of California.
The couple have always been together and we have seen their unconditional love for each other on their Facebook profile.
They often share their memorable moments, like Pricilla's graduation, their trips, the parties and their home time with their pet, all of these just make us go "aww" (adorable isn't it?)
Read More : 10 don'ts of long distance relationship
Relationship matters the most when it comes to Pricilla. She has few conditions laid out which Mark has to follow.
100 minutes of alone time (this does not mean Facebook). The thing that topped the list was that they had to go out on one date every week.
I think Mark was a very obedient boyfriend and agreed to what she said, because Pricilla immediately moved in with him, and like anyone of us, he too used Facebook to announce it- Pricilla Chan is moving in this weekend".
The couple crossed another milestone in 2013, when Pricilla graduated from medical school. They invited all their friends for a party telling them it was Pricilla's graduation party.
Mark Zuckerberg & Pricilla simple marriage
And in the presence of 100 guests, Mark announced it as the day of their wedding, and presented a simple ruby ring to his love.
They had finally made an announcement of the secrecy of their marriage.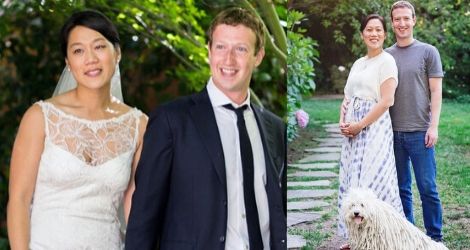 Mark never disappoints his fans, he is often seen using social media to showcase his love for Pricilla time and again. One of his most adorable posts was
"I met an amazing girl on this day exactly 11 years ago. Priscilla, thank you for keeping me grounded, and for helping me keep my sense of wonder about the world as we grow together" (C'mon, we all love a guy who remembers dates and posts it in such a cute manner right? He's definitely a catch).
Mark and Pricilla are known to express their unconditional love on social media, every now and then and it is really beautiful, and the date the couple attended parenthood, the entire social media went crazy as Mark posted a picture of the complete cute family (It was just ADORABLE).
Mark Zuckerberg family
Now the couple has sweet daughters. Mark daughterr are Maxima 4 years old and Augst 2 years old. This beautiful love story of Mark Zuckerberg and Pricilla is definitely a unique and inspiration one for all the love birds out there, and will always be.