Rishi Kapoor, a name that brings Goosebumps to many women from the early 90's. He was the heartthrob. But Rishi broke a million hearts when he openly announced his love for the ever gorgeous Neetu Singh. Here is Rishi Kapoor & Neetu kapoor love story. Their amazing chemistry and love has always been visible in all the movies that they have done, from their first ever movie – Zehreela Insaan to the recent one –  Besharam. So, we know that the magic that they created on screen is not just acting, but true love.
How did Rishi Kapoor & Neetu meet?
Chintu, aka Rishi was a well-established actor when he first met the love of his life. Neetu was a newbie and was taking baby steps in the industry.
It was not love at first sight for this couple. As we all are familiar, Rishi is kind of a prankster and loved teasing Neetu on sets. He was quite a mischief, especially when Neetu used to be completely done with her Make-up.
Must-Read Love Story
Rishi used to smear off her face with Kajal. But, Neetu fell in love with the guy who irritated her the most (How filmy right?). Rishi had also fallen for this beauty.
This love story, can't be that easy after all! (Right?)
Neetu's mother was unhappy by the relationship
Neetu's mom, Rajee was not very happy with this relationship. Neetu was on 14 years old, and was just climbing the ladder of success.
She did not want any rumours to spread in this gossip filled industry, and so, whenever Rishi took Neetu on a date, her mom sent her cousin along with them.
Neetu was the breadwinner of the house, and the fact that she had to take care of her mom through her life was always in her mind.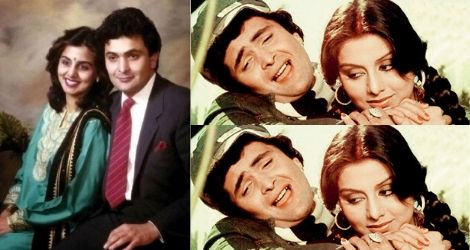 When Rishi proposed Neetu for marriage, Rajee was on cloud 9, but Neetu had the guilt of leaving her mom behind.
This is when her lover became her 'knight in shining armour'. He insisted that Rajee would stay with them after marriage (What an understanding right?).
Rishi Kapoor & Neetu marriage planned by family
During one of the family weddings in Rishi's family, where Neetu and her family was also present. Rishi's family decided that it was the right time to announce this couple's engagement.
This sudden announcement gave Neetu huge jitters, and Rishi had to calm her down immediately. The two got married on 22nd Jan 1980. It was a fairy tale indeed.
But this fairy tale had its own share of twists and turns. Neetu obliged by the Kapoor Khandan's belief of their bahu leaving the industry and to become a housewife.
Rishi and Neetu were leading a happy life with their two kids, Riddhima and Ranbir Kapoor.
In the late 1990's, there were rumours of Rishi turning into an Alcoholic and that Neetu had left her husband.
But Neetu put all these rumours aside and the two stuck by each other's side, through all highs and lows.
Must-Read Love Story
After 30 years, they returned to the silver screen in Love Aaj Kal. Despite all these rumours, the couple fought against it to prove their love and came out to be the evergreen Jodi of the Bollywood industry.
Love can put you down, but this golden couple's story would give you all the hopes you need! And you must adore Rishi Kapoor & Neetu kapoor love story.