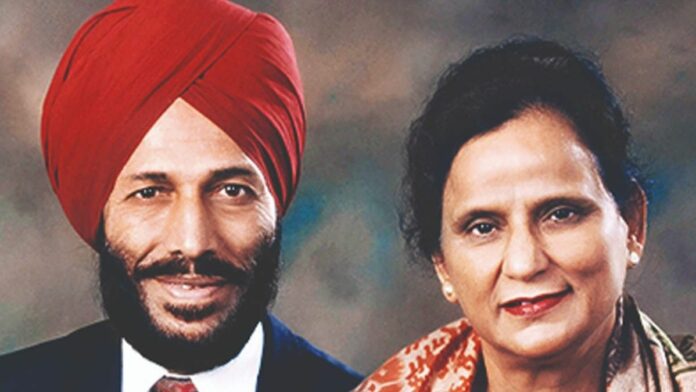 Milkha Singh popularly mentioned as "The Flying Sikh" was born on 20 November 1929. He was a Padma Shri-winning athlete. He came into the sports world while he was serving the Indian Army. Though he had a tough childhood as he lost his parents during the partition. He managed, worked hard, and have achieved a lot in his adulthood. He was from a Sikh family and was born in Govindpura. He is popularly known for winning gold medals. But little did people know about him winning the heart of Nirmal Kaur. Before we look at Milkha Singh And Nirmal Kaur Love Story. Let us know who was Nirmal Kaur.
Nirmal Kaur took birth on 8 October 1938 in Sheikhupura, Punjab. She also belongs to a sports background. As she was an Indian volleyball player and former caption of the Indian women's national volleyball team.
Milkha Singh And Nirmal Kaur Love Story is amazing and their bond is out of the world. The two of them complete each other and their everlasting love is something worth knowing. So let's have a look at their story.
Must Read Love Story
Milkha Singh and Nirmal Kaur's first meet
It was in the year 1956 that Milkha met Nirmal for the first time in Sri Lanka. Milkha was there to take part in a competition while Nirmal was playing against Sri Lanka and Nirmal led the Indian women's volleyball team.
They met at a marketplace and had a talk, they instantly felt a connection. So Nirmal invited Milkha to watch their team's match. Her skills impressed Milkha and he instantly felt for her. this marked the beginning of their silent love.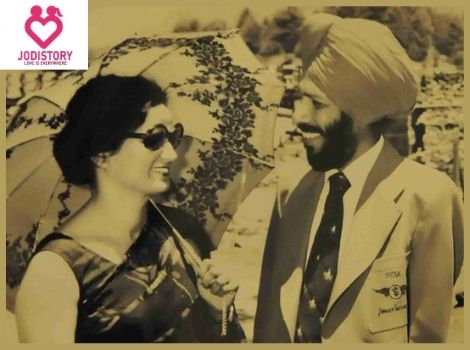 Milkha won in that competition and hence the silent lovers again met at the success party. As they talked, their interest just increased, and Milkha could not wait to meet her again. As it was a party and there was no paper around.
So he gently and quietly took hold of her hand and wrote down his number on her palm.
And after that, they met quite often. Though, Milkhah, later on, could not manage to meet her due to his busy schedule. Their feelings never died for each other,
Milkah Singh and Nirmal Kaur love story took a serious turn
Milkha Singh because of his busy schedule was not able to keep in touch with Nimal. But in the year 1960, the universe conspired and they met once again. It was one simple question from Nirmal's side that made Milkha fall for her more deeply.
She asked her "Have you ever thought of this miserable tree, who finds herself alone and abandoned". Milkha regretted not being able to be in touch with her.
After this, they kept on meeting quite often. And soon people objectified their frequent meetings. Soon the couple informed their parents about their marriage.
But both their parents did not agree as they belonged to different castes. Later on, Milkha convinced his parents. And Nirmal gave an ultimatum to her parents that she will marry Milkha or no one. Finally, both the families agreed and they tied knots. And their race of a lifetime began.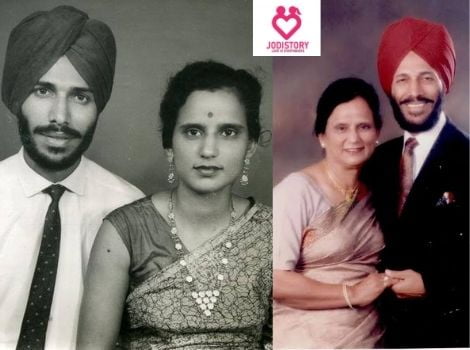 Milkha Singh and Nirmal Kaur's family.
Milkha has always admired the way Nirmal( or let's say his beloved Nimmi ) had taken care of the family. And along with that had managed her professional life. They have a total of four kids, with 3 daughters and a son. Let us first take a look at their family photo.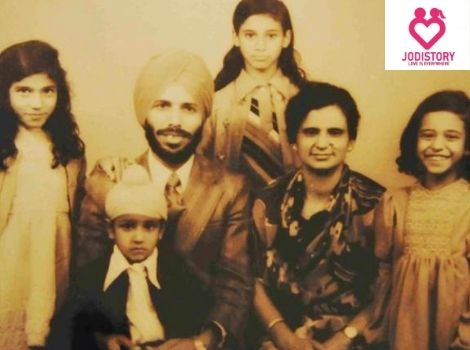 Their picture just looks amazing and so are their achievements. All of their kids are now highly established. One of them is a doctor, the other a popular writer, and their son is an established golf player.
Milkha even praises his wife for taking such good care of their kid and helping them reach great heights. Even after so many years of marriage Milkha and Nirmal never stop praising each other.
While Milkha praises his wife for being such a caring wife as well as a mother. Nirmal couldn't help but praise how romantic and caring her husband Milkha is and that every day with him is like valentine's day.
Milkha Singh and Nirmal Kaur Love Story continued even after death.
In the year 2020, the whole world was disturbed by the deadly virus. Everyone was fighting to save their life and there was uncertainty and death all around. But this was just the start, as this phase continued even in 2021. This year the deadly virus has attacked both Milkha Singh and his wife.
Even after being immensely fit the couple could not save themselves from the coronavirus. And then even the worse happened. On June 13, Milkha lost the love of his life.
It was a 1 month long battle with death that Nirmala lost and she was gone forever. Milkha Singh was also battling with death infected with the same virus.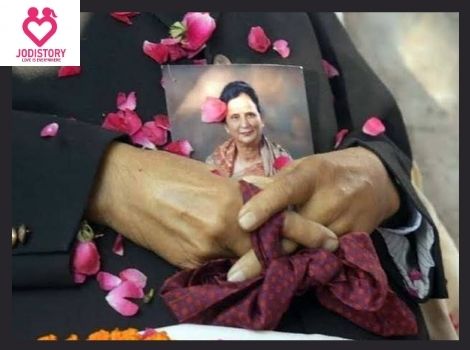 And after Nirmala passed away. He was all alone. It was maybe because the couple has never stayed apart for such a long time. That even after death they didn't want to stay away. So just after 5 days even Milkha breathed his last and left the world.
The pure love and bond they share is the reason that they couldn't stay apart for long even after death.
It was only because of their love that even death could not be apart from them for long. This kind of bond and pure love is way too rare to see. So, we hope they are happily in love together in some other world.
Must Read Love Stories.
Conclusion
Milkha Singh's Life is full of inspiration and teaches us to deal with hardship. But his love story shows a different side of him. Where for the entire world he is the rough and tough athlete, a successful sportsperson.
But for his love, he is just a simple and caring person. Also, he inspires the youth with his love story. Where in today's world nobody cares about each other. His bond and love for Nirmala are proof that true love exists.
And that love is beautiful and should be taken care of for a lifetime. His story shows that love has great power so that even death fails in front of it.
So, we should take inspiration from his life. Whatever we do in life should be done with utmost care and dedication.
Only then can it flourish and result in something beautiful. Be it, love, relationship, or career, if done with dedication and love can do wonders.
Let us know in the comment, how inspirational is Milkha Singh And Nirmal Kaur Love Story?