From Nach Baliye to real life Baliye. Himanshu Malhotra And Amruta Khanvilkar Love Story is about that. How this cute couple met, fell in love, separated, and then re-connected. We have covered all in this blog. Read below
Himanshu Malhotra is a popular Indian Actor. He has also taken part in several reality shows. And had won in one of the reality shows. He along with his partner Amruta had won the dance reality show Nach Baliye 7. But this is not the platform where the couple met.
Amruta is also an Indian actress and an awesome dancer. Came into Himmanshoo's life from the show "India's Best Cinestar Ki Khoj ". They were co-participants at that time. But how did these co-participants become life partners? To know that scroll down. And witness the rollercoaster-like love story of this amazing couple.
Must Read
Himanshu Malhotra and Amruta Khanvilkar's dating Life
The couple met at the show " India's Best Cinestar Ki Khoj". The show aimed to find the best actors. But it had rather found out the best couples. It was in the year 2004 where this all started.
Both of them first became good friends during the show. And they even kept on seeing each other after the show. And soon became best friends.
Their journey was not easy. Both had a really tough time. They have seen hardships in their career. But have been together during all the tough times.
The couple hardly knew each other before the show. They were from completely different backgrounds. Different casts and even different cities. But destiny brought them together.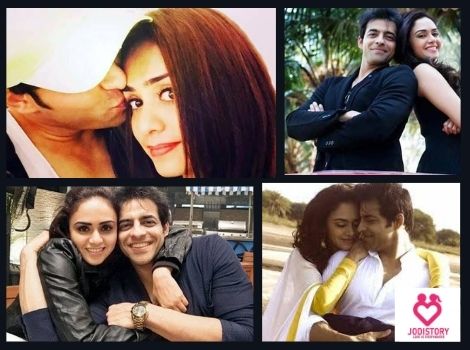 They also have spent lots of good times together and know each other pretty well.
All of their pictures are evident about the fact. That they both look amazing together and also are super happy to be together.
And this bond allowed them to take their relationship further to the next level.
Himanshu Malhotra and Amruta Khanvilkar Nach Baliye Journey
The couple took their love to next level. By participating in a reality dance show. Although Himanshoo was not familiar to dance he took part. For the fact that Amruta was an amazing dancer.
Initially, Himmanshoo faced some problems. But later on, gave a tough competition. The fun fact was that he not just gave competition to other couples. But he was a competition for even Amruta.
Amruta accepted this fact. That even though she did all the steps correctly and not Himmanshoo. But the judges appreciated Himmanshoo's dance. As he enjoyed while dancing. He got a lot of love. With their killer dance moves and Amruta's dedication. The couple won the competition.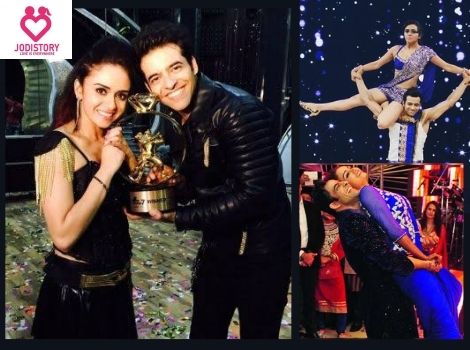 And took home lots of love prizes and a much more strong relationship. It may seem that their love story was smooth. But it wasn't. Himanshu once kissed another girl on the set. which he thought was not a big deal.
But for Amruta it was a big deal. She even said that she loves Himanshu. But she cannot forget him kissing another girl. To this Himmanshoo apologized and after some time things got fine. It takes effort to keep things. Things run smoothly only when an effort is put into it.
Himanshu Malhotra And Amruta Khanvilkar Marriage
After being together for 10 years. The couple got married on 24th January 2015. It was a grand wedding. And the couple looked amazing. So let's have a look.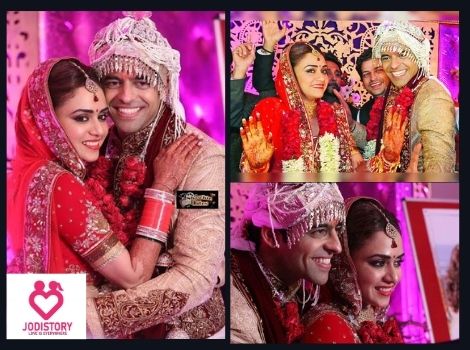 Their relationship was more like a friendship than a husband-wife relationship. When asked about Himanshu Malhotra And Amruta Khanvilkar Love Story. The couple said that they have a tom and jerry kind of a relationship. Which they both enjoy.
As already stated that they were from different backgrounds. this difference was also present in their behavior. On one hand, Himmanshoo was very much romantic. While on the other hand, Amruta was everything except romantic.
But their differences just brought them closer. Just like the two opposite poles of a magnet does. They had a strong bond also due to some rules that they follow.
The couple had a rule for apologizing. Which was something interesting. They used to apologize five times to each other. And then get back to normal and forget all the bad times. But even after all these rules. Somewhere things went wrong. Let us know what happened.
Himanshu Malhotra and Amruta Khanvilkar love life problem
Amruta had one fine day suddenly blocked Himanshu. She even blocked his number and also unfollowed on all social media platforms. This action by Amruta leads to a lot of speculation. And people thought they had problems in their marriage life.
There were rumors that they are gonna break up. Afterward when Amruta spoke on this matter. People were shocked to know the real cause.
The reason was that. While both were having a conversation at night. Amruta on one hand wanted to have a late-night conversation. While Himmanshoo was constantly reminding her about her morning shoot. And was advising her to sleep.
Amruta was someone who can't express herself. And so she could not tell that she missed him. And ultimately this caused a small fight. and Himanshu hunged up on her.
Amruta in the heat of the moment blocked his number. And also blocked him from every social media handle. Later in the morning things got sorted between them.
So basically there was a small fight which is normal. Two love birds can't live separately. So was, Himanshu Malhotra And Amruta Khanvilkar Love Story.
The truth is that they are happily married. And there is no problem between them.
So, just like the above picture. They are rocking their married life. There was a time when Amruta fell out of love and have left him. But it was temporary. She came back to Himanshu again. And he gladly accepted her.
Must Read
Conclusion
There will be many hurdles in the way. And this is life. But only if one stays strong, he can face all of them. Just like Himanshu and Amruta did. Love is all about trust and bond. They had it all and so are sailing smoothly. And we hope they do so in the future as well. So, what do you guys feel about their love story? Comment below your views.