Who Doesn't Know Karan Kundra? Karan Kundra and Anusha Dandekar Love Story Are Awful.
Karan Kundra and Anusha Dandekar Love Story leave us all in awe. This handsome young man is an Indian film and television actor. He hosted three seasons of Gumrah: End Of Innocence On Channel V. Karan made his first debut in the acting world with the lead role of Arjun Punj in Kitani Mohabbat Hai (NDTV Imagine) in 2008. He was also a gang leader in MTV Roadies X2 and X4.
He played the role of NRI Manpreet Sandhu in director Anees Bazmee's comic movie Mubarakan. He played hue stole phenomenally of Rithwik Noon in Kapoor's drama series Dil Hi Toh Hai. The show aired on Sony TV and online OTT platform ALT Balaji.
Karan Kundra has also done many movies. Some of his popular movies are:- Pure Punjabi, Teri Meri Love Stories, Control Bhaji Control, 1921, Jatt Romantic, Mere Yaar Kaminey, and the list goes on as it's never-ending. Besides Roadies Karan has also been a part of many other shows of MTV. He has been a part of MTV Troll Police, MTV Fanaah, and MTV Box Cricket League.
He was invited as a guest in Ace Of Space2, Splitsvilla 7 as well as Splitsvilla Season 8. Karan is hosting Love School for three reasons along with his girlfriend. Besides being a reality show king and an amazing actor he is also a very graceful dancer. The world gets to know about his dancing skills when he participated in two Dance reality shows " Nach Baliye" and " Jhalak Dikhlaja".
Karan Kundra and Anusha Dandekar Love Story Gives Us Major Relationship Goals
Anusha Dandekar was born in Khartoum, Sudan on 9 January 1982. Although, she belongs to a Marathi Family. She is an Indian-Australian VJ and actress. Dandekar made her acting debut in Bollywood with Mumbai Matinee. In 2002, at the age of 19, Dandekar moved to Mumbai, Maharashtra to pursue a career in the entertainment industry.
She also played her role phenomenally in the movie Viruddh alongside Amitabh Bhachan, Sanjay Dutt, Sharmila Tagore, and John Abraham. Anushka made her music debut with the song single Better Than Your Ex( An English Song).
She hosted MTV Dance Crew, MTV Teen Diva, MTV News, and MTV'S House Of Style. Anusha is also hosting MTV Love School for the last three years.
This gorgeous young lady also won Best VJ at the Cosmopolitan FunFearless Female Awards. Dandekar is also a judge on India's Next Top Model alongside Malaika Arora Khan.
She has also endorsed the brand's Reebok, Toni & Guy, Crocs, and Lee Jeans. Read ahead, Karan Kundra and Anusha Dandekar Love Story – the love story of a couple who set major couple goals.
Where Did Karan Kundra and Anusha Dandekar Met?
Karan and Anusha met at Airport. It was love at first sight fir Karan Kundra. He lost his heart to Anusha in the first meet. When Karan was asked regarding the same, he answered"We met at the MTV Offsite. I met Anusha for the first time at the airport.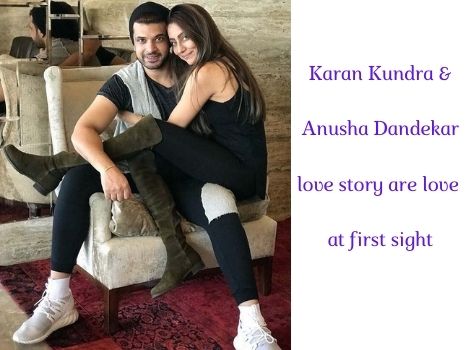 We began to talk and soon I realized that she is nice to talk to. During the whole journey, we were hanging out together".Karan Kundra and Anusha Dandekar Love Story were about to begin. Two became friends in their first meet itself. They kept on meeting each other.
Eventually, Anusha also fell for him. When asked about their first meet, Anusha answered: "Yes, I met him at the airport. In the beginning, I thought he was super shy, but apparently, he was shy because he had a crush on me. I found this out later and I thought that was really sweet and that did spark some fire between us".
Making It Official and Live-In Relationship
The couple started dating six years back. They soon made it official on Instagram. The couple shared this news with their fans. The world was left in awe with this couple. They posted many romantic pictures together on their various social networking sites.
The duo is always seen together and has done many projects on the small screens. Soon, the couple started living in a live-in relationship to understanding each other better. 
Karan Kundra And Anusha Dandekar On Their Definition Of Love
When Karan was asked how he defines love:- he answered For me, I think it's comfort. It's the feeling of having a best friend and the feeling of being comfortable with that partner. After a hard day's work, you want to go back to that one person and everything becomes fine.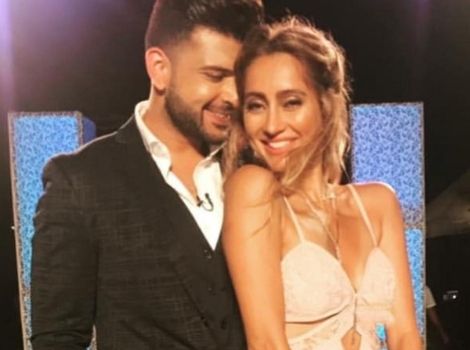 When Anusha was asked the same question, she stated:-
I think also think happiness is love. Happiness is the only thing that you need at the end of the day. Everything else, be it money or success, comes secondary. If you are happy in your circumstances, in your relationship, nothing else really matters.
Love Professors At Love School
The couple together is hosting Love School since Love School Season 2 till now. The love Professors together made many relationships work. Anusha was being trolled a lot for dating Karan Kundra. Fans of Kritika Kamra (Karan's ex) didn't like Karan moving on.
Anusha received end no. Of hate comments. The couple then went on MTV Troll Police. They met Anusha's troll. The way Karan dealt Anusha's troll won everyone's heart. He was next level protective of her girl. In February, this year they also came up with their clothing line together called Man Up Woman Up.
Breakup Rumors of Karan Kundra & Anusha
Over the past few months, Karan Kundra and Anusha Dandekar's love life has been under the doubt. As during Lockdown Anusha is living at her place and Karan is living in Mumbai. The couple denied the rumors of their breakup.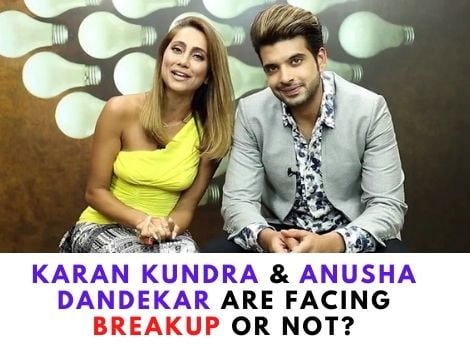 Anusha Dandekar New Post Left Everyone In Doubt
But Anushka's new post suggests that she had been dealing with turbulence in her personal life for which her sisters stood by her like a rock. She posted ". She shared a picture with sisters, Shibani, and Apeksha. Anusha thanked them for checking up on her and stepping in to meet all her needs.
She wrote, "Shibani, I cannot thank F and You enough for the last 3 months, every single day checking to see if I've eaten or I need anything, bringing me groceries every 3 days (yes grapes and Coke Zero count hehe) bringing me snacks just to cheer me up… checking to see if the babies needed food. Never let me go out and always saying you will go instead, even for the smallest thing.
Anusha Dandekar's Post And Silence Of Couple On Rumors
Anusha also shared, "You turned from big sister to Muma. And in your own tough love way made sure I was only thinking ahead after finding out everything. You protected me and gave me love and strength beyond. I wasn't alone or stuck because of the two of you and I'm forever grateful to both of you for every single day… every single day! And also the many FaceTime calls, where you both gave me to live performances, made my heart happy! Love you both from the bottom of my soul! Thankyou Thankyou Thankyou!".
This statement makes everyone think that she is facing something severe in her personal life and many automatically assumed that she is facing a tough situation because of her breakup.

However, the Couple Is still Silent on their breakup yet both of them gave the statements that just because we are living apart in lockdown because of our own personal reasons.