Who is Prince Narula
Prince Narula And Yuvika Chaudhary Love Story will make u believe that relations made in a reality show can also turn forever. Prince Narula is an Indian model and actor. He is very popular with the name " Reality King". Prince Narula won three realities show back to back. The show won by Prince Narula are:- MTV Roadies 12, Splitsvilla 8, and Color's TV biggest show Bigg Boss Season Season 9. He started his career in 2014 by participating in PTC Punjabi's Mr. Punjab. He emerged as the second runner of the show.
Besides being a real icon, he is also an amazing actor. For three years, he portrayed Lakhan "Lucky" Singh Ahlawat in &TV's Badho Bahu. Since 2016, Narula has also been a Gang Leader in MTV Roadies. He also played the role of Aryan and Shahnawaz phenomenally in Laal Ishq and Naagin 3 respectively.
Along with being an amazing actor and a reality king he is also a soothing singer. Some of his music albums that were super hits are:- Hello Hello, Goldy Golden, Crazy Jatt, and Burnout. In 2019, he participated in the dance reality show Nach Baliye and emerged as the winner.

Who is Yuvika Chaudhary
Yuvika Chaudhary is an Indian actress. She hails from Baraut in Uttar Pradesh. Yuvika has appeared in many Bollywood films such as Om Shanti Om, Summer 2007, and Toh Baat Pakki. She also played the lead role in Kannada movie named " Maleyali Jotheyali".
She was a contestant in Colors TV's reality show Bigg Boss. In 2019, She participated in the dance reality show Nach Baliye and emerged as the winner. She has also done various TV shows such as- Ek Prem Kahani, Comedy Classes, and Daffa 420.
Besides being an amazing actress Yuvika has also done various music albums which have been an amazing hit. Some of her music albums are Chor, Shikayat, Fall, Wonderland, Mere Yaar, and Hello-Hello. 

How did Prince Narula-Yuvika Chaudhary Met & Love Story begin?

Yuvika and Prince met on the reality TV show Bigg Boss Season 9. In no time, they both became friends. Because of Yuvika's sweetness, Prince got attracted to her. Prince wore his heart on sleeves and proposed Yuvika with heart-shaped Chapati.
In sweetly surprising step, Prince opened his out in front of Yuvika. But Yuvika wasn't that inclined towards him in the beginning and kept num.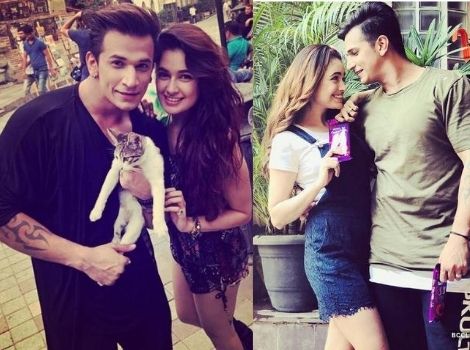 Nor Prince forced her to give any answer. But just like a Bollywood hero- heroine they also got separated before Yuvika could reciprocate her feelings. Yuvika's eviction took place from BB12. Just after few days of Yuvika's eviction, Nora Fatehi entered the show.
Sheer affection was seen between Nora and Prince. Everyone started saying Prince's love for Yuvika was fake. Prince Narula And Yuvika Chaudhary Love Story were about to end before the beginning.
Along with the audience, Yuvika was also confused. She was also suspected and wondered about what's going between Nora and Prince. Soon, Nora was also evicted. After her eviction, BB called both the ladies on the show again to sort out things between three of them.
Yuvika clearly asked Prince about what he had with Nora, was it affection or strategy to win the game? Prince clearly answered that he loves only Yuvika. Rest, with any other girl it was just friendship. 

 Life Of Prince Narula & Yuvika After Bigg Boss

Prince won Bigg Boss Season 9. His life completely changed after winning the show. Yuvika and Prince kept on meeting each other after the show. The couple could be seen together many times.
Love Birds also posted love captioned pictures. But always labeled themselves as good friends. While the couple was maintaining "just friends tag" everyone could see that something more is cooking up.
Talking about the same, Yuvika once revealed, 'When we came out of the BB house, we were friends. In the house, Prince had some hope but when I didn't respond, he thought that I have some issues with him and I will never say yes. He was sure from day one and I, like any other girl, took my time.'

Yuvika's Confusion for Prince and then the official declaration of Prince Narula And Yuvika Chaudhary Love Story

Every person thought that the couple is in a relationship. But, the reality wasn't the same. Yuvika and her parents were not sure about Prince is a perfect match for her. Because he belonged to an industry where people change relationships in a fraction of a second.
But Prince's immense affection and love made Yuvika sure about him. She finally fell in love with Prince. After end no. Rumors, Prince Narula and Yuvika Chaudhary finally declared to the world that they are in an official relationship.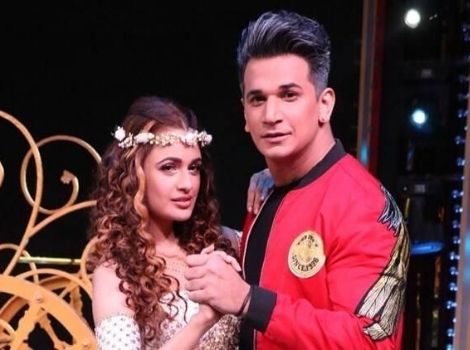 The couple was in head over heels for each other. Prince said, 'I told myself that whatever I do. I am not going to leave her.' On the other hand, 'It was his love and faith that changed me I am a very practical person, he is someone who thinks from his heart – whatever he says he does that.', This is what Yuvika said.

Prince proposed Yuvika at Hotel TAJ

As Yuvika was a family person, Prince knew the best way to propose her is to do it in front of her family. Both of them had a very huge fight before the day Prince was about to convince Yuvika. In fact, the two had almost called it quits. But as we say, love overcome all obstacles. Prince Narula And Yuvika Chaudhary Love Story were on its first step to turn in forever.
Prince forgets all that as he didn't want to spoil the big day. He went down on his knee to propose  Yuvika for marriage in front of her parents at the Taj Hotel, Mumbai. Yuvika was left was speechless. She was surprised.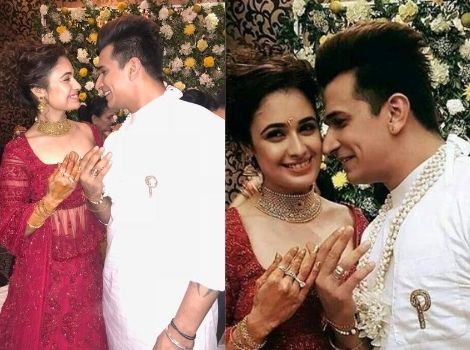 When asked about the same, Yuvika said:- 'For a second, I was speechless when I saw Prince with a ring in his hand. I didn't know how to react because my frame of mind was not right. But the moment I looked into Prince's eyes, I had to meltdown. The couple decided to marry each other on October 12, 2018.

The Grand Wedding Yuvika & Prince.

The love bird tied the knot forever in the lavish wedding. From Karan Kundrra, Anusha Dandekar to Ranvijay Singha, and Kishwer Merchant, many big celebrities attended their wedding. From their marriage day till now, the couple is living their best life.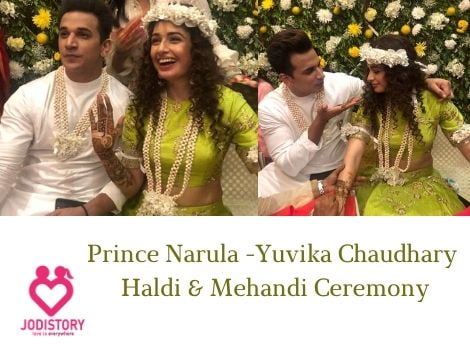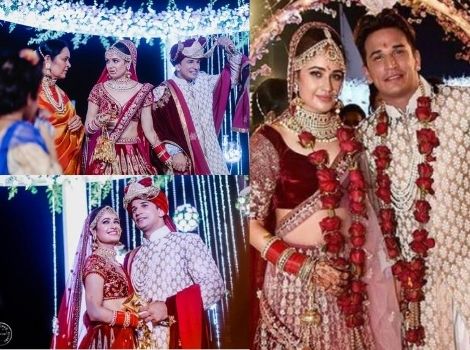 They did many music albums together in which the entire nation was left in awe with the couple. In 2019, The couple participated in StarPlus Nach Baliye 9 and due to their faith in each other, they emerged as winners of the show.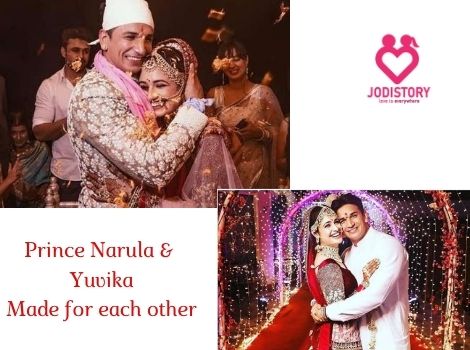 Their love story is a modern-day fairy-tale. In the world, where it is believed that relations made in reality show fail, they both proved that if your love is true no one can stop it in turning forever.