Megastar Chiranjeevi's youngest daughter has the most eventful love story. Srija Konidela's love story with her first husband proved to be a disaster. However, she finally found love with her second husband. Now her life is as blissful and happy as a woman wants. But how did her first love story went sour? What was the reason behind her divorce? And how did she find love again?
Share Your Love Story

Let's scroll down to satiate our curiosity!
Must Read the following:
Srija Konidela's relationship with Sirish Bharadwaj
Srija Konidela met Sirish Bharadwaj in college. They've been in a relationship for 4 years. However, her family did not approve of the match.
When her family learnt of the affair, she had to go under house arrest. Her family even threatened her to get her expelled from the college. Meanwhile, Sirish had to encounter menacing threats on e-mails.
Hence, such drastic measures called for drastic steps.
Srija elopes with Sirish Bharadwaj
On October 2007, the media went buzzing with Srija's (19) elopement with Sirish (22). The drastic step was taken by megastar, Chiranjeevi's daughter shocked everyone.
However, the surprising wedding did not turn out to be entirely unplanned. The duo tied the pious knot at Arya Samaj Temple at Secunderabad with media and police in attendance. The pair's friends held wedding cards with the pictures of the couple printed on them. The couple fled to Delhi seeking protection against their families.
Srija and Sirish confronted the media posing happily as a couple. Whereas, Chiranjeevi appeared for two minutes wishing his daughter happiness. However, he did not say anything about his son-in-law.
In 2009, the couple welcomed their first child, Nirvithi in the family.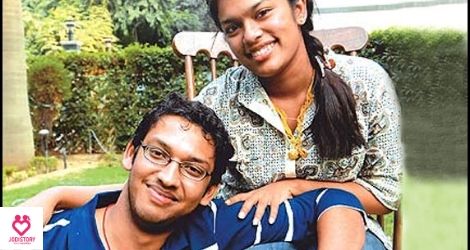 Srija Konidela's love story with Sirish Bharadwaj turns estranged
Though the couple married in haste and savoured victory, it proved shortlived. Around March 2011, Srija filed a case of dowry harassment against Sirish.
She accused her husband of ill-treating her, depriving her time with Nirivthi and her family. Chiranjeevi brought his daughter and grandd0daughter home.
His fans shared mixed comments. Some appraised him for bringing his daughter home whereas others criticized Sirja for her naive and reckless behaviour.
Hence, the estranged relationship ended in divorce. However, Srija won the custody of Nirivthi.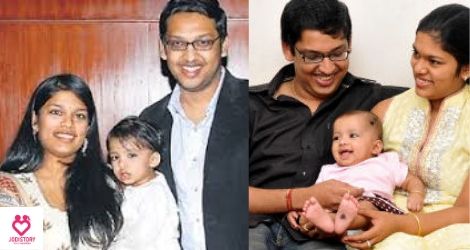 Srija Konidela's love story ends up with marriage to Kalyan Kanuganti
On March 28, 2016, Srija remarried again! She found love for the second time with her childhood friend, Kalyan Kauganti. Kalyan hails from Hyderabad and is a businessman in the U.S
Moreover, the ceremony happened in traditional and conventional style. The families seemed happy for the bride and the groom. It was a glitzy and gala affair.
The wedding ceremony took place at Srija's family farmhouse in Bengaluru. The wedding saw the presence of relatives, friends and several celebrities from the industry. Chiranjeevi, Ram Charan with his wife Upasna, Allu Arjun, to name a few, attended the ceremony.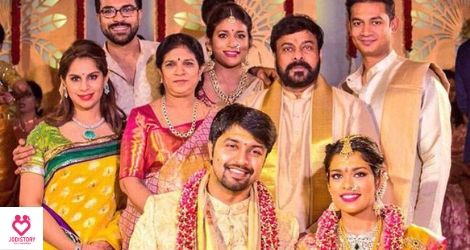 Must Read the following:
Conclusion
Despite the awry first love story with Sirish, Srija found happiness again. Moreover, her friends and family's support helped Srija to overcome her sour love story. Kalyan is a loving husband, caring father and obedient son-in-law. Nivrithi, her daughter stays with Srija and Kalyan. No wonder, Srija Konidela's love story is thrilling! Do you agree?