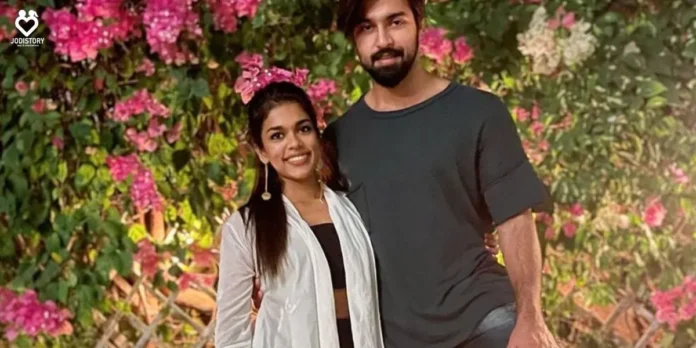 Megastar Chiranjeevi's youngest daughter, Sreeja Konidela has the most eventful love story. She married twice. Sreeja spent four years of married life with her first husband Sirish. Srija Konidela's love story with her first husband proved to be a disaster.
However, she finally found true love with her second husband Kalyan Dev. But news has flashed on social media that Sreeja Konidela & Kalyan Kauganti's relationship is on the way to end. The couple may be seeking a divorce.
Let's find the whole story of Sreeja Konidela's affairs, marriage, divorce & remarriage.
Now her life is as blissful and happy as a woman wants. But how did her first love story go sour? What was the reason behind her divorce? And how did she find the second true love? And why Sreeja is ending her marriage with Kalyan?
Who is Sreeja Konidela?
Sreeja Konidela was born in 1988 in Chennai, Tamil Nadu, in a renowned family of popular Indian film actor and politician, Chiranjeevi. She is the younger sister of Ram Charan. Sreeja stays away from the movie industry.
She did not make her career in movies. By profession, Sreeja is a housewife. She travels across the world with her brother Ram Charan. Sreeja Konidela is seen in some Telugu Industry movies. She was also a domestic badminton player.
MUST READ LOVE STORY
Sreeja Konidela's relationship with Sirish Bharadwaj, Sreeja Konidela's first husband!
Sreeja Konidela met Sirish Bharadwaj in college. They've been in a relationship for 4 years. However, her family did not approve of their relationship.
When her family learned of the affair, she had to go under house arrest. Sreeja's family even threatened to get her expelled from the college. Meanwhile, Sirish had to encounter menacing threats in e-mails.
Hence, such drastic measures called for drastic steps. Although Sreeja was a teenager then. She did not understand why the family was not giving the green signal to the relationship.
Sreeja eloped with Sirish Bharadwaj and married in the presence of police in 2007
In October 2007, the media went buzzing with Sreeja's (19) elopement with Sirish (22). The drastic step taken by the megastar, Chiranjeevi's daughter shocked everyone.
However, the surprising wedding did not turn out to be entirely unplanned. Sreeja & Sirish tied the pious knot at Arya Samaj Temple at Secunderabad with media and police in attendance.
The pair's friends held wedding cards with pictures of the couple printed on them. The couple fled to Delhi seeking protection against their families.
Sreeja and Sirish confronted the media posing happily as a couple. Whereas, Chiranjeevi appeared for two minutes wishing his daughter happiness. However, he did not say anything about his son-in-law.
In 2009, the couple welcomed their first daughter, Nirvithi into the family.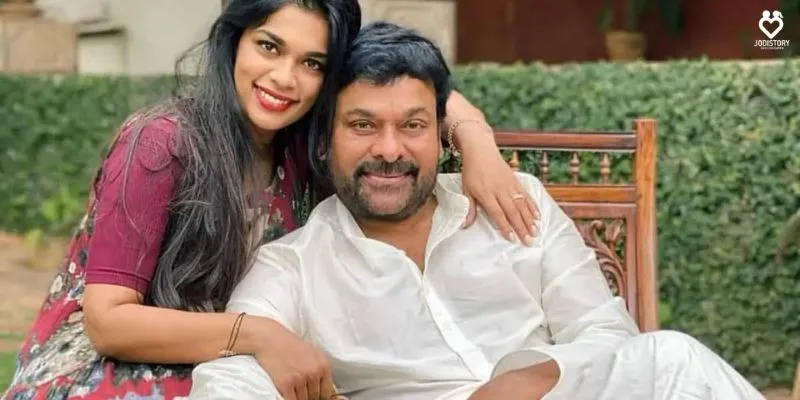 Sreeja Konidela's love story with Sirish Bharadwaj turned into divorce in 2011
Though Sreeja & Sirish married in haste and savoured victory, it proved shortlived. Around March 2011, Sreeja filed a case of dowry harassment against Sirish.
She accused her husband of ill-treating her, depriving her of time with Nirivthi and her family. Chiranjeevi brought his daughter and granddaughter home.
His fans shared mixed comments. Some appraised him for bringing his daughter home whereas others criticized Sreeja for her naive and reckless behavior.
Hence, the relationship ended in divorce. However, Sreeja won custody of her daughter Nirivthi.
Sreeja Konidela's second husband Kalyan Dev, married in 2016
After the divorce, Sreeja was left alone. She was heartbroken. Then Kalyan Dev entered her life to rescue Sreeja. On March 28, 2016, Sreeja remarried again! She found love for the second time with her childhood friend, Kalyan. Kalyan hails from Hyderabad and is a businessman in the U.S
Moreover, the ceremony happened in a traditional style. The families seemed happy for the bride and the groom. It was a glitzy gala affair.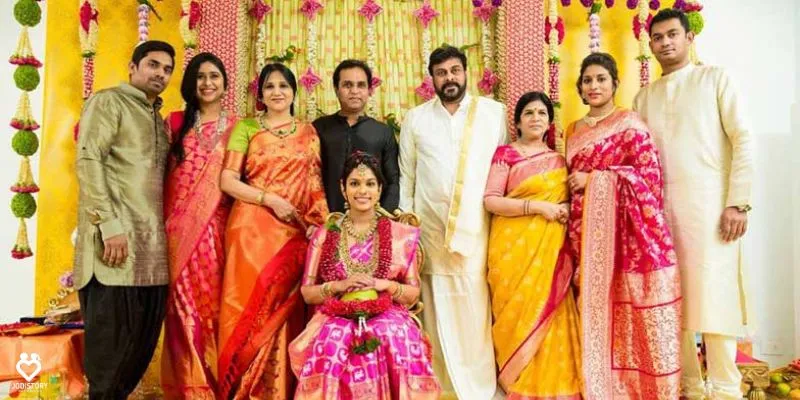 The wedding ceremony took place at Sreeja's family farmhouse in Bengaluru. The wedding saw the presence of relatives, friends, and several celebrities from the industry. Chiranjeevi, Ram Charan with his wife Upasna, and Allu Arjun, to name a few, attended the ceremony.
Sreeja Konidela's second daughter Navishka from her second marriage.
After 2 years of marriage with Kalyan Dev, Sreeja was blessed with a second daughter Naviskha in 2016. It was a blessed moment for Sreeja and Kalyan Dev.
Both of their married life were filled with more cheers and joy due to Navishka's birth.
Srija Konidela's love story with Kalyan Dev is on the way to divorce or not?
Not everyone found long-lasting love. The same happened with Sreeja. After spending 8 years of married life with Kalyan Dev, Sreeja parted ways. Now she is living with her family. Sreeja changed her Instagram handle name by the end of 2022.
It seems as if Sreeja and Kalyan have filed for divorce. Sreeja changed her Instagram handle name from Sreeja Kalyan to Sreeja Konidela.
Although Chiranjeevi's family has not given any official confirmation about Sreeja and Kalyan's divorce. But Sreeja's Instagram handle and her New Year social media post show that Sreeja and Kalyan are not together anymore.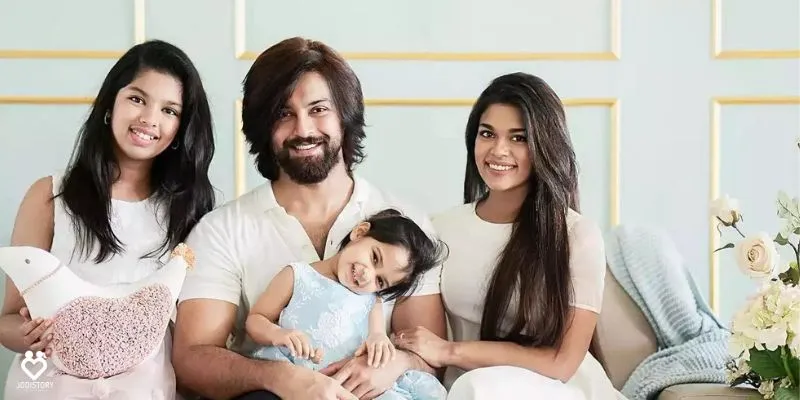 On New Year's Eve, Sreeja posted on her official Instagram account. It shows that Sreeja has said goodbye to Kalyan and waiting for the third person or maybe she has met the love of her life again.
"Dear 2022, thank you for letting me meet the most important person in my life. The one who knows me best the one who loves me unconditionally, the one who cares and nurtures who always stands by me through highs and lows" Sreeja wrote on Instagram.
Is Chiranjeevi planning for Srija Konidela's 3rd marriage?
Every father wants her daughter to settle with a wise husband who can love and give her a comfortable life. After the disastrous ending of the first marriage, of Sreeja, the Chiranjeevi family found a second husband Kalyan Dev in 2016.
But maybe the relationship between Sreeja and Kalyan has come to an end. Sreeja's social media post gives a hint.
"Dear ME. It is wonderful to finally meet you. The journey begins" Sreeja wrote on Instagram.
How many times was Sreeja married?
Sreeja Konidela married her first love, Sirish Bharadwaj but soon their marriage came to an end. Sreeja and Sirish got divorced and they both had a daughter together before that.
Who is Sreeja Konidela first husband?
Sirish Bharadwaj was Sreeja's teenage lover. Both of them eloped and decided to marry. As Sreeja's parents were against her relationship with Sirish Bharadwaj.
What happened between Sreeja Konidela and Kalyan Dev?
Kalyan Dev was Sreeja Konidela's second husband. Both of them got married in 2016. But after spending happy 8 years of marriage both of them parted ways.
MUST READ LOVE STORY
Conclusion of Srija Konidela's love story
Sreeja Konidela's life has been a rollercoaster ride of love, heartbreak, and resilience. Her first marriage to Sirish Bharadwaj ended in divorce, with allegations of domestic violence against him.
However, Sreeja did not let this setback define her, and she moved on with her life. She eventually found love again and remarried Kalyan Dev in 2016. No wonder, Srija Konidela's love story is thrilling!
Do you agree? Let me know your thoughts in the comment box. Waiting for your comment.