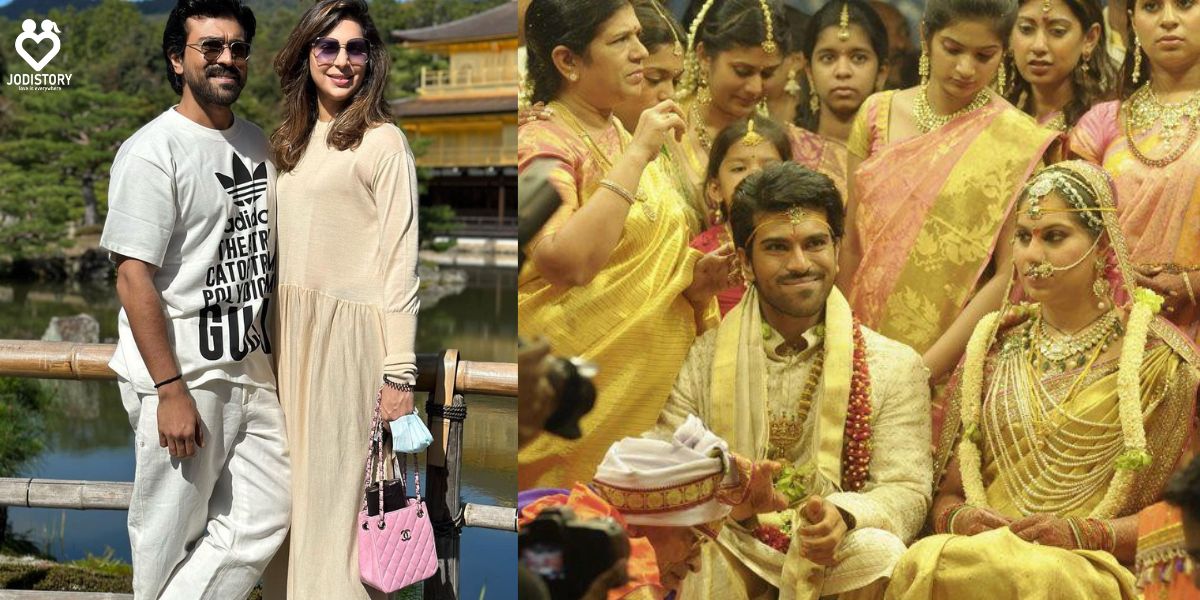 They say opposites attract! Well, Ram Charan and Upasna's love story surely proves it. Ram Charan, sometimes referred as Cherry, is a south megastar, son of superstar Chiranjeevi. Upasna Kamineni, a.k.a. Upsy is an independent, ferocious lady and a businesswoman. Charan is an introvert, who can barely handle 10 people together whereas Upasna is an extrovert who can handle 100 people with the same energy. How did these friends turn into lovers? How did opposites attract? What is the secret behind Ram Charan & Upasna's successful relationship?
Let's take a sneak peek into the details.
Who are Ram Charan & Upasna Konidela?
Konidela Ram Charan Teja  AKA Ram Charan was born on 27 March 1985 in a renowned family of Tollywood. Ram Charan is a superstar in the South Indian film industry. He has started his acting career in 2007 with the movie Chirutha. Some of his blockbusters movies are Racha, Yevadu, Dhruva, and RRR.
In the year 2016 Ram charan launched his own production house named Konidela Production Company. Now it is time to know about Ram Charan's loving wife Upasna Konidela.
Before any other professional identity, Upasna Kamineni is the wife of legendary actor Ram Charan & daughter in law of Chiranjeevi. She was born on 20 July 1989. If I talk about Upasna's identity she is the granddaughter of maternal grandfather Prathap C Reddy the founder of India's first corporate hospital Apollo hospital. Now Upasna is the Vice Chairperson of Apollo foundation & founder of URLife.
Must Read the following:
How did Ram Charan and Upasana meet?
Well during studies abroad the friendship of Ram Charan and Upasana blossomed. They met in college and have known each other for a very long time. The couple got along really well. They were like a pair of savage friends who would throw chutneys and sauces at each other and argue like cats and dogs.
But they also found a comfort zone with each other. Their camaraderie as friends proved amazing! When it comes to their personalities both of them are quite different. Upasna is an extrovert whereas Ram Charan loves the solitude in his free time.
Upasna & Ram Charan realized their true love when he was abroad for a shoot
Ram Charan & Upasna have never thought to turn their friendship into a romantic relationship. They did not plan to take their relationship forward. But fate has its own way of linking destinies together. Love just crept its way into their lives.
When Ram Charan went overseas, to the shooting of the movie Magadheera the pair realized how much they miss each other. For everyone, it seemed obvious that the couple is meant for each other. But both Ram Charan and Upasna were oblivious to the fact.
The couple started dating after the release of the movie, Magadheera. They dated for some time before considering marriage.
Since their families already knew each other, so, match-making between them wasn't difficult. The two families agreed that their match is no less than a match made in heaven.
Ram Charan and Upasna engagement in 2011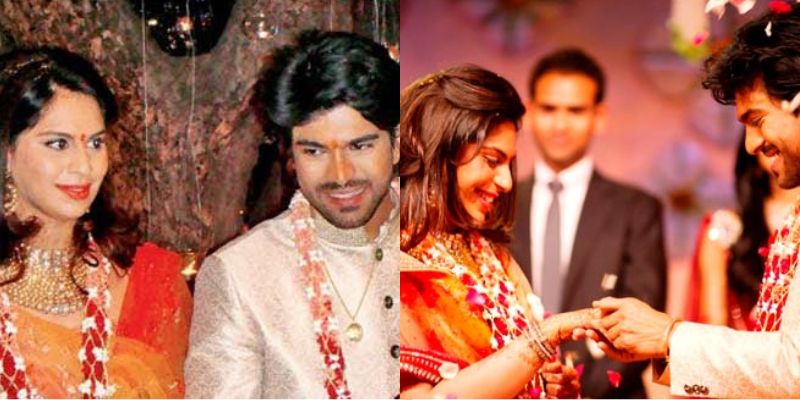 The engagement ceremony took place at Temple Tree Farms, Hyderabad on December 11, 2011. Amidst the golden and yellow decorations, the affair proved to be a gala affair.
The groom draped a cream sherwani complemented with a black overcoat. The bride-to-be wore a green saree by Tarun Tahiliani.
However, after their engagement, the media was keen on capturing their every move. Upasna became uncomfortable with all the attention. With Charan's support and Upasna's confident attitude, she overcame it.
Ram Charan and Upasna Konidela's love marriage in 2012
Finally, Ram Charan & Upasna decided to tie the knot. And they married on June 14, 2012. Only close friends and family attended the marriage ceremony to shower blessings. On June 15, 2012, the ceremony proved lavish as it was attended by Charan's fans followed by lunch for them.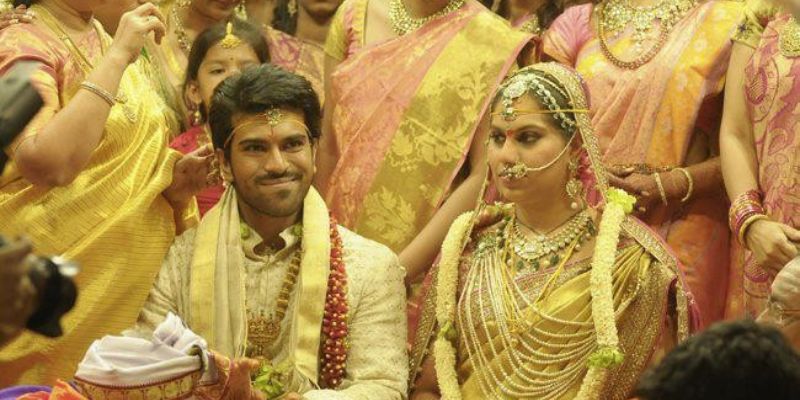 The wedding reception looked regal and royal in the Novotel Hotel, Hyderabad. It was a star-studded affair with Priyanka Chopra, Ritesh Deshmukh, etc. The couple looked blissful and happy.
Ram Charan and Upasna Konidela's children
Life after marriage for the duo is as blissful as it can be. Even after 10 years of their marriage, they are very much in love. Charan knows Upasna inside out. Since she's a fairy tale believer Charan has to cope with it. However, Cherry showers her with thoughtful gifts and presents. The couple is expecting their first child in 2023. They have announced the news of having a baby on social media.
Likewise, Upasna also knows every major and minor habit of Charan. They are still like friends and love each other immensely.
FAQ's
How did Ram Charan met Upasna Konidela?
They were college friends. They were like a pair of savage friends who would throw chutneys and sauces at each other and argue like cats and dogs
Does Ram Charan & Upasna have a child?
They do not have any children now. But after 10 years of marriage, Ram charan & Upasna are expecting their first child in 2023.
Is Ram Charan a love marriage?
Yes Ram Charan & Upasna have a love marriage. They felt love when Ram charan went abroad for shooting & Upasna started missing her badly
Must Read the following:
Conclusion on Ram Charan Relationship
Charan's family adores Upasna. Likewise, Upasna's family considers Charan as a perfect choice for their daughter. Though Charan is an introvert, he turns eloquent with his wife. Both of them connect with each other quite well. Despite the media-hyped world, they've managed their professional and personal lives well! Hence, Ram Charan and Upasna's love story is no less than a perfect love story. Don't you agree with it?