What happens when an actor, who is proclaimed as a lover boy, has an arranged marriage? Even more interesting the fact is his spouse doesn't share his profession. Well, Aadi and Aruna's Love Story is one such tale. Telugu's legendary actor, Sai Kumar's son, Aadi is the protagonist of this tale. He has established a name for himself with his exemplary acting skills. But, his love stories not known to many.
Let's find out the details.
Must Read the following:
Aadi and Aruna met at a wedding
Aadi first saw Aruna at his sister's wedding in 2012. No wonder, his sister's wedding proved to be a big deal. Unlike any other love story "love at first sight," didn't happen. Neither, there were any sparks or attraction between them.
However, his sister's father in law took a passing interest between the couple. He actually played the role of matchmaker and suggested the alliance. Moreover, he played that role with utmost perfection.
Thus began the planning of Aadi and Aruna's Love Story by his sister's father in law.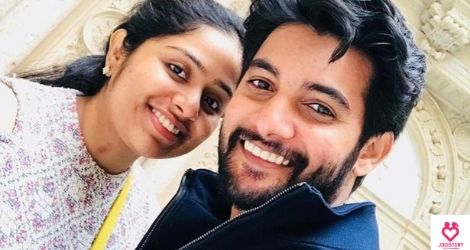 Aadi and Aruna's first conversation
Aadi and Aruna's first conversation revolved around the actor's professional background. He made sure to tell her that there's more to an actor's life than mere fame and recognition.
He warned her about rumours that can cause upheaval in a person's life. However, Aruna remained composed and understanding throughout the conversation. Her trust in him impressed Aadi.
Aadi and Aruna's Love Story meets their families approval
Aruna is a software engineer by profession. Her father, Sobhanadri is a well-known lawyer. Moreover, her entire family is in civil services. Apparently, giving away their daughter in an actor's family was no easy task.
Aruna's father made sure of Aadi's character by making a brief background check. He made the necessary inquiries via his friends in the film fraternity. Once sure of Aadi's impeccable and flawless character, he gave his nod.
Aadi and Aruna's engagement
The couple got engaged in a private ceremony. The groom-to-be draped a maroon sherwani whereas the bride-to-be wore a pink saree. The couple looked stunning.
The ceremony coincided with Dushhera, hence none of the actor's friends could attend the ceremony. However, the actor rectified the unintentional error by inviting them all to his wedding.
Aadi and Aruna's Love Story sealed with marriage
The couple tied the pious knot on December 13, 2014, in Hyderabad. The ceremony took place at the groom's residence and everybody enjoyed the three-day big fat wedding.
The bride looked stunning in a red lehenga and the groom looked dapper in a black outfit. Nagarjuna, Prabhas, Chiranjeevi and other megastars blessed the couple.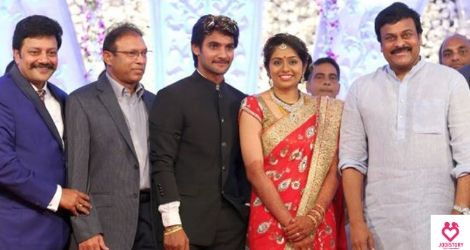 Must Read the following:
Aadi and Aruna's daughter
The couple welcomed their first child on December 17, 2015. The baby girl named, Ayaana, brought happiness and bliss in their already perfect marital life.
. Moreover, they celebrated her first birthday with an extravagant affair. No wonder, the couple dotes on their child.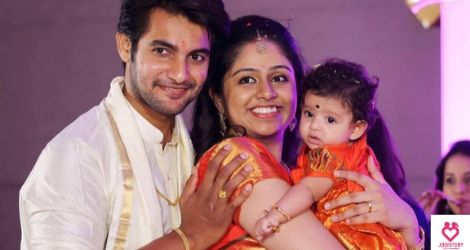 Aadi and Aruna despite belonging to different professions, share the same values. Both of them value family above everything else. Aadi's decision to stay with his parents, even after his wedding, met Aruna's approval. Their understanding and compatibility keep their relationship afloat.