Opposites attract! Don't they? People with different backgrounds, different habits and different personalities come to love each other profoundly. Guess who might be that south superstar who fell head over heels in love with a woman completely opposite of him? It's none other than Allu Arjun and Sneha Reddy.
His scintillating moves, good looks and humble personality have made several women fall for him. But his heart beats for one and only one – Sneha Reddy. She is an exemplary combination of beauty with brain, coming from a businessman's family. So, why not scroll through the story to witness an exquisite love story.
Must read the following love stories:
Allu Arjun and Sneha Reddy first meet at a wedding
When Allu Arjun flew to the U.S to attend a friend's wedding, little did he know he would soon find his lady-love at the place!
He met Sneha at the wedding and instantly fell for her. Hence, love at first sight for the South Superstar. Sneha has probably heard of Allu Arjun's rising fame but has never watched his movies before.
They met and instantly cupid struck.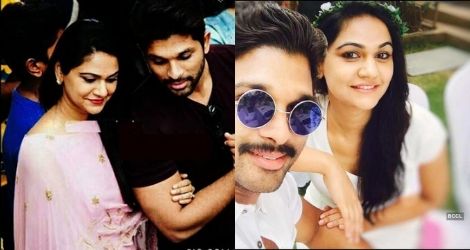 Allu Arjun and Sneha Reddy's love blossoms on chats
After his friend pressured him to text her, he did so. To his immense relief, Sneha replied amiably to his message.
The two kept chatting with each other for a while. They decided to take it a step forward by meeting again.
Guess what? After the first meeting, they kept on meeting for the next and the next and the next and……the rest is history.
The duo's parents talk of marriage
Sometime later, Allu Arjun's father Allu Aravind caught their little secret. Arjun couldn't hide his feelings anymore and confesses it all to his father.
However, at first, the duo parent's did not approve of their match. But the couple stood firm and refused to give in. The duo's parents met again and gave their green signal for the match.
Allu Arjun and Sneha Reddy Engaged
Amidst the floral arrangement, yellow and white theme the couple's engagement ceremony happened on November 26, 2010.
Sneha looked stunning in her Sabyasachi dress. Arjun complemented well with a white T-shirt and a blazer. The ceremony was an intimate affair between close friends and families.
Arjun and Sneha's marriage
Months later, the couple got hitched on March 6, 2011.
Sneha was draped in Kanjeevam saree with a diamond necklace gracing her neck. Draped in a white sherwani, Arjun looked dashing.
Moreover, the wedding was a lavish affair broadcasted by a various news channel and with fans in attendance.
Arjun and Sneha's children
In 2014, the pair welcomed a baby boy. Taking after his father's good looks, the boy was named Allu Ayaan. The couple also welcomed their daughter, Allu Arha in 2016.
Their world seemed complete with the arrival of the cute little bundle of joy. No wonder, why Arjun and Sneha keep doting on their children.
Must read the following love stories:
Conclusion
Despite the success, the fame, and the media-frenzy world the couple handles everything well. Spending quality time together and striking a balance between personal and professional lives is a challenge enough! But the duo has faired well. With each passing day, their bond keeps bolstering.