Nothing is immortal in this universe nor our feelings. It is not possible to keep it consistent. There are fluctuations. The only relationship that remains between the two is when they have understanding. It is can be either as a partner or as a friend. Relationships are made in heaven. It can be seen in Shruti Hassan And Santanu Hazarika Love Story.
Shruti Haasan is one of the most talented and gorgeous actresses. Like father, like daughter. She also made a remarkable impression on the audience like her father Kamal Hassan. She was born on 28 January in the year 1986.
Shruti has worked in several Tamil, Telegu, and Hindi movies. She made her debut on the screen as a child artist in a cameo role. As she grew so as her perfection in acting. Several awards and nominations reflect her talent.
Shruti is not just a hardworking and talented actress cum singer but is also an empathetic person. And this empathetic and kind nature has somehow become a problem for her. Shruti's love life reflects this fact. So, let's look more closely at Shruti's life. Her relationships, heartbreaks. And all other things that you need to know.
Must Read
Shruti Haasan's relationship with first boyfriend Michael Corsale
Michael Corsale is a London-based actor. He belongs to Latin and Italian descent. Also, he is an experienced stage performer in London. And is known for his transformational characteristics.
Shruti Haasan and Michael dated for a long time, but it was only in 2016 that they revealed the fact. The couple was in a long-distance relationship. So, they usually kept on traveling from India to Los Angeles and vice-versa to meet each other.
They were quite serious about their relationship. Not just that, Shruti even made Michael meet her father. Michael has not left any chance to impress her father. He wore the traditional South Indian attire to meet her father.
Their love story had been quite awesome. They have spent a lot of time together. Went to beaches, attended functions together, and what not. Let's have a look at all of their lovely moments.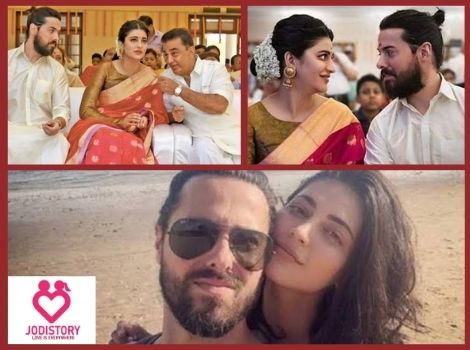 No doubt the couple looked awesome. But even after having such a great bond. Their relationship didn't last. And they broke up.
Reason behind Shruti Haasan and Michael Corsale's break-up
Shruti And Michael's break-up was not something their fans have expected. Both were quite close and happy together. But eventually, things did not work out between them. Months after her breakup Shruti revealed it on social media.
Later, in a reality show, she revealed her feelings about the breakup. She said, everything happens for a reason and there is something good hidden inside. She said for her, the relationship was good. And learned a lot of things. And she doesn't regret anything. According to her, the lesson taught by life is something no one can teach.
She doesn't like a person who is bossy and tries to dominate. This was something that started bothering her for Michael. She started seeing such behavior in him.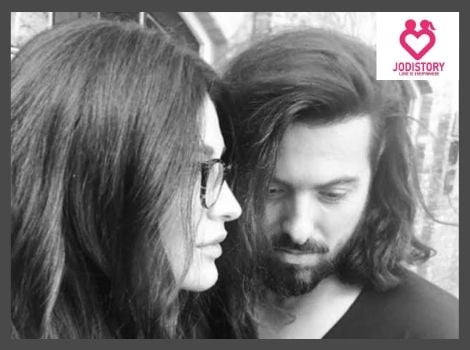 Even though the couple broke up they didn't hold any grudges for each other. Even Michael posted on Twitter Shruti's photo with a heartfelt caption on it.
The caption read like: "Life has just kept us on opposite sides of the globe unfortunately and so we have to walk solo paths it seems. But this young lady will always be my best mate. So grateful to always have her as a friend. Luv ya gal(sic)".
The entire caption justifies that they ended up on a good note. But the after-breakup situation was not easy to handle for Shruti. According to reports after her break-up. She even was addicted to drinking. And it took her months to get stable.
But yes with time everything got sober. Shruti got busy with her work life and moved on.
Shruti Hassan And Santanu Hazarika Love Story begin
Santanu Hazarika is an illustrator and a doodle artist. Not just that he even won The Best Doodle Artist in the 2014 Doodle art Competition. He is the founder of Gauhati Art Project- GAP.
Shruti and Santanu have been spotted together a lot of times before they officially announced their relationship. On Shruti's 35th birthday. They were even spotted walking together, holding hands on the roads of Mumbai.
Santanu wished her on Instagram with a beautiful pic. Have a look at their adorable pictures.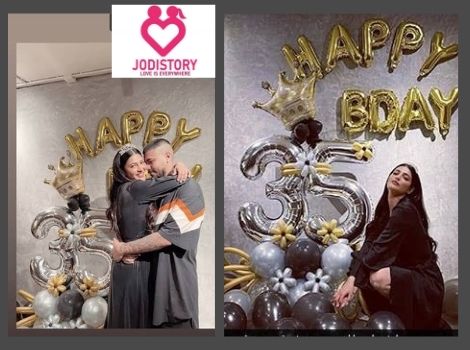 On their birthday posts, the couple even hugged each other. All these facts signal a new upcoming romance in Shruti's Life.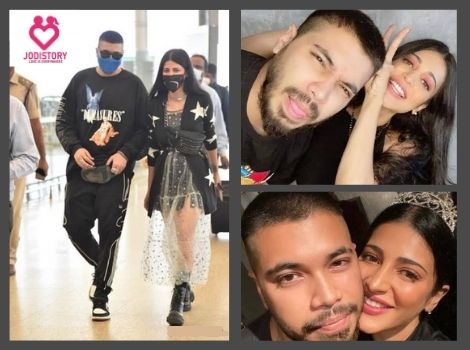 The Pics of the couple are super adorable and this shows that they are way too comfortable with each other. Their love story is new and is happily going on. Let's just hope things work out between them and they stay happy together.
Must Read
Conclusion
Life is all about ups and downs. And so is the case of Shruti Haasan's Life. Her breakup with her long-term boyfriend Michael was a shock for her. And it had broken her. But just because she hasn't stopped and not given up hope because of a simple breakup. Now she is happy and even better off than before.
This is life, it throws up surprises on us. And we only have to deal with them. Shruti has beautifully faced her problem and is now shining brightly. Her new relationship and success in life show her determination. So we just hope she stays happy in her new relationship and achieves a lot of success. Comment below your thoughts about Shruti Haasan's love story.