How many times have you imagined marrying your favourite superstar? So, can your fantasy come true? How often have you chided yourselves for imagining such unrealistic scenes? Surely, once or more often, we all have done this. But what happens when such fantasies do turn into a reality? Does it feel too good to be true? Of course, it does! Hence, Vijay & Sangeetha's Love Story proves that such fantasies do come true and often lead to blissful happiness.
Curious! Let's scroll down.
Must Read the following:
Vijay & Sangeetha's first meeting
The Tamil actor Vijay's reputation precedes him. His undaunted reputation is acquired by his highly impressive acting skills and humble nature. Hence, it was due to his talented acting skills which helped him to meet his soulmate.
In 1996, Vijay's film Poove Unakkaga had done really well. He was busy shooting for his next film in Chennai. During one of the shooting breaks, he met a pretty lady. Or let's just say the pretty lady introduced herself as Sangeetha Sornalingam to Vijay all by herself.
She wanted to appreciate and commend him for his film personally. Vijay seemed touched by her actions and invited her to chat with his parents. And thereon began one of the most adorable love stories.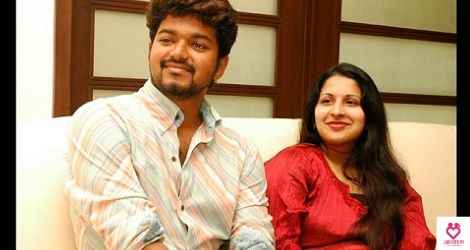 Vijay & Sangeetha's Love Story began when she met his parents
Sangeetha wholeheartedly agreed to meet Vijay's parents. The meeting went pleasantly and his parents were touched by the charming girl.
However, at that point, they did not consider her to be their future daughter-in-law. Little did they know, that this was the girl they were looking for.
Both, Vijay and his parents found Sangeetha enchanting and instantly liked her.
The proposal for marriage
Sangeetha chose to stay in Chennai for some time. Vijay invited Sangeetha to his house again. And this time, his parents did realize the opportunity and grasped it.
Vijay's father came straight to the point. He surprised her by asking whether she wants to marry Vijay or not. To everyone's immense relief and happiness, Sangeetha gladly agreed. Vijay's father posed the same question to his son and he agreed too.
Vijay's parents went to London to seek the approval of Sangeetha's parents. They have their nod and eventually, the wedding was fixed.
Vijay & Sangeetha's Love Story sealed with Marriage
On 25th August 1999, the couple tied the sacred knot. Though Vijay is Christian, they decided to get married in a traditional Hindu ceremony.
The wedding and the reception saw the leading prominent faces of the Tamil film industry. No wonder it was a star-studded affair.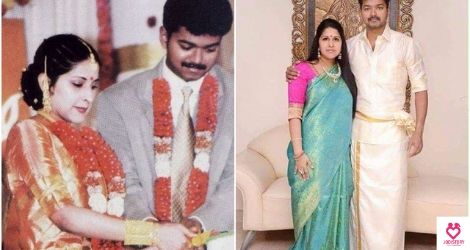 Vijay-Sangeetha's children
The couple led a happily-ever-after the birth of their two children. They welcomed their son, Jason Sanjay on 26 August 2000.
On 9 September 2005, their daughter, Divya Saasha joined the team. Both children take after their father's interest in acting. The couple dotes on their children.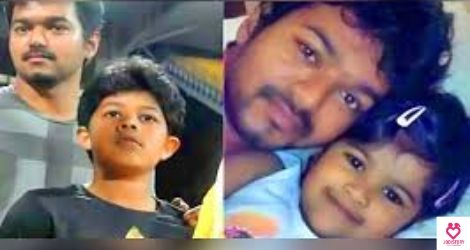 Must Read the following:
Conclusion
Well, it happens very very rarely when a superstar falls for his fan. Moreover, they make quite an adorable couple. With their parent's approval, they married and are leading a blissful life. No wonder, Vijay & Sangeetha's Love Story is an unrealistic fairy tale romance.