A reigning child artist initially but later a successful actress, Shalini. The extremely talented and handsome beyond words, Ajith Kumar. How did the cupid strike them? Did it really begin when Ajith injured Shalini? What happens when opposites attract? Can a successful actress choose marriage above career? Ajith and Shalini's love story includes all such questions.
Did curiosity peak to its highest level? Sate your curiosity by scrolling below!
Must Read the following:
How Ajith and Shalini's first meeting was?
Ajith met Shalini for the first time when she was preparing for her Grade 12 exams. Despite the success in her film industry, she wanted to focus on her academics.
However, the director Saran wanted Shalini to cast opposite Ajith in Amarkalam. So, he sent Ajith to persuade her. Ajit's assurance helped to secure her approval for the film, though reluctantly.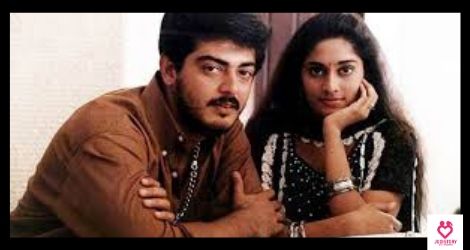 Ajith's honesty impressed Shalini
Later they met at a film's premiere when Ajith commented on Shalini's curly hair. The comment got Shalini upset but later Ajith reassured her. His honesty did not escape Shalini's notice.
Though cupid did not strike at first sight. But, their love story did progress a little.
Ajith and Shalini's love story began when Ajith injured Shalini
In a scene of Amarkalam, Ajith had to injure Shalini with a knife. The scene was well planned but unfortunately, Shalini got hurt. Shalini's palm had a deep cut with blood gushing out of it. Ajith started panicking whereas Shalini maintained her calm.
The injury actually brought them closer. Ajith felt guilty for Shalini. He became her caretaker for the rest of the shoot. Sparks flew and attraction spared. They started dating and the director of the film became the first person to realize it.
Hence, their love story blossomed because of an unfortunate injury.
Ajith and Shalini's love story sealed with marriage
The couple waited for each other to honour their assignments before getting hitched. On 24th April 2000, the couple tied the pious knot in a star-studded ceremony.
Shalini decided to quit acting. The remarkable woman had her priorities sorted and placed family above everything else.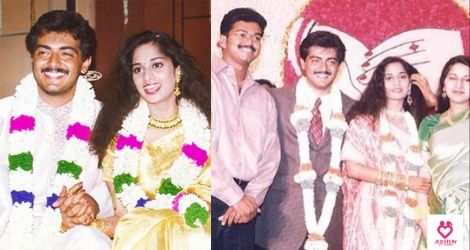 Ajith-Shalini's children
The couple welcomed their first child, Anoushka Kumar on January 3, 2008. The firstborn added bliss to their already blissful marital life.
On March 2, 2015, Aadvik Kumar joined the team. The couple dotes on their children and also are caring parents.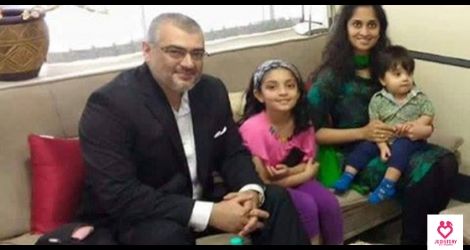 Must Read the following:
Conclusion
The couple is perfect as lovers, as parents and as individuals themselves. Shalini brought stability in Ajith's life. It is not easy for any women to leave the throne after having a taste of success. But, Shalini did it and quite remarkably so. Ajith's tranquillity also proved to be a boon for their relationship. In the world with lots of distractions, the couple's commitment towards each other is adorable. Hence, no wonder it is a story to be cherished forever by people.