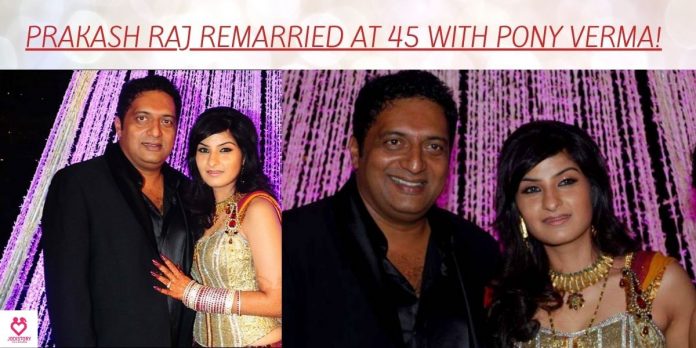 Prakash Raj, one of the most esteemed villains of Bollywood has the most heartwarming tale of love. Pony Verma, his second wife, is established choreographer in B-town. But how did the two fell in love despite their 12 year age gap? The answer lies in Prakash and Pony's love story that'll make you cry.
Let's scroll and witness the heart-wrenching tale.
Must read the following love stories:
Prakash Raj's first marriage
Prakash Raj married Lalitha Kumari, a Tamil actress in 1994. Together they had three children – two daughters, Meghna and Pooja and a son, Sidhu.
Happiness flourished around them until the gloomy clouds of despair surrounded them. Unfortunately, his son, Sidhu fell from the table while flying a kite. He died after fighting for a month against his injuries.
His tragic death led to an estranged relationship between his parents, which couldn't be reconciled. Hence, the pair opted for a divorce. However, the two are still in touch and very much friends with each other.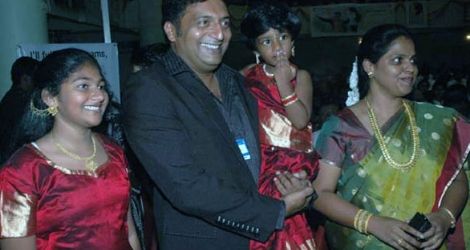 Prakash meets Pony Verma
Their first meeting took place on the sets of Ponniyin Selvan. Prakash used to remain very quiet and hardly conversed. He remained aloof.
Pony realized that Prakash is going through a rough phase. Hence the two started talking and spending a lot of time together.
Prakash falls hard for Pony
Pony's entry in Prakash's life was like flowers blooming in the spring. Her energy, zeal and vibrant behaviour attracted Prakash.
At the age of 45, when one tends to recline from the material world, Prakash found stability. Pony brought romance, music and happiness in his life.
With each passing day, he fell a little more for her.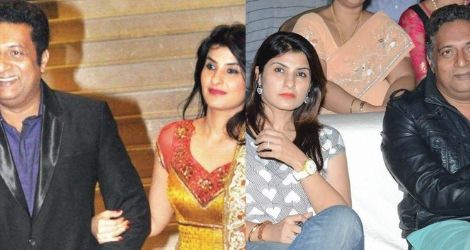 Prakash and Pony's love story seeks approval of his daughters
Despite their age difference, the couple decided to get hitched. But Prakash wanted Pony to spend some time with his daughters first. Since for Pony, it was her first marriage but Prakash came with baggage.
Surprisingly, Pony hit it off really well with his daughters. She also met Lalitha and no hard feelings were found.
Hence, his daughters gave their nod to Prakash and Pony's love story.
Prakash and Pony's love story sealed with marriage
After gaining approval of their family and friends, the pair took the next step forward. At the age of 45, Prakash remarried again!
The wedding took place in Mumbai in a Punjabi conventional style. The handsome couple tied the knot on 24 August 2010 with his daughters, ex-wife and close friends and family in attendance.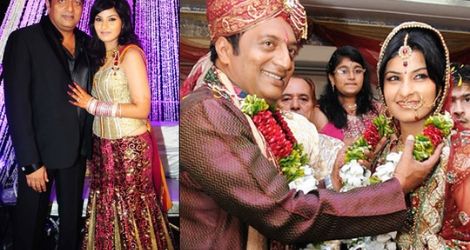 Prakash welcomes a son in his family
On Feb 2, 2016, Prakash and Pony welcomed their son, Vedanth in the family. No wonder he is the apple of everyone's eye.
At the age of 50, the Singham actor became a father again and embraces his responsibility with open arms.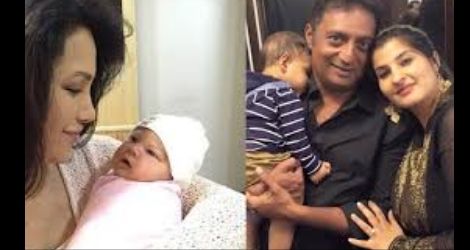 Must read the following love stories:
Conclusion
Though Prakash Raj has been through several ups and downs, he has finally found stability and happiness with Poy Verma. Pony brings out the best in him. He is reliving his youth again! Nevertheless, what more a man could ask for?