How often have you heard that everything is fair when it comes to love. Uncountable times, perhaps! But how often have you seen such a phrase coming to life? None, perhaps! So, here's the tale of Milind and Ankita's love story is a passionate one
Milind Soman(53) is a popular Indian actor, producer and a model. His wife, Ankita Konwar (28)is an air-hostess who is diligent and passionate about her work. What happens when they fall in love despite their age-gap? Let's find out.
Ankita and Milind's first meeting at a club
Ankita worked as a member of cabin crew in Air Asia. She saw Milind for the first time at a hotel in Chennai. He looked tall, lean, muscular, rugged man- too attractive to resist.
Since she was a fan of him, she wanted to say hello. But the man was busy and Ankita missed her chance. Some days later, she saw him in the hotel's nightclub. They stared at each other for long.
Finally, Ankita mustered courage and went to meet him. He requested her to dance along with him and Ankita obliged!
Must read the following love stories:
Milind and Ankita's love story began with exchanging numbers
When Ankita met Milind, she was grieving the loss of her boyfriend in a tragic accident. Since she didn't want to get too involved, she excused herself and left.
But Milind couldn't get her out of his mind. So he asked for her number. Unfortunately, she was not carrying her phone and since his number was new, so Ankita couldn't remember it either. Milind gave his number to a friend of her's and asked Ankita to call him.
Ankita couldn't resist staying away from Milind. Hence she texted him and the duo arranged to meet for dinner.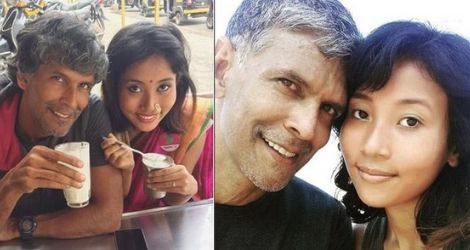 Ankita reveals her past to Milind
Even though the couple kept meeting regularly, Ankita couldn't let go of her past. Hence, she decided to talk to Milind about it.
When Ankita revealed about her past (including the tragic accident of her boyfriend), Milind comforted her. He said-
"When I fell in love with you, I fell in love with all of you. Even the part that carries the burden of your past. So don't be afraid. We're in this together."
That's when Ankita realised that Milind is the one for her.
Marriage, Age gap and The Trolls
After dating for 5 years, the couple wanted to make the next move. But the age gap between them posed a problem.
Even the duo's family worried about them but later when they saw Milind and Ankita's indifference towards it, they agreed too. Unfortunately, society wasn't keen to accept the happy couple. Milind and Ankita had to face the trolls.
But the couple stood strong. Milind stated that he didn't consider the age gap to be a problem. Society needs to be more accepting about it. It is all about understanding and accepting your partner's traditions, culture and background. He emphasized keeping your partner happy by adopting positive habits and unlearning the negative ones.
Milind and Ankita's marriage
The couple got married thrice. The first one happened at Alibaug, with close friends and family in attendance. It was a traditional Maharashtrian wedding on April 22, 2018.
The next two were white wedding under the waterfall in Spain and later at a place called 'end of the world'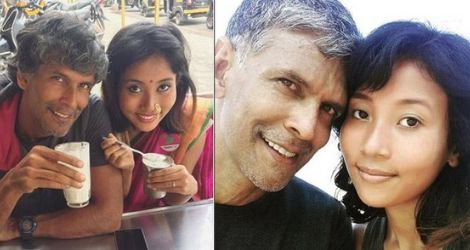 Must read the following love stories:
Conclusion
According to Ankita, Milind is the best thing that happened to her. He taught her to love, to let go and be happy.
Defying every challenge, the duo is head over heels in with each other. Their love story is an inspiration to all and their heartwarming love story is one cherished forever for years to come.