How many times has it happened with you, when you plan something your plans fall apart? Maybe once or twice. But the love story you guys will come across today, you'll be very shocked to your core. From friendship to relationship and then from their wedding to parenting, it was all fairytale for Neha Dhupia. Neha Dhupia & Angad Bedi love story began at Karan Johar party
It is Bollywood's favorite couple- Neha Dhupia and Angad Bedi's love story. Having difficulty to actually believe it? So, why not read it for yourselves!
How Angad met Neha Dhupia?
Angad actually saw Neha at a gym. Neha wore tiny shorts, had the impressive running technique and looked quite sexy.
Angad told one of his friends that soon he'll get to know her. The man stayed true to his words. He came to know that Neha was 20 and was preparing for Miss India Pageant.
Though it wasn't "love at first sight" yet our hero was impressed and was looking forward to things with her, whereas our heroine seemed oblivious to it all.
Must Read the following love stories:
Angad and Neha Dhupia became friends.
When they moved to Bombay, they met through common friends at a party. Neha noticed a sensitive side of Angad's besides his jokes and quick wit.
They were both away from home and relied on each other for support. Angad could get home food at Neha's house.
Since there was no facade and no attempts to impress each other( not from Neha's side at least), they became close-friends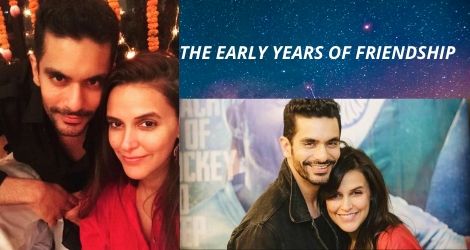 Angad's feelings for Neha unleashed
Angad had always been open about his feelings for Neha. Once Neha called him while shooting for her Punjabi film. She told him about a role he could have in it.
Angad did not ask for details. He simply flew down immediately so that he could spend more time with her.
Angad was never low key about his feelings towards Neha. However, she insisted upon remaining friends with him.
Angad proposes Neha Dhupia
Angad was always clear about Neha being his wife. So, he proposed marriage to her around 2014.
Guess what? Neha rejected him. She was already in a relationship with someone else. Angad met her boyfriend, though, he was nice to him but wasn't subtle about his love for her.
Angad being stubborn clearly stated that either Neha's his wife or nothing. He never gave up on her.
Karan Johar hints at the strong bond
Neha and Angad met Karan at a party. Karan could obviously see the unacknowledged bond between them.
Hence, he took the couple aside and literally screamed, " Can you not see this? Are you blind?"
Angad plastered "I told you so" face at Neha, letting Karan play the matchmaker.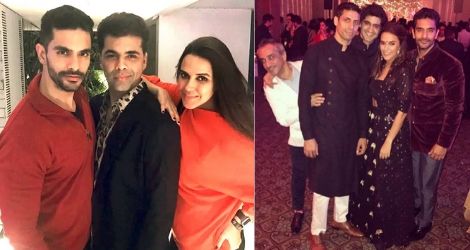 Neha makes her mind
In these four years, she has seen her husband growing more mature. Since she is a firm believer of the right time and right place, she took her own sweet time to accept the terms of marriage.
Angad told her she has already wasted four years of his life. Before she once again changes her mind, they left for Delhi.
Angad proposed Neha Dhupia for marriage
Angad met Neha's parents and told them that he wanted to marry their daughter. Her parents agreed to it and also advised Angad to talk to his own parents first.
Angad paying heed to the advice of Neha's parents, he did exactly as was told. When Angad spoke to his father, the latter wholeheartedly gave his nod. Like every Indian mother, Angad's mother had also dreamt of a lavish wedding for her son, but his son wanted an intimate affair.
Thus, the decision to marry was taken overnight.
Angad and Neha's wedding
Angad gave two days to Neha so that she could select her wedding outfit. They decided on forever in a hush-hush wedding.
The couple was married at a Gurudwara in a typical Sikh-Style Wedding. They tied the holy knot on May 10, 2018
Since there was no prior hint towards the couple plans of marrying, the social media ran riots.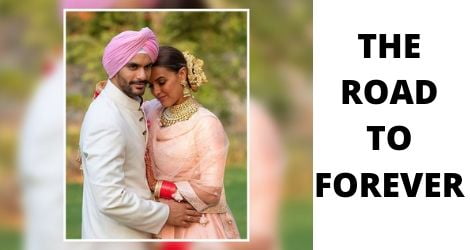 The speculations of a hurried marriage
After some time, when Neha began wearing loose outfits and baggy shirts, People began speculating about the reasons for their wedding.
The common notion agreed upon was Neha's pregnancy. Later, Neha Dhupia's father credited these rumours as baseless.
Must read the following love stories:
Angad Bedi and Neha Dhupia baby
The couple announced Neha's pregnancy around August. They also held a baby-shower ceremony for the Mom-to-be in October.
Finally, the Bollywood actors were blessed with a baby-girl Meher on November 17, 2018.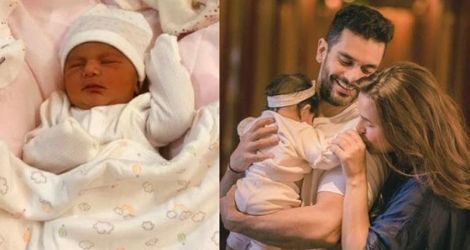 Conclusion
After Meher's birth, the couple's life has been all about striking balance between professional and personal lives which they are proving to be a pro at.
No wonder when Neha Dhupia states-
Everything we've planned for our lives, they've has fallen apart- so we're sticking to the unplanned! The wedding, the baby, the parenting….we're winging it all!
Neha Dhupia & Angad Bedi love story began at Karan johar party. I hope you enjoyed love story of the Bollywood couple.