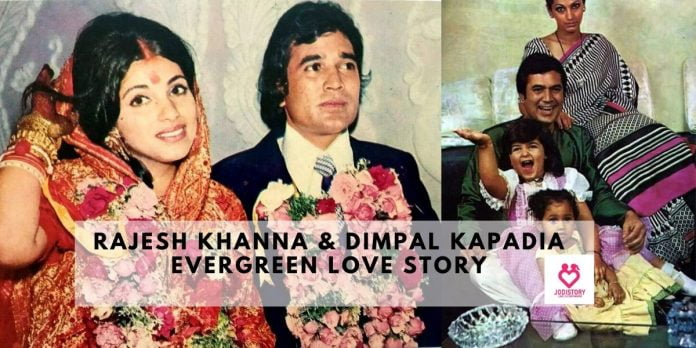 He is the one who ruled the film fraternity in '70s and '80s like a ruler. He stole the hearts of many women and is known as the sensation of the industry. Late. Rajesh Khanna being India's first superstar and heartthrob of the nation. His love affair has always been on the limelight, his marriage with Dimple Kapadia brought him into headlines. Read Rajesh Khanna & Dimple Kapadia love story.
She was 15 years younger to him which brought him into the attention. This couple's love marriage faced a lot of hardships which led to their separation.
But despite leaving each other their love did not die. They loved each other unconditionally and stood up together in all ups and downs. Any element cannot separate lovers if the love between them is pure and true, this is what they taught us.
Dimple Kapadia met Rajesh Khanna
https://www.youtube.com/watch?v=LgKueB7fCzs
Rajesh Khanna was having a gala time in his journey. His success was on peak and he was the heartthrob of the nation. Like every other girl, he was the dream man of Dimple Kapadia.
She was 14 when she started her career in movies. Her first debut was "Bobby" opposite to Rishi Kapoor. This was the time when Rajesh Khanna noticed her and got smitten by her beauty.
Also Read: LOVE NEVER GROWS OLD: Love Story of Amitabh and Jaya Bachan
Rajesh instantly started falling for her but at this time she was rumored dating Rishi Kapoor. But when the rumors started fading off he came to know about Dimple's fascination for him.
Without wasting time he proposed her for marriage, despite knowing the fact that Dimple is just 16. She accepted it happily because he was her dream man and it was like a dream come true for her.
rajesh khanna dimple kapadia love story began
And finally the evening of their marriage arrived and the stage was set on fire by the entire film fraternity. Their marriage got heavy paparazzi, after all.
It was the marriage of one of the most sensational actor of the Bollywood. But everyone was surprised by the age difference between both of them as it was 15 years.
It was even said that for attention purpose he married such a young girl. But regardless of these gossips 1973 brought happiness in their lives.
Marriage with Dimple failed
But in no time Rajesh Khanna's stardom started fading away and this made their love weak. Most of his movies flopped miserably in box office in the early 80's.
He could not handle failure and became short tempered, frustrated and alcoholic.
Also Read: Love Story Of Dev Aanand: The Unfinished Yet Timeless Story
This resulted in the failure of their marriage too. Still, Dimple supported him in all his odds but Rajesh Khanna fell in love with other younger actress.
Rajesh Khanna-Dimple Kapadia re unite
After many years of separation, Rajesh and Dimple discovered that their love for each other is still alive. They found their lost love and started living with each other again.
Despite of highs and lows they continued to maintain their amicable relationship and were always seen together in events and social gatherings. She supported him in all his political journey.
In true words, she was only his true love. He passed away in 2012 at his bungalow in Mumbai. She held his lifeless hands and caressed the forehead. They gave us major couple goals despite of all the problems, love to conquer everything.