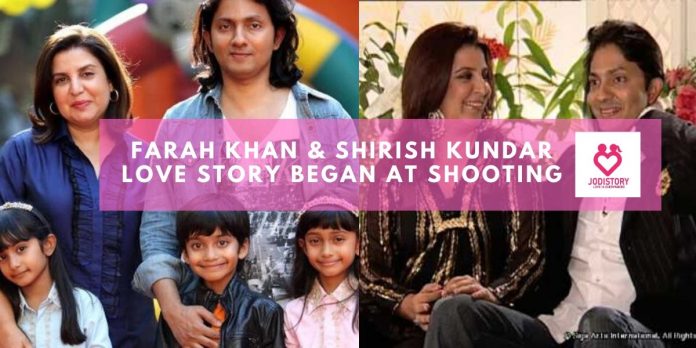 It's true when everyone says that love is blind and unconditional. The entire industry of Bollywood was shocked when the lady director and choreographer, Farah Khan decided to settle her life with editor Shirish Kunder who was younger to her. Let us read Farah khan & Shirish kunder love story.
Farah Khan & Shirish Kundar love story began at the set of MAI HOON NA
The gist started at the sets of Farah's directional debut movie, "Main Hoon Na". Shirish has always had a crush on Farah and that turned out to be the reason for which Shirish agreed to edit her debut film.
Also Read: GAURI SHINDE AND R. BALKI LOVE STORY: ZINDGI IN LOVE
She too developed feelings for him but was always busy on her work schedules. During one of the parties, Shirish got drunk and confessed his feelings for her. Then they began dating each other.
Shirish & Farah serious relationship
Shirish was serious about the relationship. All he wanted was the serious commitment from Farah's side. And he even told Farah that they should continue their relationship only if she thinks that they have a bright future together.
Love commitment
Even though Shirish was 8 years younger to her, the two always had their commitment as a real and sincere one. Farah thought and finally gave a "yes" as an answer to him.
Shirish & Farah marriage
The couple decided to get married in the year 2004. There were three wedding ceremonies performed for the couple.
At first, they had a registered wedding, the second one was an incomplete south Indian style. And the third and final one was the Nikah.
Family of Farah & Shirish
In the year 2008, the couple were happy struck and blessed by the arrival of their Triplets. They were blessed with a son and two daughters. Farah Khan & Shirish Kunder leads a very happy life along with their three children and with their busy schedules. Farah khan & Shirish kunder love story is super cute.
Also Read: LOVE STORY OF DIVYA KHOSLA AND BHUSHAN KUMAR