How many times have you imagined a fantasy when your crush has some feelings for you? How many times have you so desperately wanted to acknowledge your feelings to your crush? Every moment, it is, I bet! Isn't it? Today, we have the story of Ayushmann Khuranna and Tahira Kashyap, whose journey ranges from childhood sweethearts to man and wife. The love story of Ayushman Khurrana & Tahira Kashyap
Tahira and Ayushmann's first meeting
Their first meeting goes back to the days when they attended the same tuition in Class 12th. There were around 60 students in that batch.
Since those were the days of slow and shy love story, no wonder when Tahira mistook Ayushmann's name as Abhishek.
Both Tahira and Ayushmann had feelings for each other but unfortunately, left them unacknowledged.
Tahira and Ayushmann's feelings revealed
Ayushmann had eyes for Tahira fortunately, Tahira also had a crush on Ayushmann. When Ayushmann became aware of Tahira's feelings for him, he couldn't believe his stars.
He was in seventh heaven because there were so many good looking guys in the batch, yet Tahira noticed him.
So, isn't it some fairy tale come true when your crush reverts back the same feelings to you!
Must Read the following love stories:
OMG!! Tahira and Ayushmann are family friends
One day, Tahira's parents asked her to accompany them at his friend's place for dinner. Guess what? Whom did Tahira meet at dinner!
Ayushman Khurrana, of course! The night actually did wonders to both of them.Kabir Khan-Mini Mathur Bollywood Type Love Story: Love is religion itself
He impressed his crush with his charm, quick-wit and melodious voice that reaches the very core of a lady's heart.
The couple soon started dating and spending a lot of time together.
Since then the couple has been blaming their parents for the cupid match.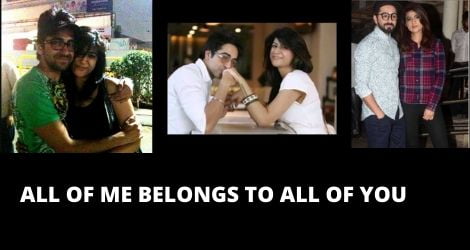 Tahir and Ayushmann's struggle for marriage
Though both of them had marriage on their mind yet were clueless about their respective careers. Their fairy tale love proved to be no less than a gamble when Ayushmann revealed taking up acting as a career.
Tahir gave up all hopes for marriage because she was aware of her parent's denial of marriage with a struggling actor.
But Tahira stood with Ayushmann through the highs and the lows. Their love was strong enough to overcome all problems and finally, they gained their parent's approval.
Ayushmann proposes to Tahira
No wonder that their fairy tale love story requires a fairy tale proposal.
Ayushmann took the initiative to offer marriage to his lady-love. A dream proposal, it proved to be.
A year before their marriage, he proposed in a gentleman's style. With the ring, the background music, red roses, wine, and the candlelight dinner, he asked for her hand.
And who would not agree after receiving such a grand proposal? No wonder Tahira agreed whole-heartedly.
Ayushmann weds Tahira
With the blessing of their parents, the couple exchanged the sacred vows on November 1, 2008. However, their marriage involved a lot of traveling.
At that time, Tahir was more financially sound than her husband whereas Ayushmann was having difficulty to find his feet in Mumbai.
Tahira remained in Chandigarh and there was a lot of traveling between Mumbai and Chandigarh so that the duo could spend some quality time together.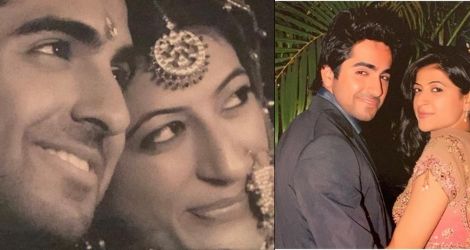 Ayushmann becomes an overnight sensation
After the release of Vicky Donor which did well on the blockbuster screen, Ayushmann became an overnight sensation.
Since then the man has never looked back. He has been giving more blockbusters, one after the other.
Tahira also opened up about not being comfortable with the kissing scenes. She took her time to adjust to it but the couple has never given up on any challenge posed to them.
Ayushmann and Tahira's family
The couple is in marital bliss for over a decade now. They welcomed their son, Virajveer in 2012.
The couple was also bestowed with a daughter, Varushka in the year 2014.
The duo is careful about not letting the success to get into their head. Even with their busy schedules, they manage to spend some quality time together.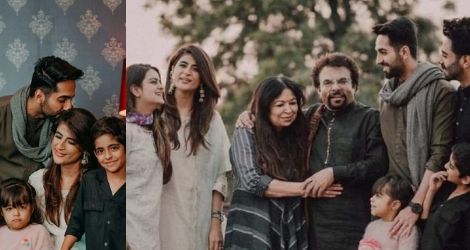 Must read the following love stories:
Sticking through thick and thin
When Ayushmann decided to be an actor, Tahira supported him. Fickle fate took care of letting Ayushmann do the same for her.
Unfortunately, Tahira was detected with breast cancer. Ayushamann stood by his wife, giving her strength and positivity. Tahira also fought like a warrior and finally emerged victorious.
She is also spreading awareness regarding the disease.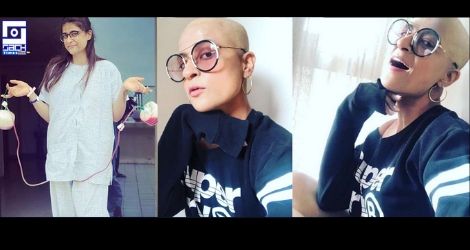 Conclusion
The duo is one of the most adorable couples of the Bollywood. They have been through a lot yet have conquered it all like a boss!
From childhood sweethearts to Man and Wife and from parenting children to bolstering bonds, they have given their best. The love story of Ayushman Khurrana & Tahira Kashyap you loved it.