Who doesn't know about Beckham's? David Beckham and Victoria Beckham have ruled social media ever since they started dating. Hence, the couple was nicknamed as Power Couple. But how does one know about their love story? Surely via Instagram, Facebook, and other apps. We get updated news as to what's happening in their lives. Yet how does one know about their first meeting, early dates, marriage, and family? David Beckham fall in love with Victoria
It was love at first sight for David Beckham. David Beckham fall in love with Victori and exchanged numbers. He maintained low profile dating. Then David Beckham proposed Victoria. Birth of a first child in 1999. Then Victoria & David Beckham married.
Must-Read Love Stories
David and Victoria's first meeting: Love at first sight
We all have heard about love at first sight but surely Beckham's first meeting proves it. The Power Couple first met at Manchester United Club Lounge. Victoria noticed how cute David's smile was and how similar he felt to her.
Meanwhile, David shy-enough was simply waving at her from the other side of the bar. Later he regretted not asking her out. He thought that he blew his chance.
Later when Victoria wrote a letter to her younger self, she admitted that Love, At First Sight, Does Exist.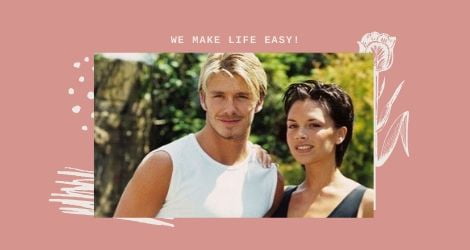 How Did David Beckham fall in love with Victoria?
A week later Victoria attended another game and then went to the Lounge. This time David did not turn shy and managed to exchange their numbers. Vicotria wrote it on her London-Manchester plane ticket.
He called her the next day and also went to London the same night to see her.
Low-Profile dating life of the Beckhams
The couple soon started dating and kept it low-profile. They would sneak around easily. They would drive around and spend as much time as possible. The duo shared their first kiss at a car park in a restaurant,
David described the early days of their courtship as amazing.
However, the media did found out and kept updated the audience of their every move.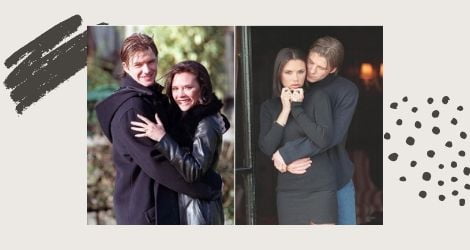 David Beckham proposed Victoria
On January 25, 1998, David got down on one knee, slipping a three-carat marquise-cut diamond on her girlfriend's finger and popping the question.
Victoria, much to everyone's delight and particularly to David's, said yes.
The couple celebrated their happy news with a vacation in Marbella, Spain.
The tabloids popped a nickname – Posh and Becks. The duo would appear with matching outfits at lavish affairs and won everyone's heart with their sizzling chemistry.
The birth of their first child – Brooklyn Beckham
By March 1999, Social Media went mad when the couple announced the birth of their first child- a son – Brooklyn Beckham.
They were in New York when they found that they were expecting.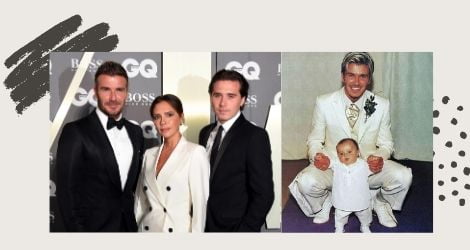 Victoria and David says, "I do" – A Lavish Wedding
In July 1999, the couple was off to Ireland to tie the knot. The lavish ceremony held at Luttrellstown Castle.
Neville, Beckham's teammate served as the best man for the wedding. Apparently, several years prior to this luxurious wedding, Beckham had revealed his marital intentions to him.
The bride looked gorgeous when she wore an ivory dress of Vera Wang. Also complemented with a gold-studded crown.
The ceremony attended by several stars was a gala affair including the Spice Girls, Bobby Charlton and David Seaman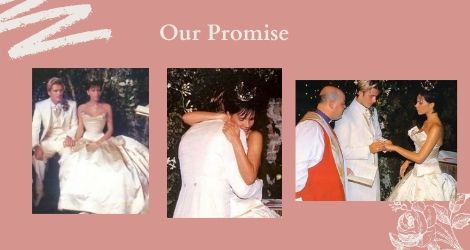 The blossoming family of Victoria & David
On Sept 1, 2002, the duo welcomed their second son Romeo. Meanwhile, David had named many achievements after him. He was christened as captain of the National Team, had a movie (2002's Bend it like Beckham) after him and also received OBE- from the queen.
Also, Victoria Beckham was focusing on fashion and her young family.
Must-Read love story
Unfortunately, in 2004, the couple's rock-solid marriage deterred with the claims of David's affair with Rebecca (Madrid based assistant)
However, the couple went through a tough time and came back stronger and happier.
Around 2004, their third son- Cruz came into the family. Later, the couple moved to Los Angeles in July 2007.
In 2011, the duo bestowed their blessings on a baby girl, Harper Beckham.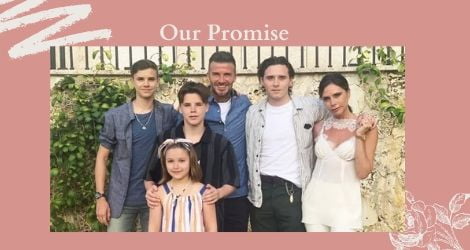 The Beckham Clan
The couple has endured many highs and lows during their eventful journey of love. The duo has been giving us major couple goals for 20 years. Their family is an amazing one. It has always been love and their strong family unit that keeps the bond between them stronger than before.