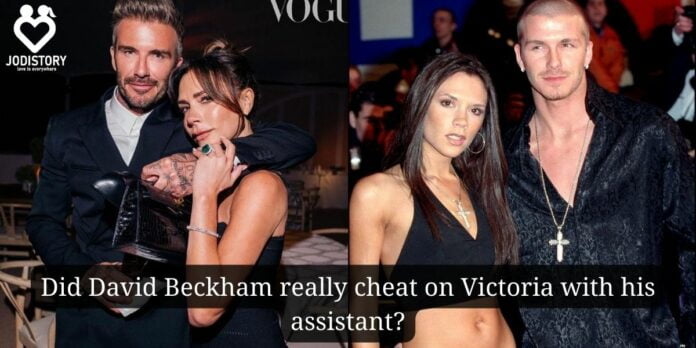 Who doesn't know about The Beckham Family? David Beckham and Victoria Beckham have ruled social media ever since they started dating. Hence, the couple was nicknamed Power Couple. But did you know that David Beckham & Victoria Beckham's love story is not so perfect?
They were just kids when they fell in love and today have a big family with four kids. But their love story could have just ended after the rumors of David cheating on Victoria with his assistant Rebecca started to fly around.
Do you want to know what exactly happened then read the article below to understand David Beckham & Victoria Beckham's love story.
Who is David Beckham?
David Beckham's full name is David Robert Joseph Beckham. He was born on 2nd May 1975. He is an English former professional footballer. David currently co-owns Inter Miami CF and Salford City. David is hailed as one of the greatest midfielders of the century because of his exceptional football skills like crossing ability, range of passing, etc.
Moreover, he is the very first player to ever win league titles in four countries: England, Spain, the United States, and France. Undoubtedly he is recognized as one of the most brilliant and supreme Manchester United footballers of all time. He debuted at Manchester United at the age of 17 in 1992. Any amount of praise is less to describe him.
MUST-READ LOVE STORIES:
Who is Victoria Beckham?
Victoria Beckham's full name is Victoria Caroline Beckham. She was born on 17th April 1974. She is an English fashion designer, singer as well as a television personality. Her presence was known when in 1990 she became Posh Spice in the girl group called Spice Girls. Spice Girls set many records but they broke up in 2001.
Her inspiration to pursue a career in the music industry was watching the musical Fame in 1980. She is a worldwide fashion icon who also bravely pursued a solo music career. But from 2007-2012 the Spice Girls embarked on a reunion journey. In the fashion industry, her eponymous label launched in 2008.
Fairytale first meeting of David Beckham & Victoria Beckham in 1997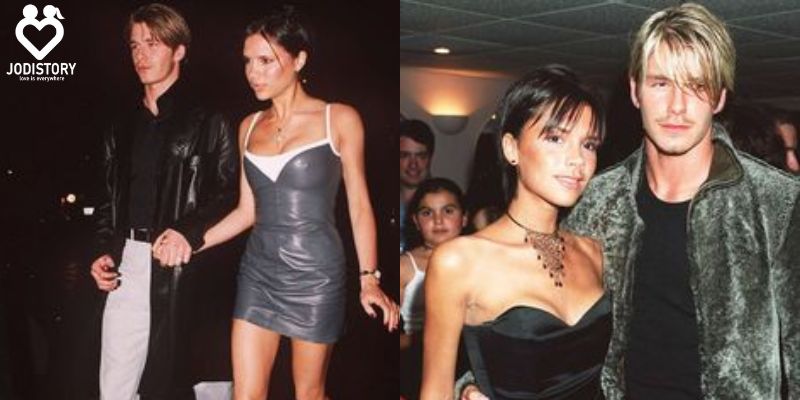 We all have heard about love at first sight but surely Victoria and David Beckham's first meeting in 1997 proves it. The two strangers first met at Manchester United Club Lounge not knowing that their eyes will linger a little too long on each other.
Victoria saw the entire football team hanging by the bar, having drinks, and enjoying a good time. However, the person she really noticed was our gorgeous athlete David Beckham who was away from all this chaos standing right by his family.
His cute little smile did the magic further as Victoria just fell for his angel smile almost immediately. Looking at him standing by his family made her feel that he was so similar to her as she respects family too much as well.
Meanwhile, David shy enough was simply waving at her from the other side of the bar. Later he regretted not asking her out. He thought that he blew his chance. But fortunately for him, luck was right by his side!
A week later Victoria attended another game and then went to the Lounge. This time David did not turn shy and managed to exchange their numbers. Victoria wrote it on her London-Manchester plane ticket! He called her the next day and also went to London the same night to see her. To date, David has that plane ticket given to him by the love of his life.
Low-Profile dating life of David Beckham & Victoria Beckham since 1997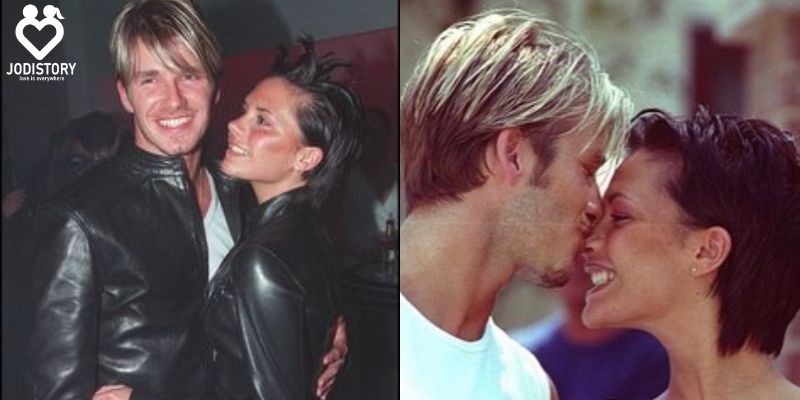 Victoria and David soon started dating and kept their relationship highly lowkey. They would sneak around like young teenagers deeply n love with each other. They would drive around and spend as much time as possible.
The duo shared their first kiss at a car park in a restaurant. David described the early days of their courtship as amazing. Just after their first meeting in 1997 Victoria and David were always inseparable from each other.
David Beckham's proposal to Victoria Beckham in 1998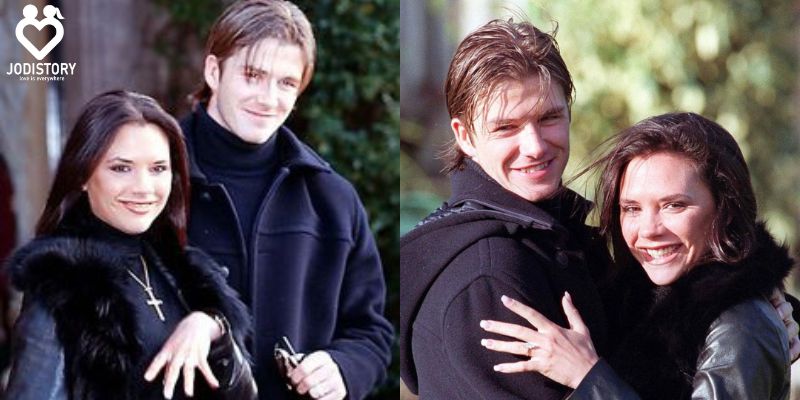 On January 25, 1998, the moment that everyone was waiting for finally happened. David got down on one knee, slipping a three-carat marquise-cut diamond on her girlfriend's finger and popping the question.
Victoria, much to everyone's delight and particularly to David's, said yes. The couple celebrated their happy news with a vacation in Marbella, Spain.
The tabloids popped a nickname – Posh and Becks. The duo would appear with matching outfits at lavish affairs and win everyone's hearts with their sizzling chemistry.
David Beckham & Victoria Beckham's first baby born in 1999
By March 1999, social media went mad when the couple announced the birth of their first child, a son, Brooklyn Beckham. They were in New York when they found that they were expecting.
Brooklyn Beckham was born out of wedlock but the couple did not really care as they welcomed their amazing baby just four months prior to their lavish summer wedding.
Victoria Beckham & David Beckham's lavish wedding in 1999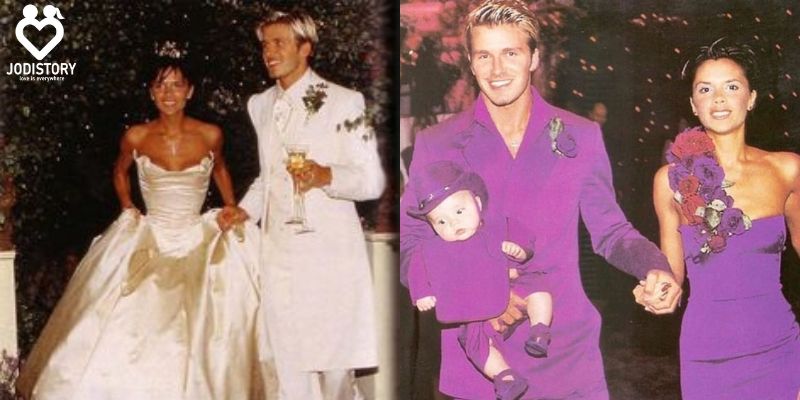 In July 1999, Vitoria and David were off to Ireland to tie the knot. The lavish ceremony was held at Luttrellstown Castle. Neville, Beckham's teammate served as the best man for the wedding.
Apparently, several years prior to this luxurious wedding, Beckham had revealed his marital intentions to him. This just shows how much of a gentleman he is and how deeply he loves Victoria.
The bride looked gorgeous when she wore an ivory dress by Vera Wang and also complemented her look by wearing a gold-studded tiara. The ceremony attended by several stars was a gala affair including the Spice Girls, Bobby Charlton, and David Seaman, with 29 guests in total.
David Beckham cheating rumors on Victoria Beckham in 2004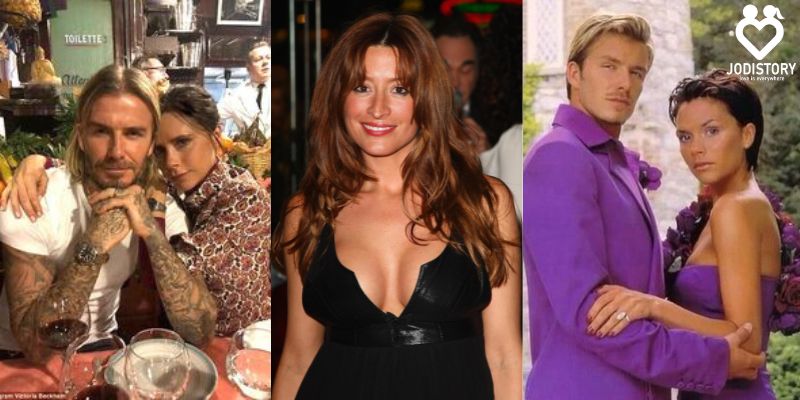 In 2004 a groundbreaking rumor started spreading around everywhere about David Beckham. Rebecca Loos, David's assistant in Madrid claimed that the married professional had an affair with her while being married to Victoria Beckham.
Rebecca went as far as calling David an amazing lover on National television. She shared many graphic sexual details and said that they both just could not keep their hands off each other.
However, Victoria and David called these claims false, absurd, and ludicrous. Rebecca claimed that they both were drawn to each other like magnets and that everyone saw their connection so they just decided to spend the night in David's hotel room.
For Rebecca, the love affair with David started very tenderly but by the end, it just became more and more sexual. She says that she slept with David less than six times but that he knew exactly how to please her and was not afraid of her body.
She felt bad for his wife Victoria but just figured that she mostly stays busy and was not at all able to pay attention to her husband and when she did she found out about them and just wasn't happy. Moreover, by the end of it, all Rebecca said was that she felt like a cheap whore.
However, Victoria and David always denied this rumor and never accepted that it happened. Both of them just simply said that they love each other and just don't feel the need to prove that love to anyone. This could have broken them as a couple but rather it just made them more strong!
The blossoming family of Victoria Beckham & David Beckham
On Sept 1, 2002, the duo welcomed their second son Romeo James Beckham. Meanwhile, David had named many achievements after him. He was christened as captain of the National Team, had a movie (2002's Bend it like Beckham) after him, and also received OBE- from the queen.
Around 2005, their third son, Cruz David Beckham came into the family after moving to Madrid in 2003 to join Real Madrid. Later, the couple moved to Los Angeles in July 2007 as David joined LA Galaxy. In 2011, the duo bestowed their blessings on a baby girl, Harper Beckham.
FAQs
Does David Beckham love Victoria Beckham?
Yes, David Beckham deeply loves his wife Victoria Beckham ever since he first saw her on television as Posh Spice.
Was Victoria Beckham married before?
No, Victoria Beckham was only married one time in 1999 to her husband David Beckham.
How did David Beckham fall in love with Victoria?
David Beckham fell in love with Victoria after watching her on television performing as one of the Spice Girls named Posh Spice.
How long did David and Victoria date?
David and Victoria dated for about three years from 1997 to 1999 before getting married in the summer of 1999.
Why did Beckham marry Victoria?
David Beckham wanted to marry Victoria because he fell in love with her the ever first time he saw her.
How old was Victoria Beckham when she had a baby?
Victoria was twenty-four when she had her first baby in 1999.
How many times did Victoria Beckham get engaged?
Victoria Beckham was officially engaged one time only but over the twenty years of her marriage, David has given her fifteen different engagement rings as a token of their love.
Are Victoria and David Beckham still married?
Yes, Victoria and David Beckham are still very much married.
How long is Victoria and David Beckham been together?
Victoria and David Beckham have been together for twenty-four years now.
Must-Read love story
Thoughts on David Beckham & Victoria Beckham's love story
Undoubtedly, David Beckham & Victoria Beckham's love story has endured many highs and lows during their eventful journey of love. The duo has been giving us major couple goals for 20 years. Their family is a big and amazing one. It has always been love and their strong family unit that keeps the bond between them stronger than before.
Being in the position where they are today and the success that they hold in their personal and professional life has got to hurt some people. No wonder people like Rebecca Loos make false claims about them to hurt their relationship.
But Victoria and David are just so secure, and safe in their love that they pay no attention to the noises coming from outside. They have trust, love, and respect for each other which is unwavering by any force from the outside.