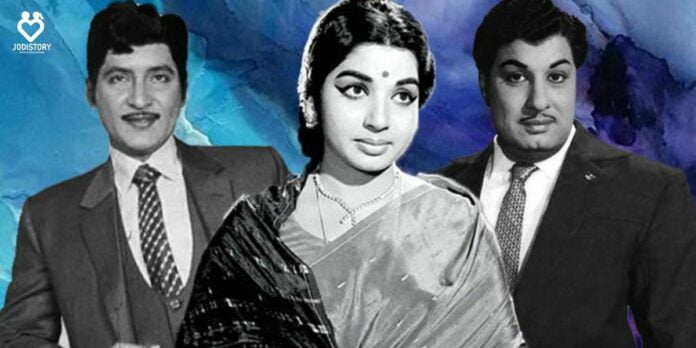 Yes, You heard right we are here to talk about "Peoples CM" Jayalalithaa. Are You Excited to listen to the love story of Amma? Come with us to know Jayalalithaa love affairs with MGR biopic Thailaivi.
The film actress and late politician who served as the Chief Minister of Tamil Nadu is Jayalithaa, According to reports, Kangana Ranaut will be playing the role of Jayalalithaa. Read Jayalalithaa's love affairs with MGR, biopic Thailaivi is releasing soon.
Jayalalitha had a long career and political journey in her life. She was thought to be in a serious relationship with Shobhan Babu during her acting career. Everybody thought that she is going to marry him.
But, the case was different. Though they were good friends it couldn't turn into marriage! Let us read The Iron lady of India's Love story.
MUST-READ LOVE STORIES
Who is Jayalalitha "The Iron Lady of India"?
Jayalalithaa was born on 24 February 1948. Born to Jayaram and Vedavalli in Mandya district(Mysore). furthermore, Her family belongs to Tamil brahmin lyenger.
Her name comes from the names of two houses. Where she lived in Mysore. The first was "Jaya Vilas" and the second was "Lalitha Vilas". Her parents had two children. A daughter, Jayalalitha and a son Jayakumar. Jayalalitha started going to Stella Maris College. However, left her studies due to pressure from her family.
Afterwards, Jayalalitha's nickname was "Ammu". Her parents, relatives and friends know her as Ammu.
Amma's mother joins acting in drama and films. With the name Vidyavathy.
Jayalalithaa started her filmy career with a debut in a Kannada movie
Jaya was forced to combine with the Tamil Film industry by her actress mother Sandhya at the age of 15.
Later, she became a film actress. She knows several languages, including Telugu, Kannada, Hindi, Tamil, and English.
In Chennai, she was trained in Carnatic music. And the various form of dance. Firstly she was noticed by Panthulu, who assigned her the Kannada movie Chinnada Gombe. Her debut film in Kannada was a blockbuster in 1964. And slowly she became famous in the state.
Amma had done around 35 shows of drama Malathy from 1964 to 1966. And in 1966 she had 11 hit releases in Tamil. Between 1965 and 1973 she was featured opposite M.G. Ramchandra in several hit films.
Jayalalitha's political career started after the death of M.G. Ramachandra
As her popularity grew she joined AIADMK, founded by MGR.
At 41 Jayalalithaa joined the assembly successfully with MGR political Heir. She was chosen as the Tamil Nadu legislative assembly representative.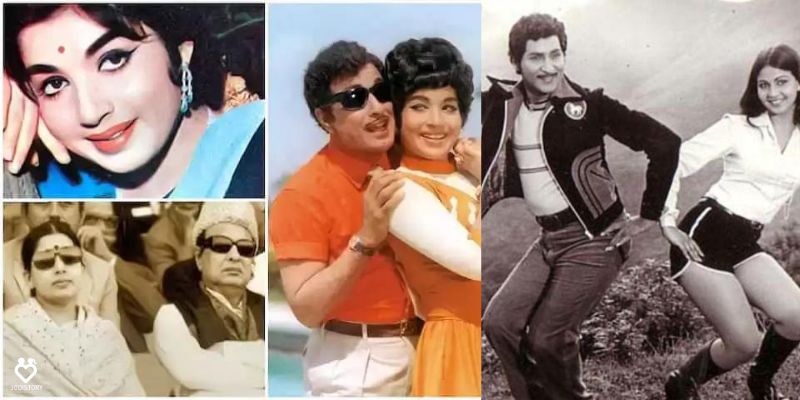 After the death of Rajiv Gandhi, Congress enabled her to win because of the sympathy of the people. Subsequently, in March again she became the Chief Minister. And people started calling her "people's CM".The iron lady of India.
Jayalalithaa's love affair with actor Shobhan Babu
CM Jayalalitha Jayaram was not married until her death. In her filmy life, she had Affairs with M. G. Ramachandran, an Actor, and Actor Sobhan Babu.
Jayalalitha fell in love with Shobhan Babu when she met her at a film party in Chennai. She tried her best to make him fall in love with her.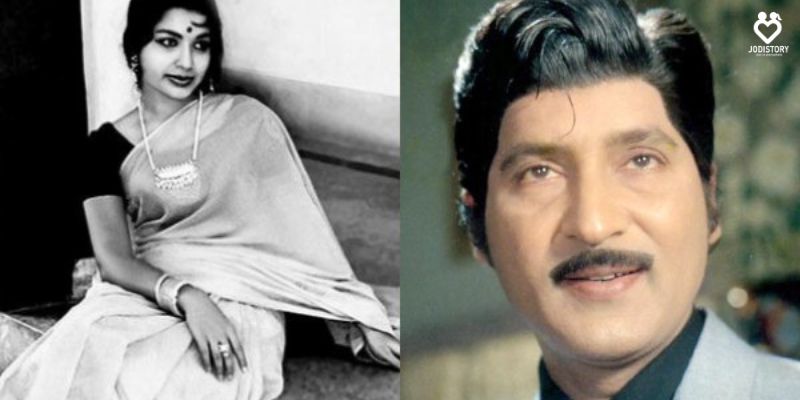 But, the scenario was completely different! Shobhan Babu was already married. Still, Jayalalitha tried so hard to start a relationship between them!
This couldn't happen and they remained good friends. Their friendship moments were captured a lot of time by the media.
Jayalalitha & Shobhan Babu's relationship was seen differently on-screen
The two of them were showing the world their growing romance. People started believing that they are in a relationship.
The couple became the silver faces of the entertainment industry. There was no place where they weren't seen together in front of the media.
Jayalalitha knew everything about Shobhan Babu's marriage but she still couldn't stop her from falling in deep love with him.
Reports were saying that Jayalalithaa was spotted numeral times staring at Shobhan Babu through Binoculars. Oh, My God! Now, this is something serious about her love life I guess!
Jayalalitha proposed to Shobhan Babu and was alleged to be marrying him
After spending a lot of time together. Jayalalitha finally decided to confess her feelings to Shobhan Babu.
She directly proposed to Shobhan Babu for marriage. But, she was completely broken when he denied her saying that he cannot leave his wife and kids for her.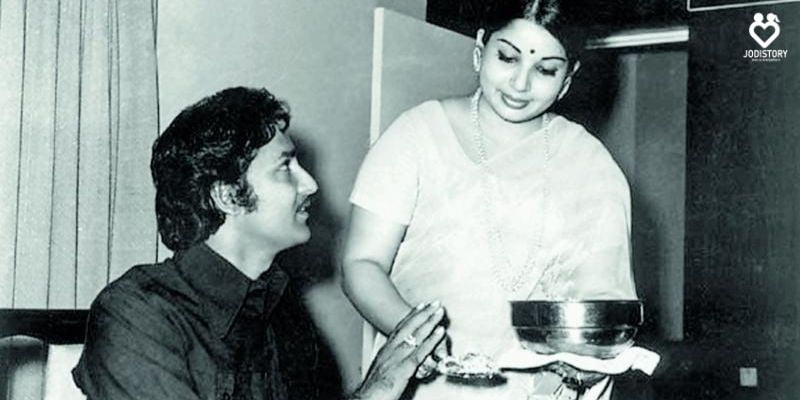 Jayalalitha had a heartbreak after this and was in complete sorrow and pain. Though people and the media made so many statements regarding her marriage. But, the two never gave any confirmations on it!
Now, What was the real love story of MGR and Jayalalitha?
Jayalalitha and MGR gave 28 hit films together in the history of Indian Cinema. Their chemistry was loved by the people on-screen.
But, again Jayalalitha lost her heart to MGR. Do you know when she fell in love with MGR he was also married to his second wife?
Yes! Sadly again Jayalalitha fell in love with a married man. Already she suffered a huge heartbreak due to her relationship with Shobhan Babu.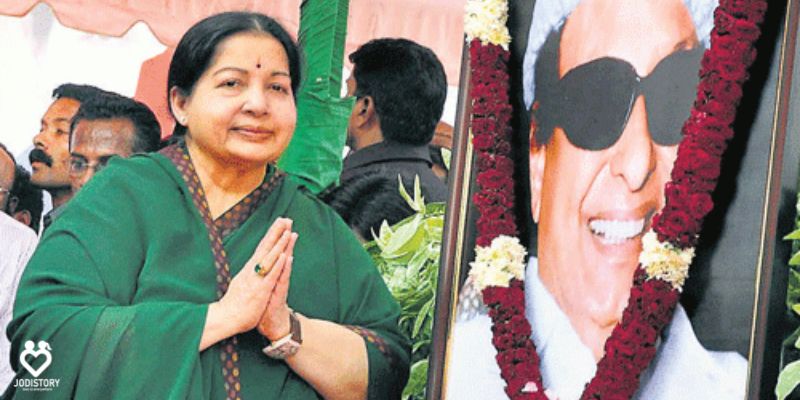 This time again she proposed to MGR and he denied saying the same line as that of Shobhan Babu. This denial broke her completely as she again gathered some courage to fall in love and confess herself!
Jayalalitha and MGR's AIADMK, political journey together!
Jayalalitha left her film career and joined the political party, AIADMK of MGR. Both of them were working together in this political party. Soon, Jayalalitha became the Chief Minister of Tamil Nadu.
All the opposing parties and the members of their party started doubting her sudden rise in a political career. They related all these scenarios to Jayalalitha's and MGR's past relationship.
That's why, MGR decided to part his way from the party and wasn't in any contact with Jayalalitha due to allegations!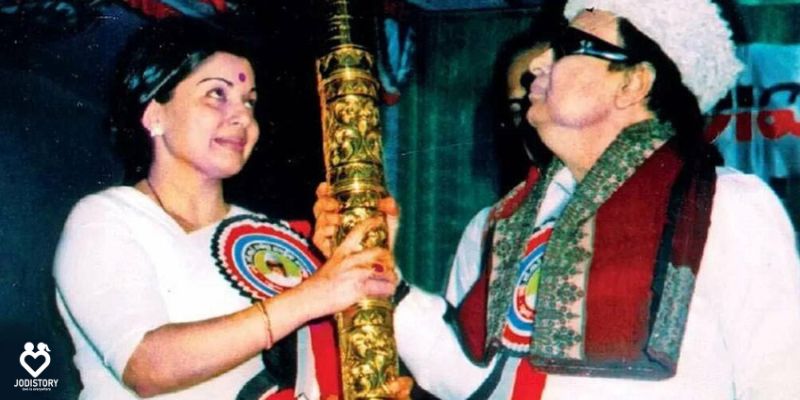 Jayalalitha and MGR didn't even have eye contact after that. But, suddenly the news came that MGR died and Jayalalithaa couldn't stop her to give him a last goodbye!
But, Do you know she was refused to enter the hospital to see MGR? This much separation he made from her after those allegations. This made her feel so bad and broken inside!
Kangana Ranaut is acting as Jayalalitha in the Biopic called "Thalaivii".
After great success in Bollywood Kangana Ranaut has played the role of Jayalalithaa in the biopic Thalaivii. This Biopic highlights Jayalalitha's (former chief minister of Tamil Nadu ) childhood, family, and career.
Thalaivii was released on 10 September 2021. The film is under the direction of A. L. Vijay and production of Vishnu Vardhan Induri and Shailesh R Singh.Under Vibri Media and Karma Media And Entertainment.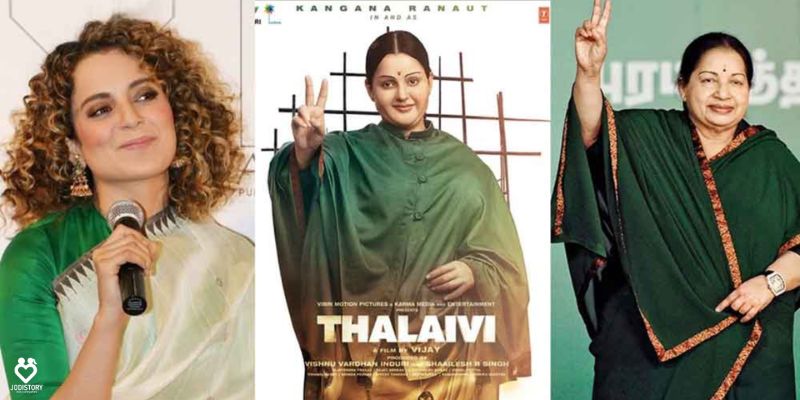 In this biopic, Kangana Ranaut played the main lead role as Amma. Stars like Arvind swami as MGR, Prakash Raj as M.karunanidhi, and the most popular actor of Geetha Govindam Vijay Devarakonda will be seen.
The Biopic was officially announced on 24 Feb 2019. On the occasion of Jayalalithaa's birthday. The film was released on 10 September in several languages in Hindi, Tamil, and Telugu.
MUST-READ LOVE STORIES
FAQs
Did Jayalalitha have a relationship with MGR?
Yes. Jayalalitha fell in love with MGR when she started working with him as his co-actor. They gave so many hit films in the history of Indian cinema. Both of them had an allegation that they are in a true relationship.
Did Jayalalitha marry Shobhan Babu?
No, Jayalalitha and Shobhan Babu didn't marry each other. They were co-actors together for some years. but, Jayalalitha fell in love with him during that time. Shobhan Babu refused her love saying he cannot leave his wife and children for her. As he was already married.
How Jayalalitha and MGR related?
Jayalalitha and MGR were co-actors in many hit films of Indian cinems. later on, Jayalalitha joined MGR's political party and they worked together in that party for some years.
An epilogue of Jayalalithaa love affairs with MGR biopic Thailaivi
Jayalalitha is a very ambitious and inspirational woman of all ages of females. She succeeded in her life even in those days and established herself as "The Iron lady of India".
But, as you know not everything is perfect in one's life. The same was with our Iron Lady. She suffered all the time she fell in love with someone.
She has gone through a lot of heartbreak and bad days in her life. But she conquered it all. Not all people are lucky to have a soulmate in their life! Jayalalitha was that one!
But, still, not all people can achieve what she achieved in her career and even after her death! She is still treated with respect. For an instance, her biopic is going to release! Isn't it a great achievement for a person?
I hope you enjoyed reading Jayalalithaa love affairs with MGR biopic Thailaivi. What are your views on Jayalalitha's love story comment down below!