Sonia Gandhi and Rajiv Gandhi love story is a not much talked about loved story. Two completely different countries, different cultures, different background yet joined by destiny. Sonia and Rajiv Gandhi's love story is full of passion and love that anyone will be inspired to read and write about it.
Rajiv Gandhi love at first sight for Sonia Gandhi
It all started in Cambridge, when Rajiv Gandhi saw this beautiful Italian girl, Sonia Gandhi in a Greek restaurant and fell for her immediately.
He requested the restaurant owner, Charles Antoni to arrange a table for him right next to her. Rajiv was so mesmerised by Sonia that he wrote a poem for her and sent it with a bottle of wine to her through Antoni.
Must-Read Love Story
Rajiv describes her as the one for him, a woman who is straight forward and outspoken who never hides things.
She is the most understanding person, who he loves the most (Adorable isn't it?).
Soniya Gandhi first movie date with Rajiv Gandhi
From then on, the two started going out often and the first movie that they ever saw together was Satyajit Ray's PatherPanchali.
Now that the two were confident about their love and wanted to marry each other. Rajiv decided to tell this to his mother, Indira Gandhi, a great political leader at that time in India.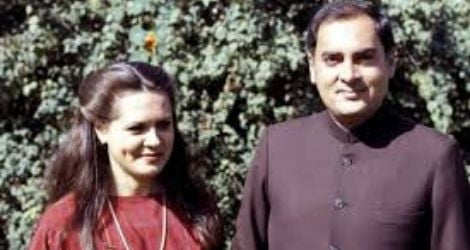 Rajiv wrote a letter to his mother describing the love he had for Sonia. And how he wanted to marry her. Indira Gandhi, after discussing with her aunty, decided to meet her future daughter-in-law.
She flew to London in 1965 for the Nehru exhibition, where Rajiv introduced Sonia to her.
Indira Gandhi was an open- minded leader and did not come between the lovers. But she suggested that Sonia should first visit India before making the final calls.
Despite Indira Gandhi accepting this couple, Sonia's father, Mr. Stefano Maino, was a little apprehensive about his daughter getting married into a political family, despite him liking Rajiv Gandhi.
Rajiv returned from Cambridge in 1976, without completing his engineer's degree and Sonia joined him early in 1978 after turning 21.
While Rajiv became a pilot after his return, Sonia stayed at the Bhachans before the wedding.
Sonia Gandhi engagement with Rajiv Gandhi
The couple got engaged by the end of January 1968, and got married on February 25, 1968.
A beautiful wedding with rangoli, flowers, a lavish buffet and great music was attended by famous politicians, businessmen and celebrities.
This beautiful couple was so attached to each other and their love never faded away. They were blessed with two adorable kids, Rahul Gandhi and Priyanka Gandhi.
Rajiv abundant politics for love of Sonia
Sonia never wanted her husband to enter the political world and Rajiv for the love of his wife, promised that he won't enter this demanding profession. But this promise was broken right after the death of his brother, Sanjay Gandhi.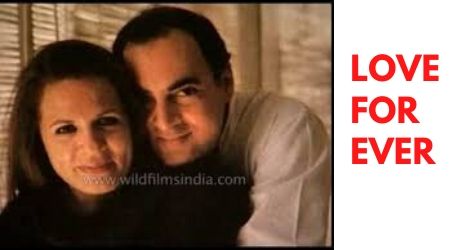 Sonia Gandhi cried for days and was not ready to accept the fact that Rajiv decided to follow the footsteps of his family.
This caused some friction between the couple. But after sometime, Sonia understood that it was very important for Rajiv to serve for the country.
Must-Read Love Story
But it was too late! The end of Rajiv's political career and life.
Rajiv Gandhi death lead Soni heartbroken
He was assassinated in 1991, giving a huge shock to his family and the entire nation.Sonia was broken, but never left her family's side.
She soon entered politics to take up her husband's position.
This beautiful love story emerged amidst all the politics and fights for power. Sonia Gandhi- Rajiv Gandhi love story is mesmerisiing. The two simple people who only wanted to love and be loved. They will remain the symbol of love now and forever!