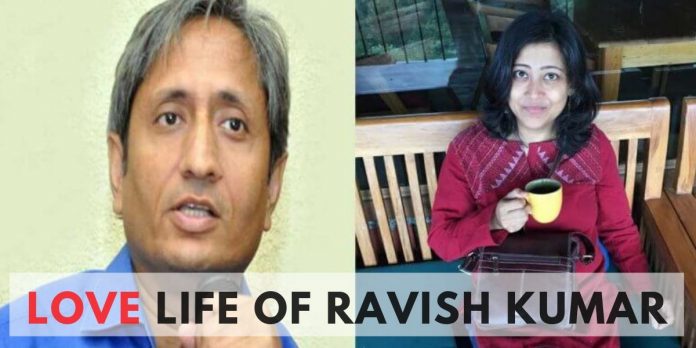 Who does not know Ravish Kumar. The sensational and award winning news reporter of India. But in this blog you have landed to read personal life of ravish Kumar. I have brought exclusive Ravish Kumar love story only for you. 
Ravish Kumar, a young man met someone special in his life named Nayana Dasgupta. Nayana, a cute and Bengali girl who was in Indraprastha college in Delhi. They met for the first time in Delhi. And this was the first time when Ravish was talking so much with a girl. Now let's read how Ravish kumar love story started.
Ravish Kumar, a man who do not need an introduction. A man who is well-known for handling his debates and interviews in a peaceful manner.
A reputed TV anchor, writer and a journalist too. A man with an inspiring image.
Do you believe that each of you have one true soulmate?? I think you do. Well, you will be more convinced by this thought when you put a glance on the love story of Ravish Kumar.
Yes, you heard it right. A man with such a great personality has a cute and motivational love story too.
Must Read Articles
Ravish Kumar Wife Nayana Dasgupta
So, lets open the love book of Ravish kumar to get the glimpse and spice of his love journey. Keep scrolling down …
Ravish Kumar, An Ambitious Person
Ravish Kumar, a man full of ambitions was born on December 5, 1974 in Bihar,Champaran. He completed his schooling from Loyala High School, Patna.
Afterward, he moved to Delhi to pursue higher studies. He completed his graduation from Deshbandhu college, Delhi University.
After completing his graduation, he started preparing for UPSC civil services along with the course of B.A (Bachelor of Art).
During the peroid of pursuing his M.Phill in Delhi, an interesting chapter opened in the life of Ravish.
Ravish Kumar Meeting Nayana Das Gupta
Ravish, a young man met someone special in his life named Nayana Dasgupta. A lady Nayana, strongly grabs Ravish attention towards herself.
Nayana, a cute and Bengali girl who was in Indraprastha college in Delhi. They met for the first time in Delhi. And this was the first time when Ravish was talking so much with a girl.
Soon, they became very close friends and started spending time with each other. Nayana also helped Ravish in learning english with depth knowledge.
A sweet and strong relationship was started blooming between the two hearts.
Did you know, Ravish is a bit of shy nature, when it comes to girls?? Ya, its true..
Ravish Falling In Love With Nayna Das Gupta
Despite of being a man of shy nature, Ravish anyhow won Nayana's heart. They fell in love and began their love affair. They spent quality time with each other.
They used to usually meet at coffee houses or go for walks. Since Ravish was in short of money at that time, so they used to be simple.
The couple fell deeply in love with each other. The bonding which developed between the two as friends, now changed into a love relationship. Friendship changed its path to love.
You would be surprised to know that couple dated each other for long 7 years. They shared a strong and warm relationship. But..
But Things Not Always Meant To Be Easy Ravish and Nayna
Ravish belongs to an orthodox and conventional family. Nayana belongs to different culture. When Ravish broke the news of their relationship back home, there was a sort of storm.
The different cultural background of the two made Ravish's family reluctant about his marriage. The relationship was not accepted by Ravish's family
But as you all know, there is a saying, love is blind. And there are no limits and conditions in love. Something like this was also happened to Ravish.
Love for Nayana made him stood firm and stick to his decision. He decided to marry Nayana, despite of the disapproval of his family.
Ravish And Nayna Dasgupta Tied The Knot
Finally, after all the obstacles and 7 years of togetherness, the couple decided to tie the knot. They decided to give their relationship a name of marriage.
The couple finally tied the knot and two souls becomes one. It was not just an intercaste marriage but it was also an inter-region marriage.
Did you know, the marraige of the two had a big consequence?? Ravish is not in much contact with his family. All relatives broke relationship with his family.
Infact Nayana has never visited Ravish birthplace. She even never been able to meet her in-laws due to the broken ties. At present, Ravish is in touch only with his parents.
Ravish and Nayna Career Achievements
He began his career from NDTV abd still associated with it. He is a man with tremendous amount of success in recent years. He won prestigious award of India named Ganesh Shankar Vidyarthi award in 2010.
He also won Indian news television award in 2014. He was named as the best journalist of the year in 2015 by Mumbai press club.
He is best known as a host of 'Prime Time' on NDTV. He earns massive amount of salary. The Indian Express has included him in the list of 100 most influential indians 2016.
He is also one of the senior-most executive officers of NDTV India. He also runs his own blog called naisadak.org.
Ravish Kumar Magsaysay Award
Finally 2019 turned memorable for Ravish Kumar. He became famoous Asian to receive the most prestigious Ramon Magsaysay Award 2019. It was awarded to Ravish Kumar for his superb journalism.
Ravish is undoubtedly one of the most popular journalist of India, especially Hindi news reporting. Despite of being such a great personality, he is very down to earth and express a sound understanding towards every aspects.
Must Read Article
Married Life Of Ravish And Nayna
They seem very happy in their married life. They are very happy of being each other loving spouse. He loves his wife so much. Nayana always being supportive to Ravish. Ravish also considers her the biggest inspiration behind all his success. The couple is blessed with two beautiful daughters thereby completing a picture perfect family.
We wish the two of them to be together and happy for the rest of their life..!!