Generally, people believe that Lawyers are boring and are not involved in love and relationships! But, Kapil Sibal is the opposite of this! Kapil Sibal love story & relationship is very romantic!
Kapil Sibal first encountered his love of life during his college days! Where both of them were from the same study background and were preparing for some Theatre!
But, his love story with that love-at-first-sight woman wasn't completed due to some circumstances! Kapil Sibal then met another woman and this time he conquered it all! I hope you must be excited to know more about Kapil Sibal's love story!
Scroll down and read more details!
Who is Kapil Sibal?
Kapil Sibal was born on 8 August 1948 in Jalandhar Punjab. He is a child of a migrated family. Kapil's parents migrated to India during the partition. After finishing his schooling Kapil moved to Delhi University for his LAW DEGREE. In fact, Kapil qualified IAS in 1973.
But he declined the appointment letter. And moved to Harvard Law School. For his next degree in law. In 1989 Kapil Sibal was appointed as the Additional Solicitor General Of India. He served as the President of the Supreme Court from 1995 to 2002.
MUST-READ LOVE STORIES
Kapil Sibal Met Nina At Delhi University, it was a love-at-first-sight romance!
Kapil is a famous lawyer & politician in India. He served various ministries in Congress. For instance- the Ministry of Science & Technology, and the Ministry of Human Resource Development. Ministry of Communication & IT, and the Ministry of Law & Justice.
Let's talk about Kapil Sibal Personal life. Many of us are unaware of Kapil's love life. So peep into it. When Kapil Sibal took admitted to Delhi University. For pursuing his LLB degree. Same time, Nina was also took admission to Delhi University for MA in English.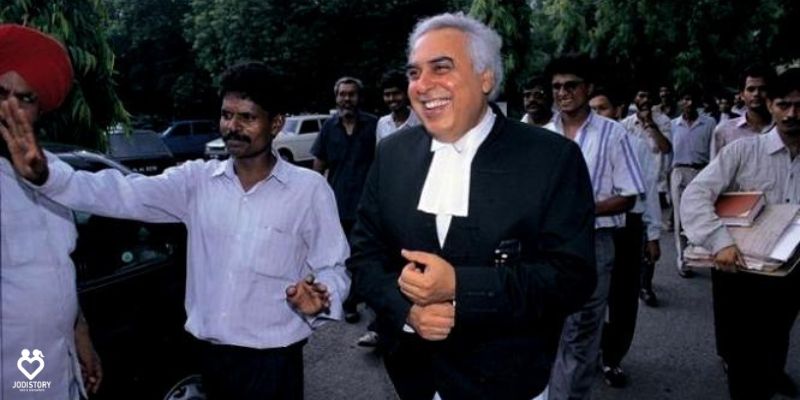 Kapil met Nina on the campus of Delhi University. When he participated in the College festival. Nina was also part of the festival. Both Kapil and Nina met on the stage. The pair was playing a lead role in a play Julius Ceaser.
Kapil played the role of Caeser. And Nina became Caeser's wife. So during the rehearsal of the play. Kapil and Nina fall in love with each other. Iina and Kapil's love for the career was the same. But after finishing her M.A. in English. Nina also pursued a career in Law.
That is why Kapil and Nina decided to take this relationship to the final stage. The pair married in 1973.
The tragedic death of Nina Sibal made Kapil's love story incomplete!
Everything was running smoothly in Nina's Sibal life. She became the Indian Delegate to UNESCO in 1992. And moved to New York in 1995. Then she became a director of the Liasion Office there. But in 2000 Nina Sibal was diagnosed with BREAST CANCER.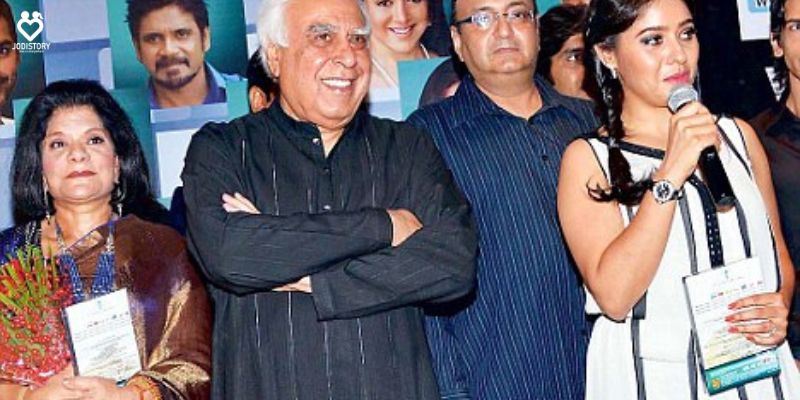 After so many efforts doctors could not save Nina Sibal. And after that, Nina died of cancer on June 2005. It was a huge traumatic moment for Kapil Sibal as he lost his love forever!
Though he was surrounded by people, he was lonely. He lost his most precious of life, Nina Sibal! Till now Kapil Sibal love story & relationship would have felt like full of sorrow and pain to you! Read more!
Kapil Sibal married another woman Promila Sibal in 2005
After five years of loneliness, Kapil Sibal got his love again. Although the lady was not Nina. The lady was Promila. Kapil Sibal and Promila married in 2005. They have started their media channel TV Tiranga in 2019.
AlthoughBarkha Dutt. A senior Journalist of TV Tiranga has filed a complaint against Promila Sibal. That the Sible couple is not paying the salary. And 200+ staff are suffering for six months. Barkha accused PROMILA SIBAL. For using abusive language with the female staff of the channel.
Still, these negative things didn't separate the two of them! Kapil and Promila Sibal continued their journey together. Who says that true love happens once? It can happen anytime or manytimes!
MUST-READ LOVE STORIES
FAQs
Who is Kapil Sibal first wife?
Nina Sibal was first wife Kapil Sibal. They met in DU for the first time during practice for the play "Julius Caesar". Kapil fell in love with her at first sight.
Did Kapil Sibal have a second marriage?
Kapil Sibal married Promila Sibal his second wife. As Nina Sibal died due to Breast Cancer and he was left all alone! For many years he decided to live alone like that. But, finally, he fell in love again and married Promila.
Kapil Sibal married Promila in which year?
Kapil Sibal married Promila Sibal in the year 2005. They together started their own media channel "TV Tiranga". Although there were many allegations and complaints against their media channel TV.
Conclusion of Kapil Sibal love story & relationship
Kapil Sibal belongs to a very disciplined profession. People like a lawyer or politicians are believed to be hard and strict! But, he wasn't like that. He believed in "True Love".
That's why when he felt a spark with Nina Sibal he didn't force that feeling to stop! He just went with the flow and married her!
But, unfortunately, his love left him forever! He was alone for many years. But, again the cherry of love got into his mouth! He tasted it and found it so soothing and happy. Finally, he did a second marriage! It is not at all wrong!
What are your views on Kapil Sibal's Love story? Let us know in the comments section!