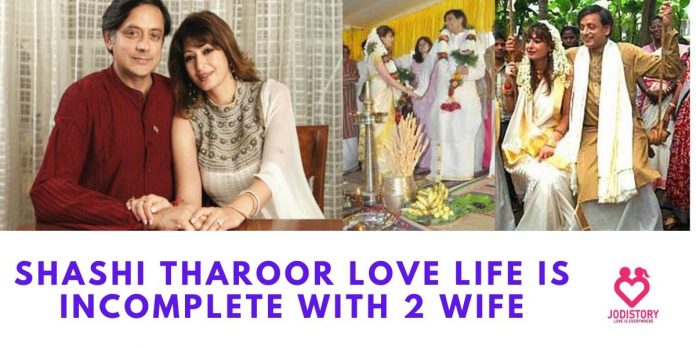 Last Updated on March 8th, 2020
Life is never stable in an individual's life. Life always plays its game and takes its turn when unexpected. It was the same with the love and life story of Indian Politician and writer Shashi Tharoor.
Shashi Tharoor & Tilottama Mukherji marriage end
Tilottama Mukherji is born a half – Kashmiri and half-Bengali who was a few years elder to Tharoor. The couple got married at a young age.
Also Read love story
The two were smart and popularly associated with their field of work. The two have twin sons named Kanishk and Ishaan. But the couple ended their long term married life after they grew apart from each other.
Christa Giles came in Shashi Tharoor life, new relationship began
After the break in his first marriage, Tharoor married Christa Giles. The couple tied the knot after a long affair. Reports said that Tharoor had to make a lot of sacrifices in his life at the point of joining into the world of the political career.
Also Read: Love Life Of Atal Bihari Vajpayee: Whispered Rumours
There was a lot of pain he had to go through. The two tried saving their marriage but ended up filing divorce. And there was various other rumors aid to be the reason for their separation.
Shashi Tharoor met Sunanda Pushkar & got married
Various reports had even been made that Tharoor's friendship with Pushkar was the reason for his second broken marriage.
Pushkar was a Dubai based entrepreneur. The couple tied the knot in August 2010 in a Kerala traditional wedding. It was the third marriage for both Pushkar and Tharoor.
Shashi Tharoor & Sunanda Pushka marriage sad ending
But the happily married couple life did not go on so well.
There was a shatter in the relationship between the two when Pushkar made allegations about the affair going on between Tharoor and Pakistani Journalist Mehr Tarar.
Must-Read love story
After a controversial public post, another situation raised. Pushkar was found dead in her hotel room in New Delhi. The marriage, unfortunately, ended in January 2014 after her controversial death. And in this way Shashi Tharoor love story is still incomplete.