Last Updated on March 12th, 2020
Love knows no age boundaries. When we are in true love, reputation and status are of no relevance. A 67-year-old Congress General Secretary Digvijay Singh accepted his affair with 43-year-old Rajya Sabha TV anchor Amrita Rai. Their news of marriage completely rocked the chair in parliament. Let's get a sneak peek of what is this aged romance about. Scroll down to read Digvijay singh & Amrita Rai love story.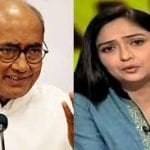 Death of Digvijay Singh first Wife Asha forced him to fall in love againg
Digvijay Singh was all left behind by his life long companion Asha in February 2013. Just after the sudden demise of her he was all shattered and needed a strong hold in life.
At this age, they may not have a physical relationship but their companionship made him upset.
Must-Read Love Story
Love, Lust or money for Digvijay & Amrita Rai?
Digvijay Singh was in his election time when he came in contact with Amrita Rai in a television interview. They had the same thoughts and ideology which made Digvijay Singh a bit influenced by her.
Digvijay got mesmerized with Amrita and she also got attracted but people call it greed not love. This is so because of his political background and huge wealth many think Amrita just want it.
Amrita divorced her first husband to marry Digvijay Singh
From Asha, Digvijay Singh has five children. He has four daughters and one son. When his children learned about their father's relationship with a younger lady, they disagreed to it.
He was on a political and family pressure to break the relationship as it was affecting his and parties image.
When he went to Amrita with this decision she was in no mood to give up. Amrita Singh also filed a divorce petition in court and ended his past relationship.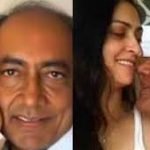 Intimate picture of Amrita & Digvijay leaked
Before they could come up to any decision some of their intimate photos got viral. Those images were private and got leaked during the time of elections.
This brought everyone in shock and they were forced to take action suddenly of getting married.
Also Read:
Some call it a publicity stunt by Amrita Singh to force Digvijay to marry her. It was a brave decision of Digvijay to officially announce his relationship with a girl half of his age. They married in the year 2016.
Digvijay transfered property to children
Digvijay Singh transferred all his ancestral property to his son and daughters. People think that Amrita has an eye on Digvijay's property so to clear all such rumors Digvijay tweeted that Amrita is behind such big decision. And hence they together proved it that their love is true despite all the rumors.