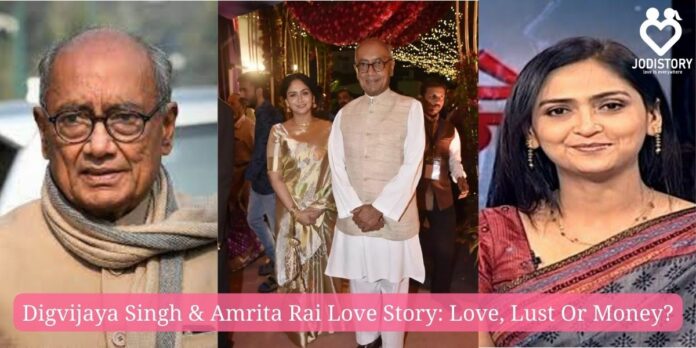 What if a love story is imperfect from almost every angle that you see it through? Is love really love when a recently widowed politician falls in love with a journalist who is twenty-four years younger than him? This is Digvijaya Singh & Amrita Rai's love story.
In the limelight of the whole world, this love story started growing when Digvijaya Singh, a famous politician lost his first love Asha to cancer. At the same time, a driven journalist named Amrita was trying to make her mark in this world.
Both of them found what they couldn't have with their previous relationships in each other and without any fear of anyone in the world they accepted each other without any shame. Read Digvijaya Singh & Amrita Rai's love story below.
Who is Digvijaya Singh?
Digvijaya Singh is a famous Indian politician who is also a Member of Parliament in the Rajya Sabha. He was born on 28th February 1947. His birthplace is Indore. Digvijaya is the Ex-General Secretary of the All India Congress Committee of the Indian National Congress party.
He was also the fourteenth Chief Minister of Madhya Pradesh from 1993-2003. He also served as the president of Raghogarh Nagar Palika from 1969 to 1971. In the 1997 elections, he became a the Member of Legislative Assembly. In March 2022, Digvijay Singh along with six others was sentenced to one-year rigorous imprisonment.
MUST-READ LOVE STORIES:
Who is Amrita Rai?
Amrita Rai is an Indian Television Journalist. She is a senior anchor at Rajya Sabha TV. She was born in 1972 in Uttar Pradesh. Her career started as a journalist when she started working for BAG films. She has worked under many high-profile news channels such as Star News, CNEB & NDTV.
In 2016 she quit her job with NDTV and started her own program Sarokaar with Rajya Sabha TV. Due to her relationship with Digvijaya Singh, the journalist has faced severe backlash. To pass her time she likes to read books and has a great grip on knowledge.
Digvijaya Singh's first wife Asha Singh died due to cancer in 2013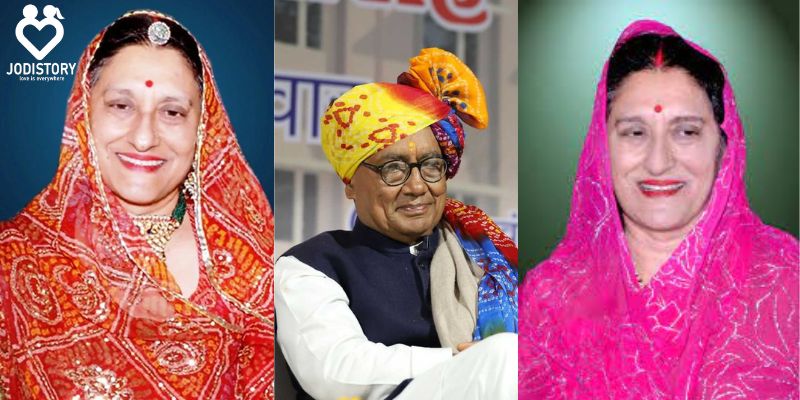 Digvijaya Singh married his first wife Asha Singh in 1969. They had a good married life until Asha Singh took her last breath after battling cancer for many years in 2013. The couple birthed four daughters and one son. Jaivardhan Rai is the son of Digvijaya and Asha Singh. These few years were definitely rough on their family and highly difficult to go through.
So after forty-four years of having a good married life, Digvijaya Singh was left widowed at the age of sixty-six. Surely one feels alone and broken after losing their companion of forty-four long years. Did this loneliness make Digvijaya look for another partner? Did losing his wife made him want to have a partner again to be on his side?
The first meeting of Digvijaya Singh & Amrita Rai in 2013
The famous and old politician Digvijaya met young and driven journalist Amrita after six months after his wife's death in 2013. Digvijay Singh was in his election time when he came in contact with Amrita Rai in a television interview. They had the same thoughts and ideology which made Digvijay Singh a bit influenced by her.
Digvijay got mesmerized by Amrita and she also got attracted but people call it greed not love. This is so because of his political background and huge wealth many think Amrita just wants it. So is Amrita Rai really a gold digger who went after Digvijaya's money and fame?
The only thing that can irk anybody is that Digvijaya within a few months of his wife's death started falling for a woman who was twenty-four years younger than him! That is definitely upsetting and obviously tended to raise some eyebrows.
Amrita Rai & Digvijaya Singh's relationship & affair in 2014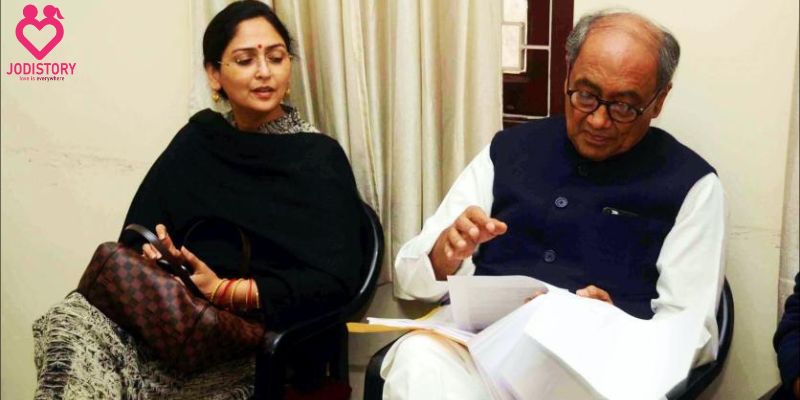 Digvijaya & Asha's kids were older and were in grief due to the loss of their mother. So when they heard about their father's dirty little secret in 2014 they were hurt. None of them were happy about this and his son Jaivardhan stopped talking to him.
He was under political and family pressure to break the relationship as it was affecting his and the party's image. It was definitely a huge scandal because everything about this relationship was unconventional. It was unacceptable from almost every corner.
When he went to Amrita with this decision she was in no mood to give up. She wanted to marry Digvijaya badly. The shocking thing was that Amrita was also a married woman who cheated on her husband to be with an older man!
Amrita Rai divorced her husband Anand Pradhan in 2014 to be with Digvijaya Singh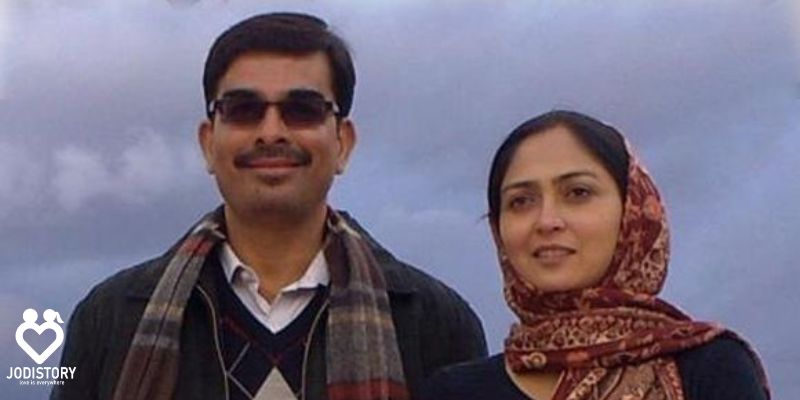 Anand Pradhan, Amrita Rai's ex-husband is an associate professor at Indian Institute for Mass Communication. He was constantly being taunted and harassed because he was Amrita's husband. The reality of the situation was that Anand and Amrita had started living separately for a long time before her affair started.
When Amrita had her affair with Digvijaya she was separated for quite a many years from her husband Anand. Anand respectfully asked everyone to respect his privacy and help him through these tough times. He wanted nothing but a promising future for Amrita so both of them mutually got a divorce in 2014.
Intimate pictures of Digvijaya Singh & Amrita Rai leaked in 2014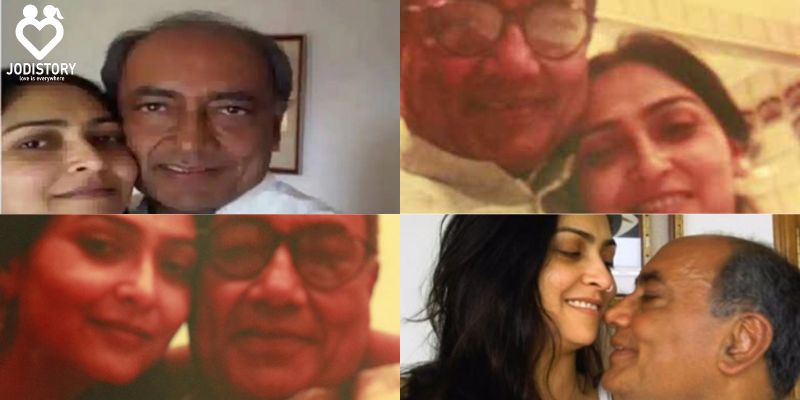 Before they could come up with any decision to deal with their relationship or the backlash some of their intimate photos got viral. Those images were private and got leaked during the time of the elections in 2014.
This brought everyone in shock and they were forced to take action suddenly of getting married. Some call it a publicity stunt by Amrita Singh to force Digvijay to marry her. It was a brave decision of Digvijay to officially announce his relationship with a girl half of his age.
Digvijaya Singh & Amrita Rai's marriage in 2016 & gave the property to the children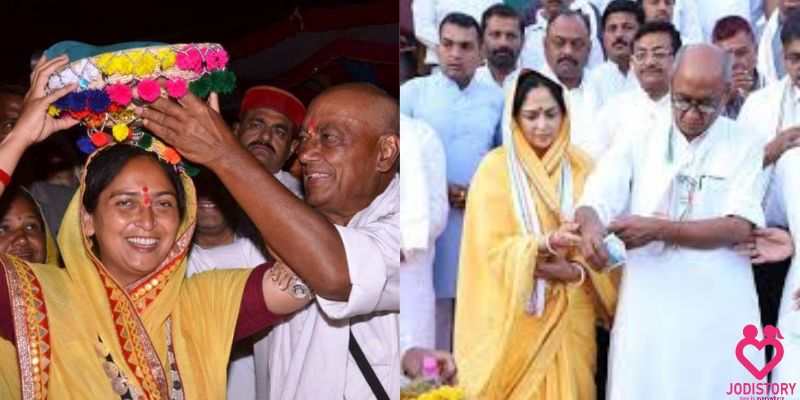 Even after being vilified and spoken against Digvijaya still married the very young Amrita in 2016 in Hindu rites. They paid no attention to the hatred thrown their way. None of them cared about what other people thought about them.
Just like they declared their love for each other on the national platform they also declared that they got married for love and nothing else. Amrita was time and again accused of being a gold digger running just after Digvijaya's money. So she took a huge step.
She requested Digvijay Singh to transfer all his ancestral property to his son and daughters. People think that Amrita has an eye on Digvijay's property so to clear all such rumors Digvijay tweeted that Amrita is behind such a big decision. And hence they together proved that their love is true despite all the rumors.
What is Digvijaya Singh's second wife's name?
Digvijaya Singh's second wife's name is Amrita Rai.
How many wives does Digvijaya Singh have?
Digvijaya Singh had one wife who died and he married his second wife in 2016 so now he has two wives.
How old is Digvijaya Singh?
As of 2023, Digvijaya Singh is 76 years old.
When was Amrita Rai born?
Amrita Rai was born in 1972.
What is Digvijaya Singh's wife's name?
Digvijaya Singh's first wife was Asha Singh and Amrita Rai is the name of his second wife.
MUST-READ LOVE STORIES:
Thoughts on Digvijaya Singh & Amrita Rai's love story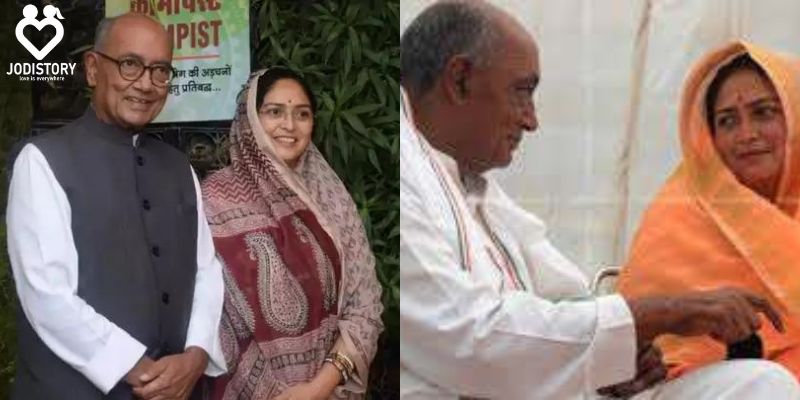 Love is a universal feeling. It makes no sense, has no explanation, and happens when it happens without any one single cause. So does it make it okay for us to pass judgment on two people who say that they really are in love with each other? There's no doubt that big age-gap relationships are hard to accept but can two people really just not be in love?
Digvijaya Singh & Amrita Rai's love story teaches us that falling in love with a much younger or a much older partner is not really a matter of crime but just simply a matter of one's heart. Their relationship teaches us to be brave when the rest of the world is just standing against of what we truly believe in.
It takes guts and belief in accepting your relationship nationwide on a platform where anybody can say anything to you. People may call Digvijaya & Amrita crazy and lustful but these are just perceptions. So why not think more positively than negatively and accept people for who they really are?