The Rules regarding Love in the Indian society were not followed by Bhimrao Ramji Ambedkar, popularly known as Babasaheb or B R Ambedkar. He was an Indian jurist, economist, politician and social reformer.He inspired the Dalit Buddhist Movement and campaigned against social discrimination. But today you are going to read Bhimrao Ambedkar love story & personal life.
After the completion of Ambedkar studies, Ambedkar started working for securing the rights of the down-trodden. B R Ambedkar was truly a Messiah for the persecuted.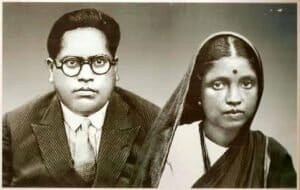 First Marriage of B R Ambedkar
Ambedkar's first marriage went unsuitably.
B R Ambedkar first wife – Ramabai Ambedkar was a generous and a kind person at heart. She also worked for the betterment of people around her.
Ramabai married Ambedkar in 1906 in the vegetable market of Byculla. At the time Ambedkar was aged 14 and Ramabai 9.
Ramabai, no doubt has been a very supportive and a dutiful wife.
Must-Read Love Story
She also had sacrificed to a great extent for the well-being of her husband.
Unfortuantely, after 29 years of marriage, she expired from elongated illness.
Bhimrao fall in love again!
Due to such a tight schedule and problems of insomnia, Ambedkar was on homeopathic medicines.
B R Ambedkar went to Mumbai for medical treatment and there he met his second lady love- Sharada Kabir.
She was a doctor by profession and a Kokanastha Brahmin from Maharashtra. Along with that she was also a social activist.
According to history, these two had exchanged many love letters between them! Each letter amounting to 18-20 pages!
40-50 letters were traded between them, in which Baba Saheb used to dedicate her as Saru
And they soon got married on 15th April, 1948.After marriage she entitled her name to Savita Ambedkar and was also known as Mai (mother).
She was always concerned about his diet. She strictly followed the time table required for him from the point of view of medicine, health,food and rest.
And maybe it was because of his strict wife, that Baba Saheb fought for the change in working hours from 12 hours to 8 hours a day!
That's the thing about Indian wives. Their love and care about their husbands goes to the epitome of any extent to keep them as fit as a fiddle!
But due to diabetes, his health worsened and he succumbed to eternal rest, on 6 December, 1956.
Savitamai, then aged 94, suffering from diabetes and blood pressure passed away recently in 2003.
I like the religion that teaches Liberty, Equality and Fraternity "
Conclusion
Theirs was a Love story, which contravened caste.
But True Love doesn't have any conditions.It happens eventually, by even ignoring the caste, the looks and the religion. Inner qualities are what matter the most.
Fighting for what is right and doing whatever it takes to keep your Love strong, is a sign of a Pure Lover.
Other than being the Father of Modern India,Baba Saheb has also set an example to love a person beyond Caste, creed or religion.
And made us believe, that affection doesn't consist of any boundaries but just Pure Love between each other.