The love story of Lalu Yadav and Rabri Devi is something that is very interesting to hear. Lalu Prasad Yadav, president of the political party Rashtriya Janta Dal (RJD), and Rabari Devi, first and only woman CM of Bihar. He is famous for his comic nature not only in Bihar but across India and globally. Whereas Rabri Devi is the backbone of Lalu Yadav. She was always standing behind whenever needed. Despite how we see him on media, he is evergreen and romantic person. His romantic nature is evident from his love story with Rabri Devi. Let's read Lalu Yadav And Rabri Devi Love Story and Marriage life
Is his love life as comic as his speech, is it romantic or is it dramatic?
Lalu Yadav And Rabri Devi had a child marriage
Lalu Prasad Yadav was born on 11th June 1948 in Phulwaria, Bihar. He was 25 years old and his better half Rabri was 14 years old when they got married. There is an age gap of 11 years. Though she was a teen, child marriage was ok at that time. Lalu Yadav And Rabri Devi's Love Story and marriage life were full of complications.
MUST READ LOVE STORIES
Rabri Devi's Brother was against marriage with Lalu Yadav
Lalu's financial condition was not good at that time. Rabri's family was wealthy, she did not have to adjust for something. Everyone in Rabri's family was against their marriage, one was the financial condition and another was the age difference.
But her father was firm with his decision. His father was looking for a well-educated and intelligent man. And he finds it all in Lalu Yadav. It is well said that "Only that will happen that God has stored in for you". Lalu Prasad Yadav And Rabri Devi's love story moved further. And finally they got married on 1st June 1973. And the journey begins !!
Lalu Yadav And Rabri Devi Love story started in this way
When Rabri Devi came to her in-law's home for the first time, she was very much worried looking at the place she is going to spend the rest of her life. It was very different from the marital home. With the support of Lalu and his family, she was living happily.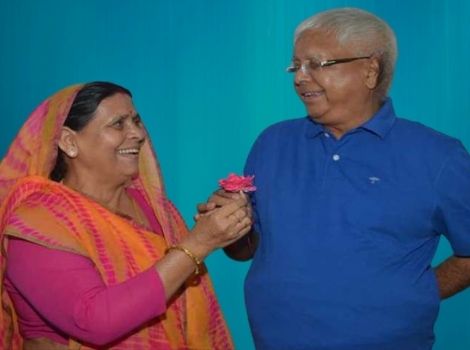 Lalu Yadav And Rabri Devi had a Blind Date
Lalu and Rabri haven't met before marriage nor did they see each other. It was like a so-called "Blind Date" now. It was their parents who finalized all these. When she came to her in-law's home for the first time, Lalu was not there.
He was busy in a movement with Jayaprakash Narayan. Though he was very much excited to see his better half, the movement was his priority. He informed her about all these, she was very supportive and was there by his side.
Rabri's presence in Lalu's life changed his fortune
Rabri Devi was always lucky for Lalu Yadav. After a few months of marriage, he was chosen as the president of the student union at Patna University. Gaining popularity from there he came into notice by Jayaprakash Narayan.
Later in 1977, at the age of a mere 29, Lalu Yadav became a speaker. All this was possible because of her support. She was the one who was taking care of family and household so that he can focus on politics.
Lalu got arrested. What happened suddenly?
Everything was going good but every story has a downfall. In July 1977, CBI arrested him in the Fodder Scam case and he has to resign from his CM post. Later, Rabri came forward and nominated herself for the post of CM. She won and became the first women chief minister of Bihar.
MUST READ LOVE STORIES
Lalu Yadav & Rabri Devi's love story is a Retro Romance
During this difficult time, she was the only one who was there by his side. Took care of him, children, and the state. They have spent very little time together but whatever time they have spent, they made it memorable. He is still serving the sentence and his better half is taking care of households.