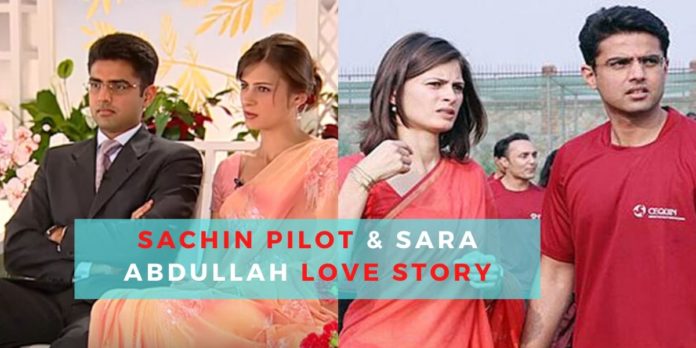 Love is blind and has no boundaries. It's something beyond Society, Religion and culture. It is the purest and selfless form that connects two souls forever with each other. The heart-melting love story of Sachin pilot and Sara Abdullah will make you believe the power of Love once again. Let us read Sachin Pilot & Sara Abdullah lovestory.
Love has no boundaries: Love story of Sachin Pilot And Sara Abdullah
Sachin and Sara both hail from a strong political background. Sachin pilot is the son of Late Rajesh pilot who was a Union Minister and veteran Congress leader. He was himself the Minister of Corporate Affair under the rule of UPA as well as the youngest Member in the parliament of the country.
Whereas, Sara is the daughter of the National Conference's Chairman Farooq Abdullah and sister of Jammu and Kashmir Chief Minister Omar Abdullah.
Must-Read Love Story
How Sachin Pilot & Sara Abdullah met?
Sachin and Sara had no idea that destiny has some other plans for them. Sara went to London for her further studies. To keep her safe and away from turbulence in the valley. Parents sent her to London.
After completion of his schooling and graduation from Stephen's college. While, Sachin went to London for pursuing MBA from Wharton School Of Business, Pennsylvania.
As destiny had decided, Sachin and Sara met in London. The two souls full of love and charm attracted each other. Attractions lead to friendship and slowly their friendship blossomed into beautiful colors of love.
Their charm is adorable. They chose their love in spite of the religious differences.
And this was one of the most strong aspects of their love that made them sail through every problem.
Long distance relationship of Sachin Pilot & Sara
Time passes and the day came when Sachin pilot had to return back to India after completion of his MBA from London. While Sara stayed at London.
They both had to part their ways for "some time" but their faith in love made them and their relationship more strong every day.
With teary eyes, and promise to be together forever Sachin was back to his world.
Sachin-Sara hide relationship for three years from family & society
But this "sometimes" lasted for 3 years. True love is tough but worth it more. They loved each other unconditionally regardless of distance and by living in their lives.
Their loved blossomed through emails, phone calls and overcome every obstacle in the way of their love with patience.
After 3 years of strong relationship, Sachin and Sara decided to reveal it in front of their families.
Despite of knowing that it would not be easy due to their religious differences. Marriage or any establishment between Hindu and Muslim was a taboo at that time.
The bitterness of the religious differences had ruined so many lives but Sachin and Sara wanted to end this social and religious taboo as love is superior to all.
Neither Sara nor Sachin's family were ready for their marriage. They both tried every possible way to convince their families. But unfortunately, nothing happened.
Sachin Pilot & Sara Abdullah married secretly in 2004
In 2004, they tied the knot without informing anyone and became each other's forever. Sara became Sara Pilot from Sara Abdullah.
Sara's family was against of their marriage while Sachin's family supported Sara in a appreciable way. Since they were married but Sara was still living with the guilt that her family is not happy with her.
But with the time, Love of Sachin and Sara won hearts of Sara's family too and they accepted them with open hearts.
Must-Read Love Story
As always true love won and proved that Love is superior to all. Sachin pilot and Sara Abdullah love story is the inspiration to everyone.
Anything can be defeated by the love if the love is pure and true. Love has the power to conquer the world.
So keep loving with all your heart.