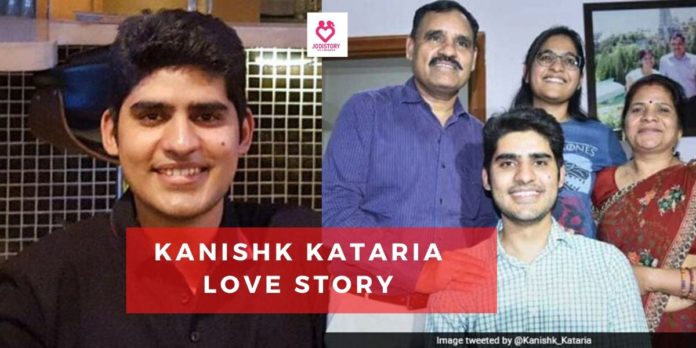 Love isn't always a distraction. Are you thinking that I am joking, right?? . Let me guess are you thinking of your own experience after reading it . You may also faced this phase where you tend to chose between your career and love. Because love is always seems to be an distraction and obstacle in the path of successful career.
Then the topper of India's one of the toughest exam "UPSC" examination, Kanishak Kataria with AIR 1 proved it wrong. He made speechless to the people who think that Love and success can't be achieved together.
Kanishk Kataria confusion & hope
This boy with extreme confidence as well as grounded was doing his job in Samsung at Korea. He is graduated with B.Tech from IIT Bombay.
But who knew that this young and intelligent mind wants to serve to our nation by civil services.This thought, this ambition still had confusions.
Until he came to know about the selection of one of his friend in UPSC examination in first attempt. This news gave him ray of hope in the clouds ofconfusions and he believed that yes, UPSC can be cracked in first attempt.
Right after, he made decision to attempt the UPSC examination and gave wings to his ambition to serve to Nation as a civil servant.
Also read:Love has no boundaries: Love story of Sachin pilot and Sara Abdullah
A Difficult And Risky Decision
He resigned from well paying company in Korea as he said "He never felt satisfaction in doing job".
It felt like I am just earning money and nothing else, added Kanishak. He came back to Jaipur , to his home town for studies. He gave his all day and night to studies and work hard for his goal.
Long journey in Kanishk Kataria life
The mind-set of competitive exam aspirant suffer far more than it seems. Preparation of the one of the toughest exam of India, involves much more stress apart from studies.
In competitive exam aspirant have lots of questions in his mind. His career, job , family all goes on stake while preparing. There is fear Of failure, emotional break downs and a lot more.
Kanishak Kataria had a long journey of this unbearable stress for 2 years to reach to his goal. But these 2 years of hard work doesn't seem that much difficult to him due to his huge support system.
Also read:Carlos Slim Love Story: The Rich Story
Kanishak Kataria girlfriend inspired him for UPSC exam
On April 5th ,2019, the day was not as usual. Lakhs of students didn't slept last night. As they know , sun will rise with both sorrow and joy. After all, in competition, some will pass and some will fail.
After refreshing the result website in every second. Finally, the most- awaited results of UPSC examination got declared. India got its topper as Kanishak Kataria with AIR 1.
His wings of ambition flied with beautiful colours. Among all colours, there were also colour of love which was given by his girlfriend Sonal ,who lives in Japan.
Love is Inspiration and not Distraction fir Kanishak
After pinching himself more than 100 times. He said in interview revealing the secret behind his success. He said " It's a very surprising moment, I never expected to get first rank. I thank my parents, sister and my girlfriend for the help and moral support. People will expect me to be a good administrator and that's exactly my intention."
Kanishak brought change in society for love conception
In India, where love seems as an obstacle and distraction. Kanishak Kataria set an example that Love can be inspiration if you have a loving and supportive partner. Love helps you to reach extraordinary heights of success. Kanishak lead his step to end the taboo in society of not talking about their love relationships in front of their parents and society. He proudly talked about his girlfriend Sonal and gave credit in his success. He being in Jaipur and Sonal in Japan itself proved the strength of their love.
undconditional support of Love
the long journey of 2 years of stress and emotional break downs. Therewas support of his loving partner that made him to sail through everything. She made him believe in himself every time he thought that he can't do it and to reach the heights of success.
So what are you waiting for, fall in love and make it your inspiration. No one can beat the power of love. Kanishk Kataria love story memsmerizing.