Life is not about Netflix and chill, neither it is about money or success. Life is all about love, loving and being loved. The statement sounds more promising when we focus on the love story of Kumar Vishwas. Love of his life who supported him in the journey of becoming a poet to becoming an Enterpreneur. You are going to read Kumar Vishwas love story.
Well, you all have known him as a regular celebrity. A man who carries a quite interesting and colourful character. A man who is the most popular politicians of AAP.
A famous personality who is equally popularity in social networking sites. A person spread his magic everywhere by establishing himself as a renowned Hindi poet.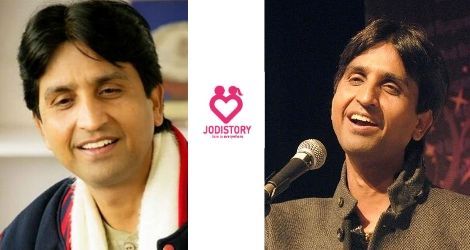 The more you got to know about him, the more curious you will become to know about the man. A man who is socially proactive but has always hidden his personal life from everyone. Did you know, he too has a love story?? So, let's unfold the love story of Kumar Vishwas to more about his colourful love life.
Must-Read love Story
Keep scrolling down to know more about Kumar Vishwas love story…
Kumar Vishwas, An Engineering Dropout
Dr Vishwas Kumar Sharma, better known as Dr Kumar Vishwas born on February 10, 1970 in Ghaziabad, Uttar Pradesh. He joined MNIT, Allahabad, one of the reputed engineering colleges in India, to become an engineer.
But he felt that he was not made for machines. So, if he would have continued that, he would have become a below average Technocrat.
This made him to make a tough decision to quit engineering. And he left engineering and followed his heart to study literature and make a career in poetry.
Vishwas, Persuaing Literature
Vishwas passion for poetry led him to study literature. He completed his post Graduation in Hindi literature and went on to earn a Ph.D.
After completing M.A and Ph.D. in Hindi literature, he started his career as a professor in 1994 in Rajasthan. Vishwas works as a Professor, teaching Hindi literature to students of higher classes.
On the period of persuaing his Master degree, a new chapter opened in the life of Vishwas. Love was waiting at the door step of his heart.
Vishwas Met Manju
Manju, a girl who entered in the life of Vishwas and make his life more beautiful. Vishwas met Manju in the college where he was doing his Master degree.
Manju was also doing her Master degree in literature. Both of them had a keen interest in Hindi literature and poems.
The two of them started enjoying each other's company and a strong bond formed between the couple. The two hearts started falling for each other.
Two souls Tied The Knot
The love of the couple blossomed. Vishwas used to write poems for his sweetheart to impress her. Finally, he succeeded to convince his lady love and after their post graduation they decided to get married.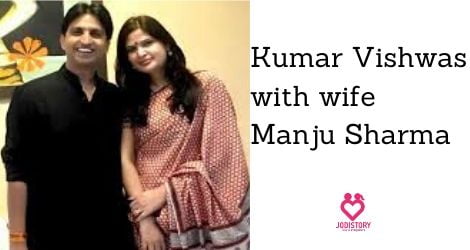 The wedding bells rangs and the two souls became one. The love between the couple emensified as the time passed.
Also Read: Love Story Of Dimple and Akhilesh Yadav: Neta Ji Ka Pyar
The couple is blessed with two lovely daughters named Agrata and Kuhu.
Vishwas Contoversies, Other Side Of The Coin
Vishwas has always been in the news for something or the other. He was accused by a campaign volunteer of molestation and sexually coloured remarks.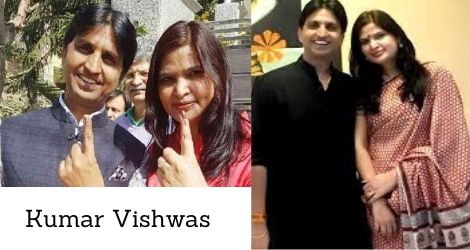 He was also accused for the copyright infringement by Amitabh Bachchan in relation to a posting on YouTube.
He was also imprisoned for different cases that were registered against him.
Vishwas, A Youth Icon
Despite many shady controversies, Kumar Vishwas has become an icon among the youth of India. He is famous for his oratory skills and poem. He is a poet of international repute. He is mainly famous for for writing poems based on beauty, love, romance and attraction. He contributed his talents as a poet to Hindi television and Bollywood also.
He is man who did not stay limited to just poetry. But also has participated actively in the anti-corruption movement led by Anna Hazare. He is a guy who followed his heart to make it big in the world of literature and poetry. His multi-dimensional life is definitely inspiring. Isn't it??
He showed the country that a person needs to work his/her way into success.
Togetherness
Manju has always been the supporting better half of Vishwas. Vishwas considers himself lucky for having a wife like Manju, his sweetheart. He give the credit of his success to his lady love.
Despite of the controversies and all, love of Manju for his better half never fades. The couple complements each other by being there for each other in evey phase and every situation of life.
The two love birds are a perfect match for each other. The couple make justice to the statement.
"True love is like a pair of socks, you gotta have two and they've gotta match"..!!