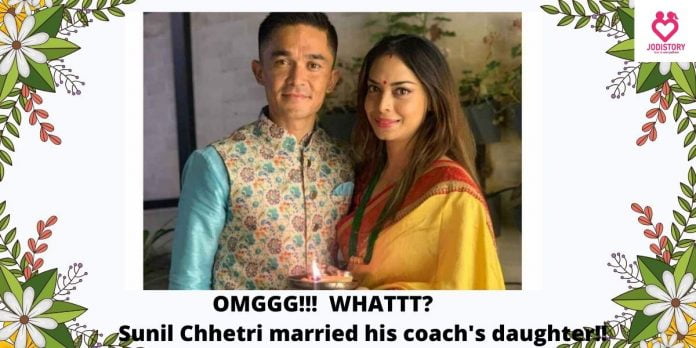 Do you know about the famous Indian footballer, Sunil Chhetri who has captured the heart of millions? But, you'll be surprised to know that the famous Indian Captain's heart beats for only one lady. Ever wondered who might be that lucky girl? Who else, other than the beautiful Sonam Bhattacharya, wife of Sunil Chhetri! Here is Sunil Chettri love story.
Behold! Ladies and Gentlemen, because you are about to witness a love story which is even more exciting than a football or perhaps a cricket match.
Sunil and Sonam's love story began with a random text message
Sonam Bhattacharya is the daughter of Sunil Chhetri's coach. Her father would mention about Sunil's extraordinary abilities and his distinguished accolades to his daughter. Sonam was curious as to discover the man who has thrilled his father to the very core of his soul.
One day, Sonam got an opportunity to steal his mystery man number from her father's phone. Hence, she texted him," Hey! I'm Sonam and a big fan of yours! I want to meet you."
Since she was sweet on text, Sunil decided to meet his mystery fan.
Must Read the following:
The first meeting of Sunil and Sonam
When Sunil met Sonam for the first time, he was shocked beyond words. The reason being Sunil was 18 and Sonam was 15. He realized that Sonam's a kid.
The man had the audacity to admit it aloud in front of his, not so mystery fan. He asked her to go home and study. Whereas, he walked off leaving her stunned.
But for some reason, Sunil's enchantment with her fan did not keep him from chatting to her for the next two months.
The twist in the story: Sonam's secret unleashed.
The cat was let out of the bag when Sunil discovered that Sonam happens to be his coach's daughter. But how did it actually happen?
One day, his coach's phone stopped working. The coach handed it to Sunil to look for the problem. While Sunil fixed the phone, his coach's daughter called.
Sunil realized that the number looked familiar. Thus, he discovered Sonam is his coach's daughter.
Since he knew that if the coach would find out, his career would be finished. So, the very next thing that Sunil did was to confront Sonam and sever all ties with him. Though she apologized, Sunil refused to give in.
Sunil Chettri love story began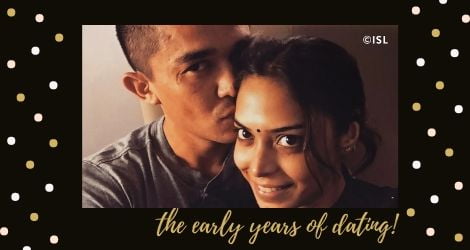 Still, after months passed, Sunil couldn't get Sonam out of his mind. Since he enjoyed chatting with her, he texted her. Soon, they started to chat like before and even made plans to meet each other.
However, meeting each other in those days proved to be somewhat difficult. Sunil used to travel a lot so they could meet only twice or thrice in a year.
When they used to go for a movie, Sunil would enter first and Sonam would join him 10 minutes later.
For years they continued their secret meetings which ultimately bolstered the bond between them.
Sunil and Sonam gradually fall in love
From Sunil's first victory to his first loss, Sonam stood by his side. She would not only celebrate his victory in happy times but would also assuage his insecurities during difficult days.
They grew up together and gradually fell in love.
Till date, Sonam calls herself "Sunil's biggest fan." However, Sunil is well aware of the fact that Sonam is much more than his fan and falls for her a little bit more than yesterday.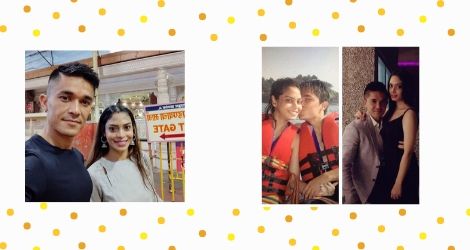 Sunil offers Marriage
Definitely, marriage was on their mind. There was no proposal of any kind but a man to man talk between the prospective groom and bride's father.
So, he decided to talk to his coach and offer marriage for her daughter. He admitted being nervous while talking to his coach.
When he finally got the words out, his coach barely nodded and stalked off to the bathroom.
Minutes later (which seemed to look like an eternity) his coach emerged and gave a green signal for the wedding.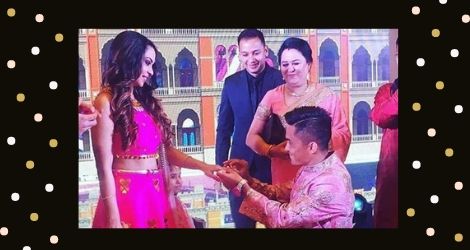 Sunil Chhetri and Sonam Bhattacharya's wedding.
Dressed in traditional Nepali clothing crowned with a cap (topi), Sunil tied the pious knot with Sonam Bhattacharya on December 4, 2017.
The ceremony took place in Kolkata wherein the bride looked stunning in her proper Bengali attire. Later, Sunil had also donned a Bengali outfit.
After the ceremony, the newlyweds hosted a grand reception. The event proved to be a star-studded ceremony with Mamta Banerjee, Virat Kohli and his football teammates.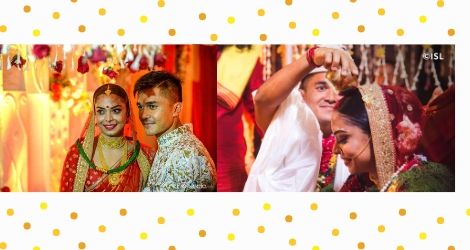 Must Read the following:
Conclusion
13 years of dating and 2 years of marriage, their undying bond and eternal love strengthens with each passing day.
No wonder their love story is an eventful journey which people will cherish forever rather than a thrilling goal, which will perhaps lose its magic with time. I hope you loved Sunil Chettri love story.