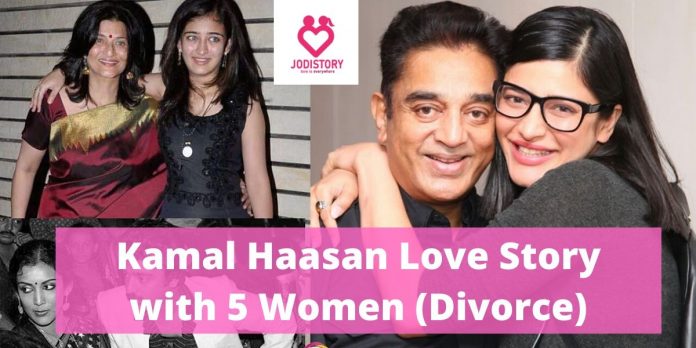 Who does not know Kamal Haasan? The ravishing Indian actor, Great director, producer, screenwriter, playback singer, and lyricist is Kamal Haasan. He is An all-rounder in each field. He has Overwhelming support of fans all over the country is the big name of the Bollywood Industry. Wondering how his love story Flourished? How he manages the work and love life all on one? The wait is over as we are here to tell you the Kamal Haasan Love Story with 5 Women.
Not only his professional but his love life is an open book. So much has been talked about his love life and is still talked about. There have been many females in his life, but no one made his way.
Kamal Haasan first Love Srividya
In Haasan's starting days of a career in the 1970s, the First news of his relationship was in open with actress Srividya. Srividya was approximately two years elder than him. Kamal and Srividya altogether a ample movies. Both had shared the screen with each other. The most popular one was Apoorva Raagangal.
must read love story of –
But their relationship didn't last for long .Srividya the actress marries George Thomas who was just an assistant director in Malayalam movies.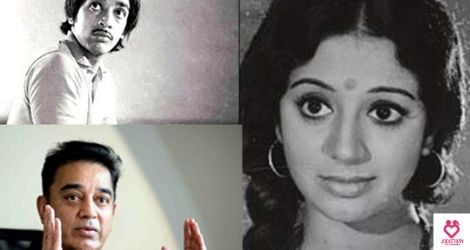 In the year 2006, Kamal Haasan even visited Srividya in the hospital . As she was near to death according to the doctor .
Moreover, in 2008 Malayalam movie Thirakkatha. The Movie is based on their love story.
Kamal Haasan Second Love Vaani Ganapathy.
Secondly, after breaking up with actress Srividya. In 1978,Kamal Haasan was in love with a lavish dancer of that time Vaani Ganapathy.
There is not much information about when and how they met. Though, they were introduced through common friends this was for sure.
Haasan did not believe in the ritual of marriage. So Kamal ties the knot with Vaani as she was not comfortable in a live-in relationship.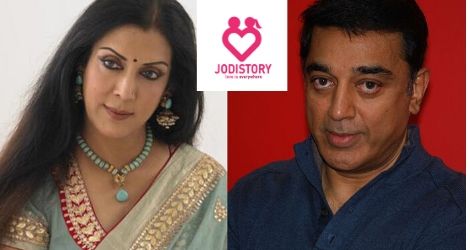 All was going smoothly between them. Both were having a good time together with their wedding. But then in the year 1988 Sarika came and Kamal Haasan got fascinated with her.
After 10 years long bond of being together in the wedded knot. Their relationship ended. According to reports, the reason why they were separated was that Vani was not able to conceive.
Kamal Haasan Third Love Story with Sarika.
Kamal's affair with Sarika was not much popular affair of that time. Haasan has a relationship with actress Sarika of Gujrat.
They both started living together. And during a live-in relationship, the couple had two beautiful kids. Shruti Haasan and Akshara Haasan, they are now popular Bollywood actresses.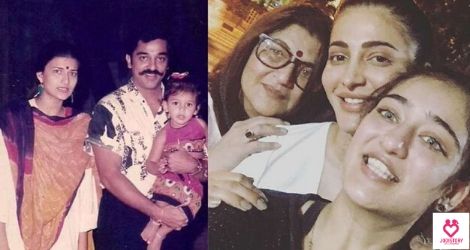 In 2002, after the birth of children, Kamal asked Vani for divorce. After the arrival of other women, it was Sarika's best friend, Goutami.
Kamal and Sarika applied for divorce from each other. As Sarika saw him flirting with her good friend Goutami.
On the other hand, Haasan's romance with Simran was noticeable by Sarika.
Sarika was deeply hurt and tried to suicide also. Their relationship finally ended after 16 years of marriage.
Kamal Haasan Fourth Love Simran Bagga.
Kamal Haasan an affair with co-star and popular Tamil actress name was Simran Bagga. Moreover, kamal was still in a relationship with Goutami and Sarika.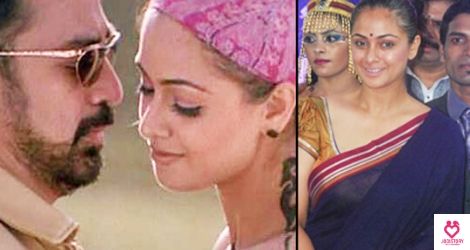 must read love story of –
Simran Bagga was 22 years younger than kamal. But nothing ceased him from flirting with her.
Kamal and Simran first met probably somewhere in the 2000s. However, Simran and Kamal Haasan's relationship was for very little time. Simran further moved on.
Kamal Haasan Fifth Love Goutami
After Simran's chapter, the fifth girl in the life of Kamal was Goutami. Kamal Haasan went forward and started a live-in relationship with actress Goutami.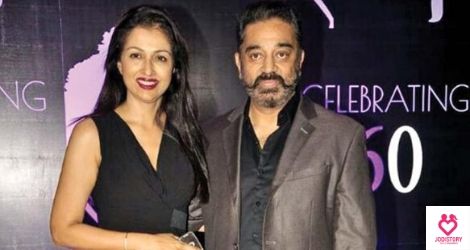 Goutami came with her daughter from her first husband to his life. After spending more than ten years together in a live-in, their bond went ruined and they decided to separate on different tracks.
On 1 Nov 2016, She took to her blog and officially declared the partition.
This was the end of Kamal Haasan Love Story with 5 Women.