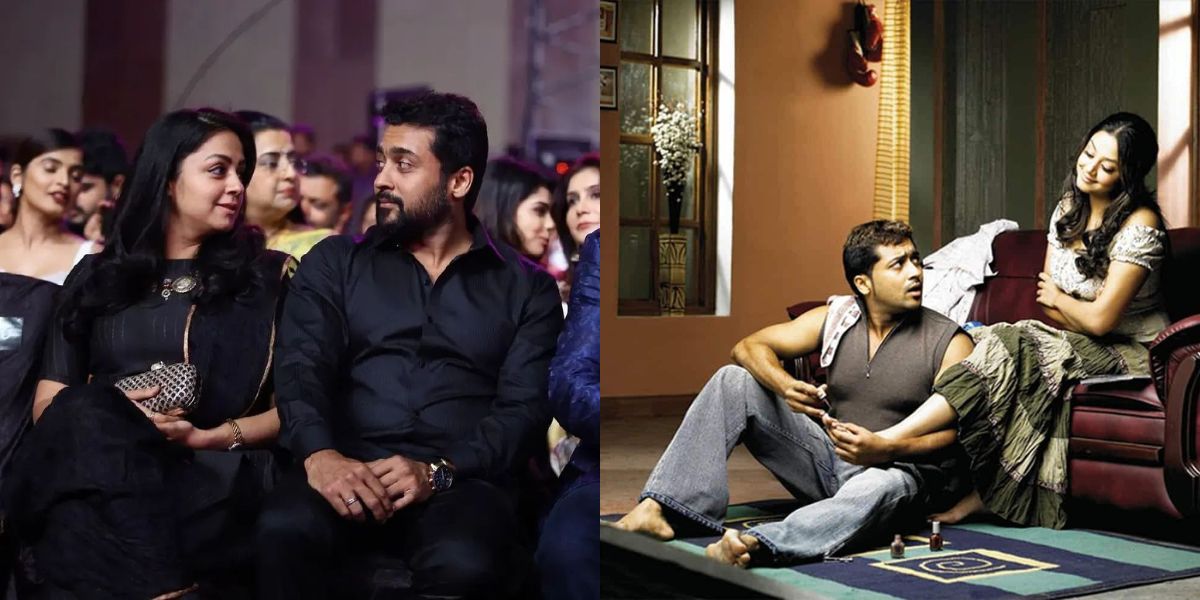 Very few know that Saravanan Sivakumar better known as Suriya. Step into the world of love stories of our time – the magical tale of Suriya and Jyothika. Suriya and Jyothika's love story is a tale of two talented actors who found love on the sets of a Tamil movie. The couple was initially good friends, eventually fell in love and tied the knot in 2006. From their humble beginnings to their rise to stardom, this is a journey of two spirits who found each other amidst the glamour of the movie world. With their enduring love and commitment to each other, Suriya and Jyothika have become one of the most beloved couples in the South Indian film industry.
Let's scroll down to unleash the mystery.
Who are Saravanan Sivakumar(Suriya) & Jyothika?
Saravanan Sivakumar was born in a veteran actor family Sivakumar on July 23, 1975. Saravanan Sivakumar is known by his stage name Suriya. Producer Maniratnam has given the name "Suriya" to avoid a name clash with established actor Saravanan. Suriya is an Indian actor, producer, and television presenter.
Suriya started his career in the movie industry1997 with the film Nerrukku Ner. In 1998 he worked in the film Kaadhale Nimmadhi, Periyanna (1999). Suriya then appeared twice with Jyothika in Poovellam Kettuppar (1999) and Uyirile Kalanthathu (2000).
MUST READ LOVE STORY
Kaakha Kaakha was hi blockbuster film in 2003. And in this way, he started his career.
Jyothikha Saravanan was born in 1978 to a Punjabi father and a Maharashtrian Muslim mother. She is an Indian actress, model, and film producer. Jyothikha has acted in some Telugu, Malayalam, Kannada, and Hindi films. Her Bollywood debut movie was Doli Saja Ke Rakhna in 1997. She received a Filmfare award for the movie Vaali in 1999.
After marrying Suriya in 2006 Jyothikha said bye-bye to her acting career. So it is time to read her full relationship timeline with Suriya.
Suriya-Jyothika firstly meet each other in 1999
Jyothika hails from Mumbai and went to the Tamil industry to find her feet in acting. In 1999, the couple first met on the sets of Poovellam Kettuppar. At that time, both of them were struggling to make their mark.
Both Suriya-Jyothika were newcomers, they were trying luck in movie industry.
However, when they started working together, they got to know each other better. Jyothika did not know Tamil but she delivered her dialogue like a pro. Suriya seemed impressed with Jyothika's sincerity and devotion.
Jyothika down to earth attitude & sincerity for work made Suriya fali in love with her. Suriya, an introvert, was crushing hard on his co-actor. But he did not take things further.
Suriya-Jyothika Love Story began with their second meeting
Around 2001, Suriya happened to visit one of the sets where Jyothika was working. By that time, Jyothika had made her mark and everyone admired her work.
Jyothika saw him and sent her assistant to fetch him. Soon they started chatting, became friends, and guess what things started taking a serious turn. Suriya & Jyothika worked together in the movie Poovellam Kettuppar (1999) and Uyirile Kalanthathu (2000). The movie became a meeting point where two souls met.
Suriya-Jyothika started dating secretly
After their second meeting, they kept meeting often. Suriya invited her to parties, functions and introduced Jyothika to his close friends and family. In 2001, when Suriya's film Nandha released, Jyothika had attended the premiere and had watched the film.
From here Jyothika fall in love with Suriya performance . Jyothika recommended Suriya's name to director Gautham Menon for his movie, Kaakha Kaakha. Her suggestion did not go un-noticed and the couple shared the screen.
Suriya & Jyothika were playing lead role in the movie.The movie was a blockbuster in 2003. It was rumour that the couple began dating during the film.
Suriya-Jyothika engagement
Suriya & Jyothika played a role of love bird in the movie Kaakha Kaakha. After the release of movie they fall in love madly. Every passing day their love blossomed. After the release of Kaakha Kaakha, the couple was believed to have a very low key secret engagement.
It is said that Suriya had gotten engaged to Jyothika to get some time to convince his parents about their relationship. It was a tough time for Suriya to convince his parents for marriage.
Although love wing. Finally Suriya parents agreed. And gave green signal to the love bird Suriya & Jyothika.
Suriya & Jyothika got married in 2006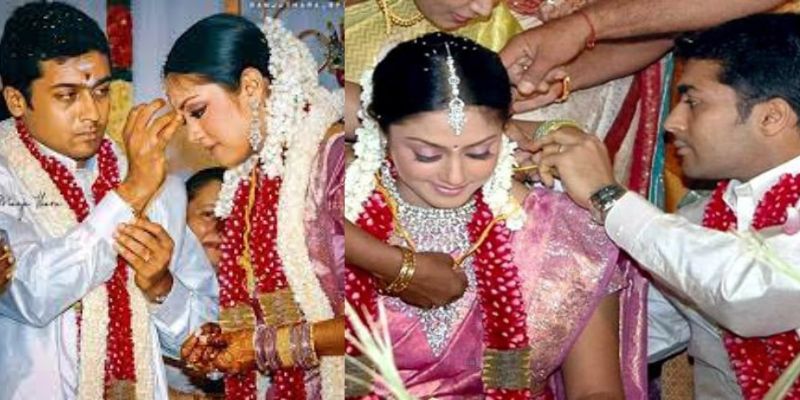 Till date, both Suriya and Jyothika don't remember who proposed first. Since they were in a relationship for last 7 years, the question of the proposal is a moot point. They had to face difficulty with their parent's approval but eventually, they agreed too. Before marriage Suriya and Jyothika worked together in 7 tamil films.
The couple exchanged the sacred vows on 11th Septemeber 2006. Apart from the prominent political faces, the leading celebrities also attended the wedding.
Saravanan Sivakumar(Suriya)-Jyothika children
Jyothika gave up acting after marriage. She placed family above her career. The couple relocated to Chennai.
In 2007, the couple was blessed with a baby girl, Divya. In 2010 they welcomed their son, Dev in the family. Both of them are caring and dedicated parents. Suriya also narrates bedtime stories to his children. His family helps him to keep him grounded.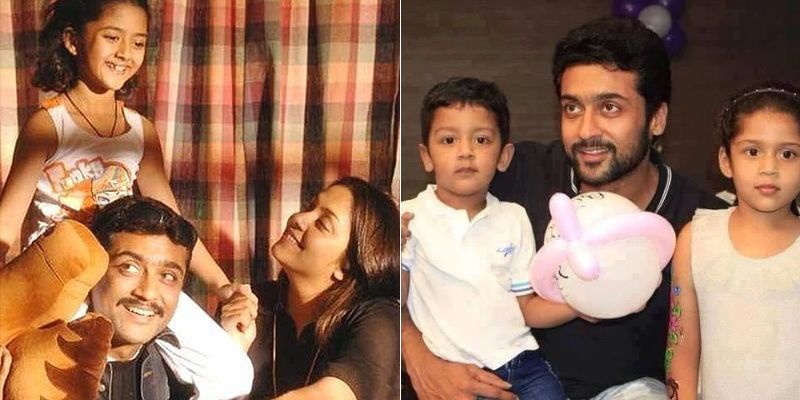 FAQ's
Is Jyothika elder than Suriya?
Jyothika is youger than Suriya. Suriya was born in 1975. Where as Jyothika was born in 1978.
Who proposed first Suriya or Jyothika?
No body knows who proposed frst because they were mad in love at a same time. Even Suriya & Jyothika do not remember who proposed first.
Why did Suriya married Jyothika?
Suriya married Jyothika because they were dating since 1999. After dating for 7 years couple decided to tied a knot in 2006.
How did Suriya & Jyothika fall in love?
Suriya loved Jyothika humbleness & passion for acting. Jyothika belongs to Mumbai & she delivered Tamil dialogue like a pro. It made Suriya fall in love with her.
Must Read the following:
Conclusion
Suriya and Jyothika's love story is a tale of two actors who fell in love while working together and went on to build a happy family together. Suriya and Jyothika have been happily married for over 16 years (by March 2023) and continue to be one of the most admired couples in the South Indian film industry. Despite being busy with their work schedules, they always make time for each other and their family. The couple still spends quality time together. They go on lunch dates and for long walks. Their happy married life is a result of mutual respect, trust, and understanding, and serves as an inspiration to many couples who aspire to have a strong and lasting relationship. Suriya and Jyothika's love story proves that love and a career can coexist successfully. Their love story is an inspiration to many fans and a testament to the power of true love. What is your thought tell me in the comment box?