Surya and Jyothika are one of the most adorable and popular couples of the Tamil Industry. Coming from the same profession, their love story in reel life turned into a reality. But very few know that Saravanan Sivakumar better known as Surya is an introvert. How did this introvert become charmingly eloquent in love? When did Surya-Jyothika Love Story start?
Share Your Love Story

Let's scroll down to unleash the mystery.
Must Read the following:
Surya-Jyothika's first meeting
Jyothika hails from Mumbai and went to Tamil industry to find her feet in acting. In 1999, the couple first met on the sets of Poovellam Kettuppar. At that time, both of them were struggling to make their mark.
However, when they started working together, they got to know each other better. Jyothika did not know Tamil but she delivered her dialogues like a pro. Surya seemed impressed with Jyothika's sincerely and devotion.
Surya, an introvert, was crushing hard on his co-actor. But he did not take things further.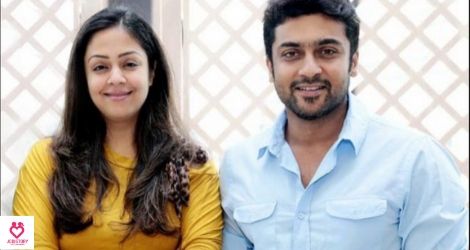 Surya-Jyothika Love Story began with their second meeting
Around 2001, Surya happened to visit one of the sets where Jyothika was working. By that time, Jyothika had made her mark and everyone admired her work.
Jyothika saw him and sent her assistant to fetch him. Soon they started chatting, became friends and guess what things stated taking a serious turn.
Surya-Jyothika Love Story kept under the wraps
After their second meeting, they kept meeting often. Surya invited her to parties, functions and introduced Jyothika to his close friends and family.
Jyothika recommended Surya's name to director Gautham Menon for his movie, Kaakha Kaakha. Her suggestion did not go noticed and the couple shared the screen. The movie was a blockbuster. It is rumoured that the couple began dating during the film.
However, their relationship was kept under the wraps. But the news of Surya-Jyothika impending marriage came out. The media ran riots.
Surya-Jyothika wedding
Till date, both Surya and Jyothika don't remember who proposed first. Since they were in a relationship for a very long time, the question of the proposal is a moot point. They had to face difficulty with their parent's approval but eventually, they agreed too.
The couple exchanged the sacred vows on 11th Septemeber 2006. Apart from the prominent political faces, the leading celebrities also attended the wedding.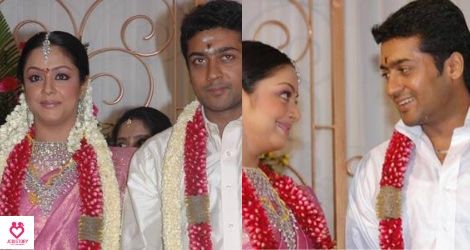 Surya-Jyothika children
Jyothika gave up acting after marriage. She placed family above her career. The couple relocated to Chennai.
In 2007, the couple was blessed with a baby girl, Divya. In 2010 they welcomed their son, Dev in the family. Both of them are caring and dedicated parents.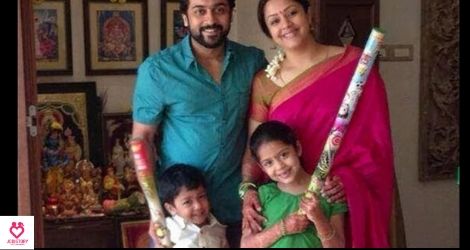 Must Read the following:
Conclusion
The couple still spends quality time together. They go on lunch dates and for long walks. Surya also narrates bedtime stories to his children. His family helps him to keep him grounded. No wonder, their reel life love story blossomed into an adorable real love story! What do you think?