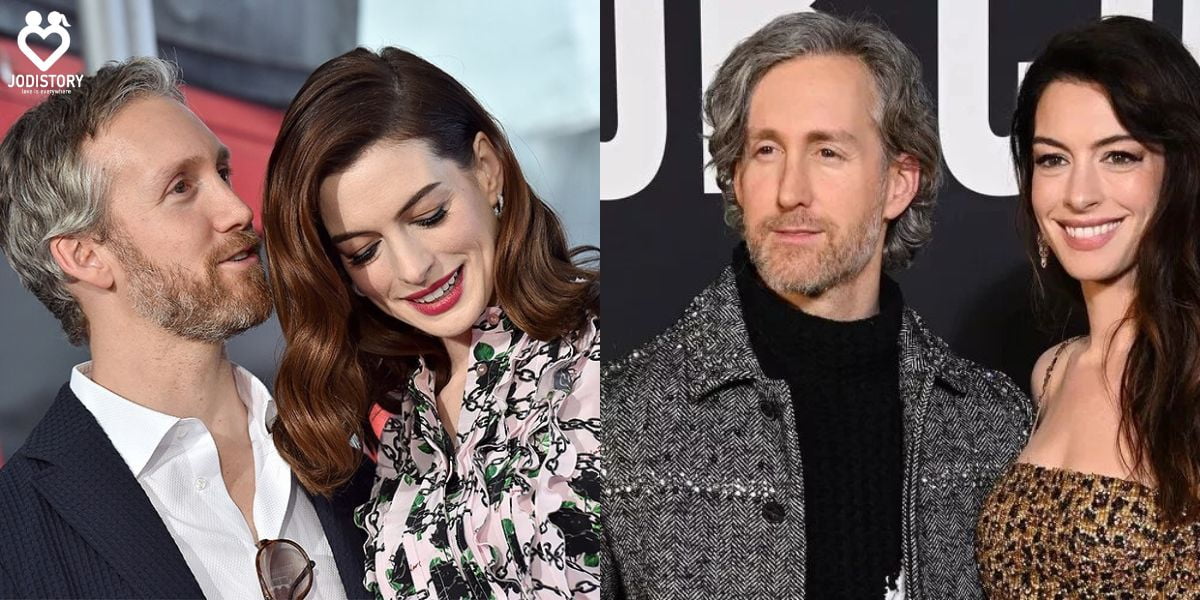 Love can be a beautiful thing, but it can also be complicated, especially when we fall for the wrong person. We may experience heartbreak, disappointment, and feelings of frustration and confusion. However, it's essential to remember that we have the power to learn and grow from our experiences, even if they are painful. That's what Anne Hathaway & Adam Shulman's romantic love story teaches us.
When we fall for someone who is not the right fit for us, it can be a challenging experience. Despite the pain that comes with falling for the wrong person, it's important to remember that it's a part of life. We can't always control who we fall in love with, but we can control how we react and respond to our emotions. Some times wrong people are your lessons to reach for the right one.
Anne Hathaway: Rising to the Top in Hollywood's Competitive Industry
Anne Hathaway was born on November 12, 1982, in Brooklyn, New York City. She began her acting career in the late 1990s, making her debut in the television series "Get Real." She went on to star in several popular movies, including "The Princess Diaries," "The Devil Wears Prada," and "Les Misérables."
Hathaway has received numerous accolades for her work, including an Academy Award, a Golden Globe, and a Primetime Emmy. She is known for her versatility as an actress, tackling roles in a wide range of genres, from romantic comedies to dramas and musicals. Hathaway has also been an advocate for various causes, including LGBTQ rights, gender equality, and mental health.
Must read love story:
Anne Hathaway true Love Story: Men who stole Anne Hathaway's heart
Anne Hathaway has stolen many hearts. But some lucky men were able to steal Anne's heart. So let's have a look at Anne Hathaway Love Story with all these lucky men. Although in the journey of love & lust, Annne Hathway has gone through much broken heart feelings. Let's have a look at her journey of love, breakup & true love.
Hathaway's first Love, Topher Grace from 1999-2001
Topher Grace, a renowned name in Hollywood, was the first person with whom Anne had her first public relationship. They started dating in 1999.
Christopher John Grace, Topher Grace was born on July 12, 1978. He is an American actor. He is known for portraying Eric Forman in the Fox sitcoms Eddie Brock / Venom in Spider-Man 3, Pete Monash in Win a Date, Carter Duryea in In Good Company, Edwin in Predators, Getty in Interstellar, etc.
But unfortunately, their relationship ended in 2001. When they dated, these two were Hollywood newbies so the reason for their breakup is still not known.
Anne dated Ella Enchanted co-star, Hugh Dancy in 2003
Hathaway & Dancy met on the set of Ella Enchanted. Hugh Michael Horace Dancy (born 19 June 1975) is an English actor. While working as co-stars, they became friends & their friendship turned into a relationship. They began dating in 2003. They were a thing for 2 years.
In 2005, Anne & Huge called to quit. The reason for the breakup was the age gap. Huge was 8 years older than Anne & wanted to settle down. Whereas, Anna was at the beginning of her career & was not ready for a serious relationship.
Anne Hathaway's Shocking Past with Ex-Boyfriend Raffaello Follieri: The Truth Behind their Criminal Love Story
Hathaway dated an Italian man who came out as a con artist. She met Raffaello Follieri through a mutual friend in 2004. From then they started dating. They dated for four years till the time Follieri came out as a fraudster.
Follieri was arrested and charged with 15 counts of conspiracy, wire fraud, and money- laundering charges. He pleaded guilty and was sentenced to four and a half years in prison. Hathaway broke off their relationship just 10 days before his sentencing.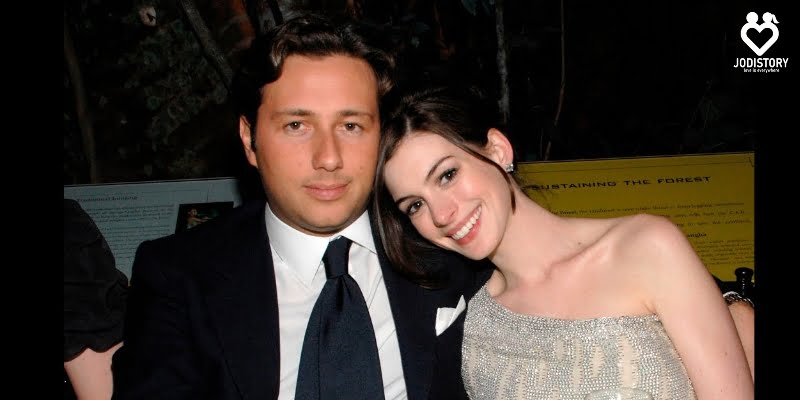 Anne Hathaway's Fairytale Love: How She Found Adam Shulman in 2008
And there is a saying, you receive what you expect the least. Hathaway met Adam through a mutual friend in 2008. They met at the Palm Springs Film Festival. It was love at first sight. Despite the bad timing, Anne immediately felt sparks. She told Harper's Bazaar UK, "I knew from the second I met him that he was the love of my life."
Anne Hathaway & Adam Shulman are native New Yorkers. Perhaps this is the reason they found true love in each other. It was a rumor in 2011 Anne & Shulman got engaged. Anne was spotted with an engagement ring.
Adam Shulman was born on April 2, 1981, in New York, USA. He is an actor and producer, known for Seesaw Monster, The Shower, Song One (2014), etc.
Anne Hathaway & Adam Shulman married in 2012-True love stories never have endings
And after four years of dating, Anne decided to marry Adam. Adam Shulman & Anne Hathaway married on 29 September 2012. They tied the knot on the California coast. Approx 150 guests attended the marriage ceremony. No guest was from Hollywood. All were close friends & family. Anne Hathaway looked gorgeous in her wedding.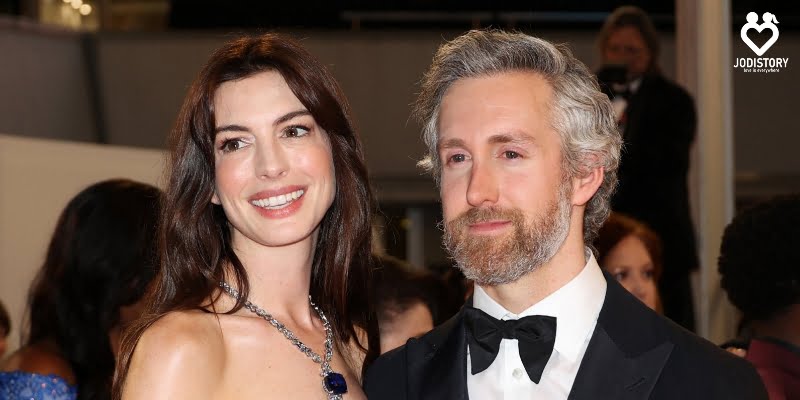 Anne Hathway & Adam Shulman family
And after 4 years of happy marriage, Shulman & Hathaway welcomed their first child. Their first son, Jonathan Rosebanks Shulman was born on March 24, 2016.
In 2019, again good news arrived in Adam & Anne's life. They became parents for the second time. Their son Jack Shulman was born on November 2019.
Must Read Love story:
FAQ's
Is Anne Hathaway still married to Adam Shulman?
Yes, Anne Hathaway married Adam Shulman. He is the love of her life. After many breakups, Anne found Adam as true love. They married
What is the age difference between Anne Hathaway & Adam Shulman?
There is only one year age gap between Anne Hathaway & Adam Shulman. Anne was born on November 12, 1982. Whereas Adam was born on April 2, 1981.
At what age did Anne Hathaway have a baby?
At the age of 34 years, Anne has her first son Jonathan Rosebanks Shulman. Whereas at the age of 37 years Anne had a second son Jack Shulman.
Highlight from Anne Hathaway & Shulman's never-ending love story
Love can indeed be a beautiful experience, but it is not always smooth sailing. Sometimes, we may find ourselves falling for the wrong person or realizing that the relationship we are in is not working out. It can be incredibly painful and difficult to deal with the disappointment and heartbreak that come with these situations. However, Anne Hathaway & Adam Shulman's romantic love story teaches us that it is important to remember that these experiences are a part of life, and they can also be opportunities for growth and learning.
It is essential not to lose hope in love, even when things do not work out as planned. It is important to take the lessons learned from these experiences and use them to become a better person and a better partner in the future. With an open heart and a willingness to learn, we can find love again and experience all the joy and beauty it has to offer.
I Hope Anne Hathaway & Adam Shulman's romantic love story teaches you & helps you answer your questions. Comment your views on this.