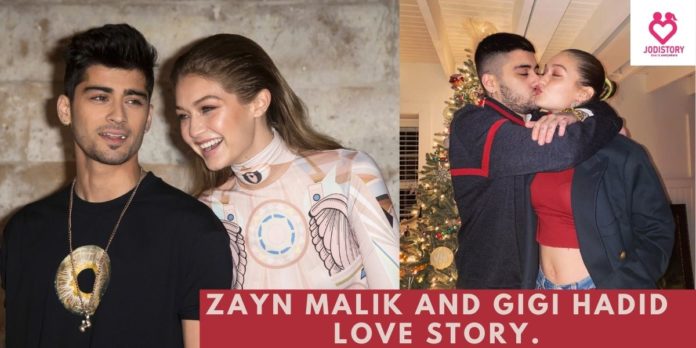 Zayn Javad Malik, aka Zain, is a British singer and songwriter. He was one of the band members of the famous boy band One direction which was active from 2010-2016. Zayn left One Direction in 2015. He explained that he was leaving because he wants to live life like a normal guy and not under the spotlight every single day of his life In the same year, he started dating the supermodel, Gigi Hadid, and thus began Zayn Malik and Gigi Hadid Love Story.
Zayn is an independent artist now and has composed some amazing songs like 'Pillow talk' where Gigi Hadid made an appearance in the music video. Other famous songs like 'Dusk till dawn' with one of the most talented singers Sia and 'I don't wanna live forever' with the Grammy-winning singer Taylor Swift. He released his own studio albums 'Mind of Mine' and 'Icarus Fall'.
Jelena Noura Hadid is an American supermodel. Most of us know her by the name Gigi Hadid. In 2016, she got the title of the International Model of the year by the British Fashion Council. Gigi Hadid is the daughter of Yolanda Hadid (former fashion model) and Mohamed Hadid. Gigi Hadid began modeling at the age of 2 when she was first discovered by Paul Marciano of Guess.
Since then she has never looked back. She focused on her studies and modeling career and later suspended her studies to focus completely on modeling. Over the last four years, she has 35 appearances on the International Vogue Magazine cover.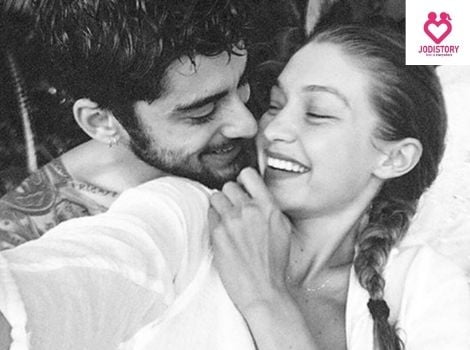 Zayn Malik and Gigi Hadid love story has been through it all. Break up, patch up, being partners and now finally they have a baby together. You must be excited to get to know all about their relationship. So without waiting, let's begin with Zayn Malik and Gigi Hadid love story.
MUST-READ LOVE STORIES-
How Did Zayn Malik And Gigi Hadid Meet?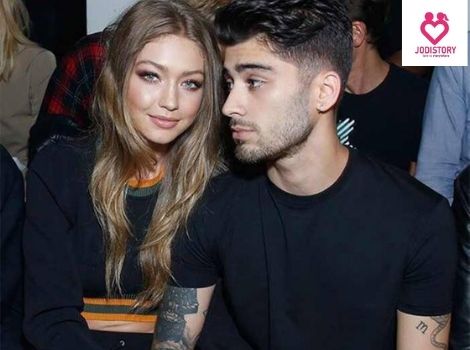 Three months after Zayn Malik broke off his engagement with the Little-Mix singer Perrie Edwards, he met Gigi Hadid for the first time in a Victoria's Secret after-party. The same month Gigi Hadid ended things with Joe Jonas and was freshly single.
Malik said when he looked at her he thought he knew her from 'her pictures. Later they started talking and Zayn asked her out for dinner in a New York restaurant called Gemma. At that time their relationship was not yet official.
In November 2015 they made their first public together. They were seen holding hands while leaving Justin Beiber's American Music Awards After-party. In December, they publicly acknowledged their romance through an Instagram post. The post is deleted now.
Though they did not accept to be in a romantic relationship with each other, explicitly, Paparazzi captured a glimpse of Gigi's phone with Zayn's picture in January 2016. In an interview, when Zayn was asked about his 'relationship' with Gigi he said, "we're good friends' with a smile.
In the same month, Gigi Hadid appeared in the music video of his famous song 'Pillow Talk' where they were seen to be making out a couple of times. This sent a strong message and it was quite obvious that they are in a relationship. The following month, Zayn confirmed Gigi was his girlfriend and they were in a relationship.
Zayn Malik And Gigi Hadid Started Dating.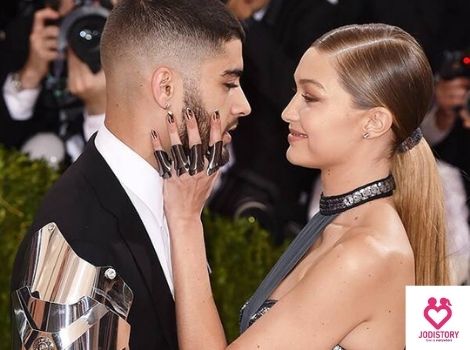 After confirming their relationship and flirting through twitter, Zayn and Gigi also know as Zigi started making a lot of public appearances together. The couple did a Vogue magazine photoshoot where they were seen making out all over Naples. Isn't that romantic?
But this romance did not last for long. This couple had a rollercoaster journey. They had an on-and-off relationship since 2015. They broke up many times but always found their way back to each other. It looks like they are destined to be together.
But soon after this Vogue shoot in Naples, many sources reported that the couple has split up. Fans all around the world were heartbroken to hear the news but shortly after this incident, in May 2016 they made an appearance on the Met Gala Red carpet as a couple which meant that they got back together.
Vogue Magazine Cover Photoshoots.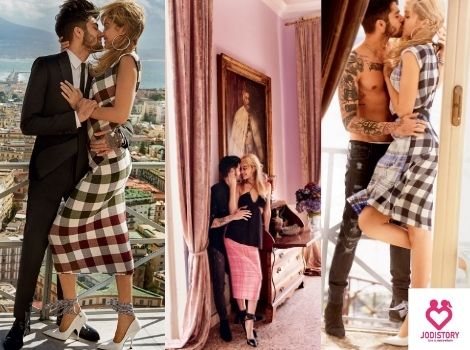 They went through a series of break-ups and patch-ups. And every time it broke our hearts. We all know how adorable they look together. And they are literally winning hearts all around the world together through their amazing and near-perfect vogue covers. And we can't get enough of them, can we?
Fast forward to one year later, in July 2017, Zigi did another couple's shoot for Vogue Magazine. the cover was themed on gender fluidity and we can agree that they both look stunning in the pictures below. In September of the same year, they were seen together celebrating Eid-Al-Adha with each other's family. In Holloween 2017 they left everybody in awe dressing up as Batman and The Black Cat.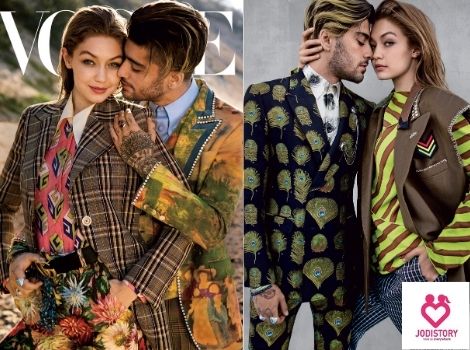 The world thought, things are getting serious between them and that their relationship is taking a serious turn as merging families on holidays is always a big step. But soon after this incident, reports suggested that Zigi broke up yet again! In March 2018 Zayn and Gigi took it to twitter to confirm their breakup.
Zayn Malik And Gigi Hadid Relationship.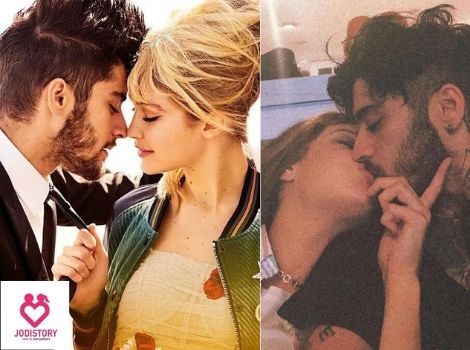 We don't know the reason behind all these break-ups. But they seem to be pretty harsh. Once it happened so that after they broke up, Zayn unfollowed both Gigi and her mom (Yolanda Hadid) on Instagram even though they kept following him.
Fortunately, the break-up didn't last for long. They were back together in April of 2018, stronger than ever. The paparazzi caught them making out publicly on NYC streets. Zayn and Gigi have always been very bold and open about their relationship with each other.
And this is one of the things the fans admire a lot about them. They do not try to hide from the media, rather when any topic related to them comes into question, they talk about it publicly. This put an end to all the ongoing rumors that the tabloids keep on spreading.
Malik and Hadid both are extremely talented in their chosen field. They have a very bold personality and the way they tackle everything that goes on in their private life is commendable. They are always confident and straightforward which is one of the many amazing qualities they both possess.
Breakups and Patch ups.
But this time when they got back together things were a little different. Zayn said they are both adults and they do not want to put a 'label' on what was going on between them just for other people's expectations. So, they kept things casual for the time being. But they never gave up on each other, that is why Zayn Malik and Gigi Hadid love story is so inspiring.
Zayn was working on his first solo album at that time. He also mentioned that he's extremely glad that he met Gigi. She always helps him keep a positive outlook on life. He was having a negative vibe towards everything and she really helped him get through it. Well, isn't that just adorable?
Even though they were making out all over New York City streets, they refused to accept that they were in a relationship. On June 28th Zayn was seen wearing a Wangler x Peter Max tee, which Gigi wore on 1st June. Fans were going crazy as they both looked incredibly adorable in that t-shirt. You can judge for yourself in the picture below!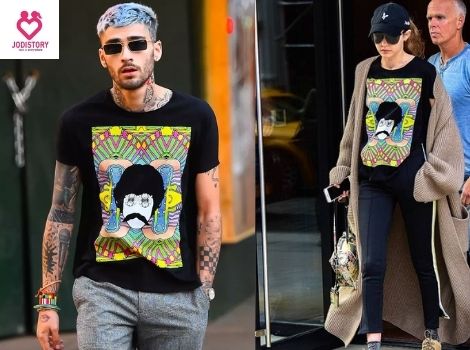 Zayn was also wearing sunglasses from Gigi's capsule for Vogue Eyewear on that same day. But everybody had confusion as to whether they got back together for sure or not. Both Zayn and Gigi made no official comment on that but they sure did give a lot of subtle hints.
Zigi (2018-2019)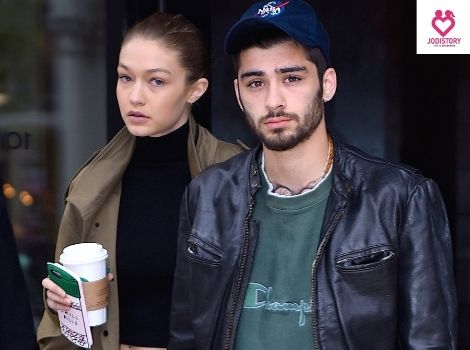 We all know that Zayn and Gigi are partners at present and living very happily with each other. But they went through a lot of difficulties and hardships before reaching this stage in their relationship. They broke up many times and had to face the tabloids. Nobody likes to parade their personal life in front of the media.
Soon after they publicly acknowledged their relationship, all the fans around the world went crazy after them once again. They spammed Instagram with each other's cute pictures and people went 'awwwww'. After all, they are one of the most adorable couples in Hollywood.
They fell head over heels for each other, so much so that Zayn got a tattoo of Gigi's eyes on his chest in January 2018. Unfortunately, they broke up two months after this. But not to worry, as always they found their way back to each other. Zayn Malik and Gigi Hadid's love story are always fascinating.
In July 2018, an Instagram account used to tag Gigi in all their post and say hurtful things about her and her relationship with Zayn. That page even mentioned about Zayn not following Gigi on Instagram.
In a counter post, she explains the nature of her relationship is private. She prefers not to discuss it openly on social media. And she doesn't care if her boyfriend follows her on Instagram or not. What the page is doing is negatively impacting her and her relationship and wouldn't get anything out of it.
Zayn and Gigi's relationship seems to get stronger with each passing year. In 2018 too, Gigi spent Eid with Zayn and his family. Looks like she's already becoming a member of their family!
November 2018.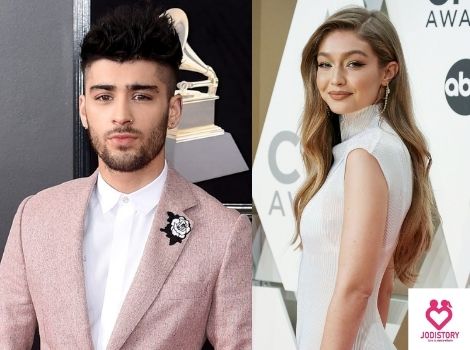 For a long time, Zayn and Gigi were not in the news and people didn't really know what is going on with them. But suddenly, in November 2018, Zayn Malik released a new song with Nicki Minaj named "No candle no light". The lyrics seemed to be explaining their situation of relationship.
The lyrics went something like this, " I can't do this, no baby I can't do this. I only end up loosing, who are we really fooling….something's isn't meant to be but I wanted you and me." Seems like they were going through a tough time in their relationship. If you listen to the songs you'll understand that the song wouldn't have been for anybody other than Gigi.
In January 2019 reports suggested that Zayn and Gigi split up yet again and has not been spending much time with each other since November! This time it seemed actually serious.
They did not post a single picture together for a long time, not even on holidays. It looked like they spent holidays like Thanksgiving and Christmas apart which will only happen if things get really bad between them.
In early January, sources said that they tried to work things out, especially Gigi did but Zayn has a lot of his own issues that he is going through and she is not able to help him with those. So they decided to separate for the time being.
Only Gigi stopped hanging with her friends initially when we got back together. So that was quite harsh on her. So she spent her new years eve with her best friends like Taylor swift.
Zayn Malik and Gigi Hadid baby.
2020 has indeed been a great year for Zayn and Gigi. They welcomed their first baby girl into this world in late September of this year. Though it is really hard to imagine Gigi as a mom, now we have to get used to this fact. And I think we all can agree that Gigi would make a pretty great mom.
Initially, Gigi was quite adamant to reveal her pregnancy. But she kept dropping hints in interviews and on social media. It was not until she was 20 weeks pregnant that the news of her pregnancy got leaked. They tried to keep it private but news like this can't be kept a secret for long.
In April, 2020, TMZ broke the news that Zayn and Gigi are staring at a family together and Gigi is pregnant with Zayn's baby!!! All heaven broke loose after this news. All the fans around the world went crazy happy for this adorable couple. Earlier, Gigi dropped some hints on her social media when she posted pictures with her Quarantine family which included Zayn and her sister, Bella Hadid. Quite interesting!
After going through so much, finally, the couple reached a place where they knew that what they feel for each other is really rare and special and there's no point in throwing it all away. Everybody was extremely thrilled about Gigi's pregnancy and could not wait to welcome the baby into the world.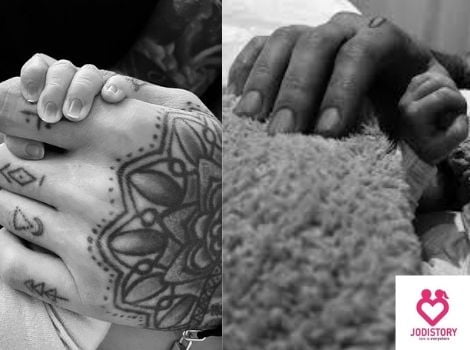 On 23rd September 2020, Gigi and Zayn announced took it to Instagram to announce the arrival of their baby girl. Zayn posted a picture of him holding the baby hand and Gigi posted a picture similar to that. They are extremely thrilled and over the moon with their daughter. We can only imagine how much love and affection this baby will be getting from such wonderful parents.
MUST-READ LOVE STORIES-
Conclusion
Though they did not reveal the baby's name and the face of their baby yet. But we are really looking forward to it! We can only imagine how beautiful and talented the baby must be. As both of her parents are immensely talented and looks like greek god and goddess!
Zayn Malik and Gigi Hadid did not have an easy time keeping their relationship intact. There were always some problem or the other. And situations got so bad that sometimes they even had to split. But the only thing that was constant in their life was their unconditional love for each other.
No matter how hard things get they know that giving up is never an option for them. And after so long they are finally starting a family of their own! And we cannot be more thrilled for them. May they keep finding their way back to each other and live happily ever after!