Kristen Jaymes Stewart is an American actress and filmmaker too. She is an absolutely gorgeous lady. It is obvious she has a lot of admirer in her life. Kristen Stewart has a rollercoaster journey when it comes to her love life. From her serious relationship with Robert Pattinson to her admitting her sexuality in front of the media, here is Kristen Stewart's affairs relationship & love story timeline
Kristen Stewart who initially started her career at the age of 14, got the big recognition after the Twilight novels. She was in a serious relationship with her co-star Robert Pattinson but they could not make it work. Later on, Kristen Stewart accepted her sexuality and brought it in front of the whole world. How was her journey dealing with these things? Who was the person that made her realize her sexuality?
I am going to answer all these questions. I have listed every little information about Kristen Stewart's affairs relationship & love story timeline. Let us have a look at Kristen Stewart's love interests and her dealing with her sexuality.
Must read love stories
Kristen Stewart's career and movies
Kristen Stewart started really early as an actress. She is was first starred in the children's action-comedy Catch That Kid (2004), opposite Max Thieriot and Corbin Bleu. Kristen was only 14 years old at that time.
Kristen Stewart got all her recognition and fame from the Twilight novels. She acted in the movie Twilight in 2008 as one of the lead characters Bella Swan. She was part of every Twilight movie and the audiences just loved her performance in those movies.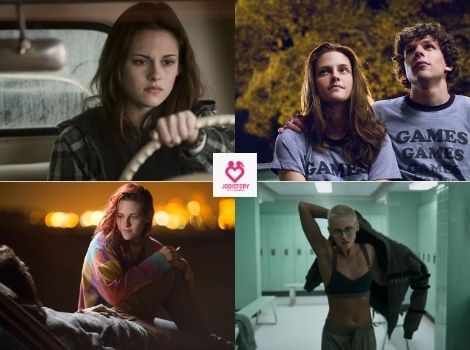 Kristen Stewart caught everybody's eyes not only with her acting but also with her low-key yet stylish fashion sense. She was also the "new face" of the famous brand Chanel.
Kristen Stewart made her mark with her great performance. Some of the best movies she has done are – 'K-11', 'Clouds of Sils Maria', 'Anesthesia', 'Certain Women', 'Personal Shopper', etc. She has directed some short films, music videos too. Some of them are – 'Come Swim', 'Down Side of Me', 'The Chronology of Water', 'Crickets', etc.
KRISTEN STEWART'S AFFAIRS RELATIONSHIP & LOVE STORY TIMELINE
Being a successful actress and filmmaker means you have to deal with different people. And you may catch feelings for some of them too. Kristen Stewart's love life is no different from this. Stewart has dated many people in her career.
But never did she hide away from any of this. Kristen Stewart has always come across very upfront about her ups and downs in relationships or breakups or her sexuality. So, Let's dive into the complete timeline of Kristen Stewart's partner list. And I am sure you guys will love her brave decisions about life and love.
Kristen Stewart – Robert Pattinson's on-screen and off-screen love
Kristen Stewart and Robert Pattinson's love saga is as famous as their films. The duo acted in the same film Twilight were they met each other for the first time. And it was destiny that the on-screen pair of Robert Pattinson and Kristen Stewart had an intimate relationship off-screen too.
Robert Pattinson and Kristen Stewart met each other on the auditions of Twilight in 2008. The duo got attracted to each other from the beginning. But Kristen Stewart's age was the wall for them to start dating. Kristen was only 17 at that time and that is why Robert had to wait for her.
Later on, Robert Pattinson and Kristen Stewart started dating each other. But they kept their relationship very private. In an interview, Kristen Stewart said she wanted to keep it only their own. Because they have to give so much about themselves for the movies that she was like "No, we will never talk about it. Never. Because it's ours."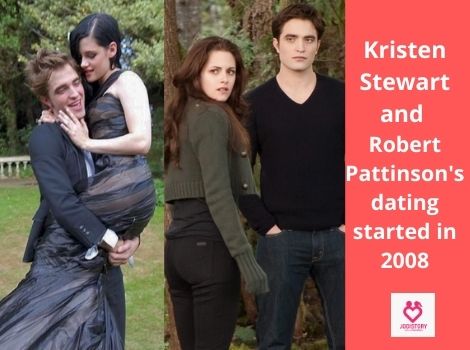 Kristen Stewart and Robert Pattinson were deeply in love with each other. Once in an interview, Howard Stern said Kristen Stewart that falling in love with a co-star is not a great idea. And to his reply, Kristen said with a laugh, "There was nothing I could do".
But this chemistry that drove the audiences crazy did not last too long. It was not a happy ending of their relationship as Robert Pattinson got cheated on. Shocking right? Let's see what happened and how.
Kristen Stewart's cheating on her partner Robert Pattinson is on the first of timeline list
It seems like Kristen Stewart was immensely in love with Robert Pattinson. But it is really shocking that it was Kristen who cheated on Robert with a director. Kristen Stewart got intimate with director Rupert Sanders and the pictures went viral.
It was in 2012, Robert and Kristen were in a serious relationship for almost 3 years. And when this incident happened, Kristen Stewart and Rupert Sanders only claimed it as a 'momentary lapse' and did not tried to cover it. It was very heartbreaking for their fans to see the couple have a breakup.
Robert Pattinson left Kristen Stewart leaving their house that they bought to live together. Regretting her behavior very much, Kristen Stewart made a public apology where she apologized to Robert Pattinson for her actions. She accepted that she loved Robert and she is really sad about her actions because it had hurt the most important person in her life.
The couple had a bitter breakup. Later after many years, Kristen Stewart admitted that the relationship between her and Robert Pattinson was very special to her. According to her, it was the best.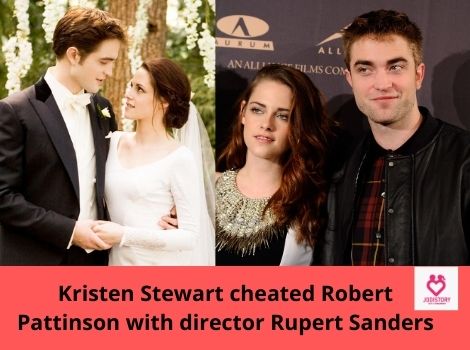 And when the host of the interview Howard Stern asked Kristen about her marriage plans with Robert Pattinson, she answered that if he would have proposed to Kristen, she would have said yes. The reason Kristen Stewart never talked about it was that she thought everyone will see her as an attention-seeker.
About her intimate moment with Rupert Sanders, Kristen Stewart replied that she felt slut shammed and that is why never expressed anything about her feelings at that time. Kristen Stewart's breakup shattered the heart of the audience and left Robert Pattinson on her timeline of the partner list.
Kristen Stewart's relationship with assistant Alicia Cargile
The next person on Kristen Stewart's timeline of the partner list is her assistant Alicia Cargile. Kristen Stewart started dating her personal assistant Alicia Cargile in 2014 just after her breakup with Robert Pattinson. This was her first relationship with a woman.
Kristen Stewart was first very quiet about her relationship with Alicia Cargile. But later on, she was quite open about her relationship and also about her sexuality. In an interview, Kristen Stewart opened up about her relationship and love life with Alicia Cargile. She said that her girlfriend was very cute and she loved her so much.
The duo broke up with each other in 2015. But in 2016 Kristen Stewart and Alicia Cargile got back together again. And this time Alicia Cargile accompanied Kristen Stewart to the Cannes Film Festival. Kristen wanted to open up about her relationship this time.
Kristen Stewart also added," I would never talk about any of my relationships before, but once I started dating girls it seemed like there was an opportunity to represent something really positive". She did not want people to think that she was hiding her relationship with Alicia Cargile just because it was with a woman. And she wanted to come upfront about it to inspire people.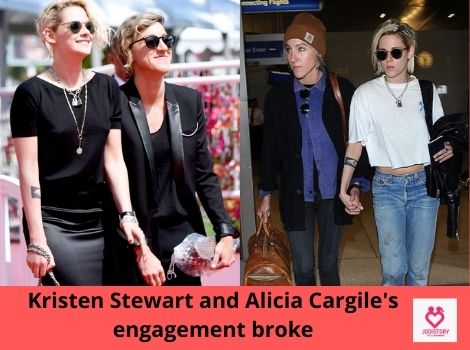 Alicia Cargile and Kristen Stewart dated each other for almost two years. Kristen also proposed to Alicia for marriage and Alicia said 'yes' as the answer. The duo was planning to marry each other in a beach wedding. Kristen and Alicia decided on their wedding dress too.
But despite planning about their wedding, Kristen Stewart and Alicia Cargile broke their relationship in August 2016 again. But the reason behind the couple breaking up is still unknown. Maybe it is because Kristen was taking interest in other women and it kind of ended their relationship.
Kristen Stewart and Soko's brief relationship
Kristen Stewart was getting female attention too after opening up about her bisexuality. After breaking up with her personal assistant Alicia Cargile, Kristen Stewart dated French singer Soko. Soko's real name is Stephanie Sokolinski. They dated each other for a brief time period.
The duo started dating each other in 2016. Kristen Stewart never confirmed anything about her relationship with Soko. But the media could not unsee the brewing romance between the two women. Kristen Stewart and Soko could not hide their love and affection towards each other even in public. The duo was photographed holding hands and kissing each other on the roads of Paris.
Kristen Stewart and Soko both dated Robert Pattinson at different times. Not a nice thing of similarity. But Soko admitted that she was "very, very, very in love" with Kristen. But being in so love also did not help Soko and Kristen to carry forward their relationship. The duo broke up in May 2016.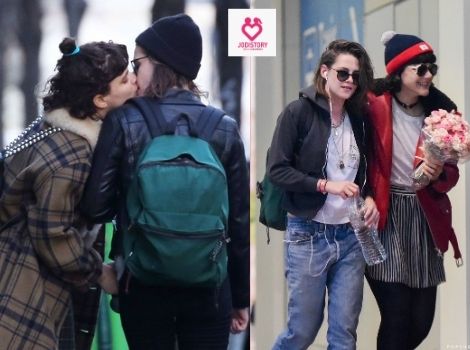 It is interesting many rumors say that the reason behind Kristen Stewart leaving Soko was Robert Pattinson. No, she did not get back with Robert. But when Kristen met Robert at the Met Gala, she realized that she has not found that deep connection yet.
As everyone knows that Robert Pattinson and Kristen Stewart had a really deep relationship. And after seeing Robert, Kristen understood that she has not found that soulmate yet. And that is why she broke up with her girlfriend Soko.
Kristen Stewart's relationship with partner Stella Maxwell on the timeline list
It seems like Kristen Stewart is always getting attention from some of the other females. Kristen Stewart started dating Stella Maxwell in 2017. Stella Maxwell is Victoria's Secret model and she is the next on Kristen Stewart's timeline of the partner list.
The media spotted Kristen Stewart and Stella Maxwell leaving the Met Gala together in 2016. And soon after that, they started seeing each other and also moved in together. The couple was openly admitting each other on Instagram and their pictures were adorable to look at.
But there was a period where the two decided to take a break from each other. Some sources say that it was a mutual decision that they will see different people as they thought it was better for them. Kristen Stewart dated her stylist Sara Dinkin during her break up period with Stella.
But after six months of breakup period, Kristen Stewart got back with Stella Maxwell again in October 2018. The paparazzi took photographs of the two making out on a yacht in Italy. The duo seemed really cozy and affectionate towards each other.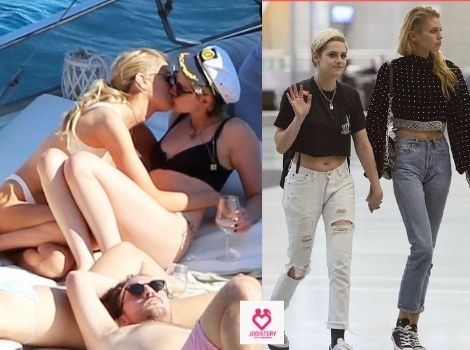 But not everything in our lives happens according to the plan. Despite reuniting with Stella Maxwell after six months, Kristen Stewart and Stella Maxwell decided to end things between them. They thought it would be best for them both. The duo is friendly with each other but never got back together after August 2019.
Kristen Stewart's present girlfriend Dylan Meyer
Kristen Stewart got attached to many males and females. And it is nothing wrong about it. Because you must try to find the best one for yourself. And it seems like Kristen is doing exactly the same thing for herself.
Recently after breaking up with Stella Maxwell, paparazzi clicked pictures of Kristen Stewart and her new girlfriend Dylan Meyer in New York City. The duo was caught in a cozy and romantic situation. Dylan Meyer is a screenwriter. The duo is dating each other since August 2019 and seems quite in love with each other.
In an interview with Howard Stern, Kristen Stewart revealed that she met Dylan on the sets of a film. But after six long years, the duo started dating each other and that too after just two weeks of the meeting. The two met each other at a friend's birthday party and soon after Kristen Stewart expressed her feelings to Dylan.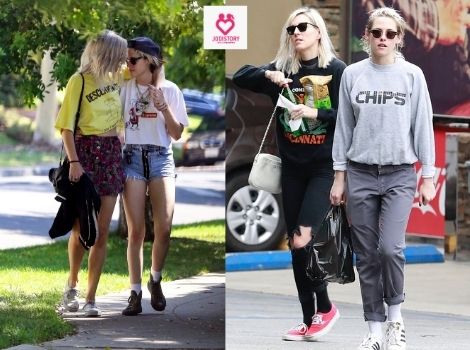 Kristen Stewart expressed her love to Dylan Meyer in a bar and she said, "Oh man, I'm so fucking in love with you". And to the reply, Dylan Meyer said, "Like, done." It is really adorable how two people meeting after ages just felt the same way for each other.
Kristen Stewart's marriage plans
Asking about her marriage plans Kristen Stewart immediately replied that she just can not wait to propose to her girlfriend Dylan Meyer. Kristen and Dylan both knew that they have an instant connection and that is why they both got into a relationship so soon.
Kristen Stewart seems really happy in her relationship with Dylan Meyer. And she admitted that she has multiple plans to propose to Dylan for marriage. She also accepted that she is very much impulsive to do the thing soon.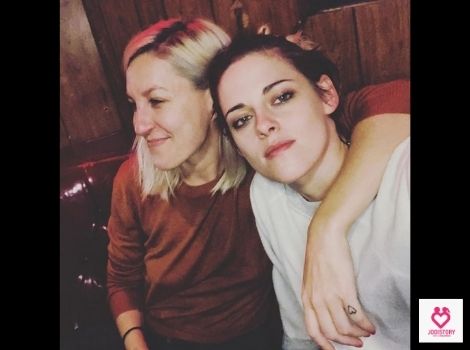 Another really cute thing Kristen said in that interview about Dylan is, "I want to make movies and kids with this girl. I can't believe I'm so lucky. I literally drew her in a dream, and now she exists." It is really adorable how Kristen Stewart is owning up to her feelings so strongly.
Must read love stories
Conclusion
So, I have come to the end of Kristen Stewart's affairs relationship & love story timeline. The one thing we all have to agree is that Kristen Stewart is really brave to accept her reality of bisexuality in front of the whole world. Not everyone has that courage of coming out so boldly.r
And now when she has accepted her sexuality so gracefully, it is evident that she is super happy in her current relationship with Dylan Meyer. Dylan has also wished her lady love Kristen with a beautiful post on Instagram. The duo seems pretty happy with each other. And let us all hope for the happiest ending for the couple.