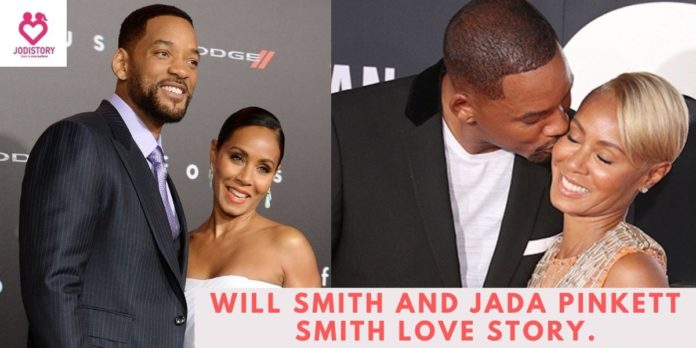 Will Carroll Smith Jr. is one of the most versatile actors of Hollywood. Not just an actor he's a producer as well as a rapper. In fact, he was 'the most powerful actor of Hollywood'. Some of his highly acclaimed movies include The pursuit of happiness (2006), Men in Black (1997), Bad boys (1995), and many others. He received five Golden Globe Awards, four Grammy, and two Academy Awards. Will Smith and Jada Pinkett Smith's love story is truly an exceptional one.
Jada Pinkett Smith is also an American actress, producer, and screenwriter. Her first big break was with the movie The Nutty Professor (1996). After that she starred in different movies like Set It Off, Scream 2, Ali, The Matrix Reloaded, and many more. Will Smith and Jada Pinkett married in 1997. Since then they have always proved that true love can overcome any hardship.
Their marriage faced many ups and downs but their love for each other was always constant and nothing could shake that. They did not let the negativity of the world affect their relationship and this is something we should all learn to do. So, without any further delay, let's get started!
How did Will Smith and Jada Pinkett Smith Meet?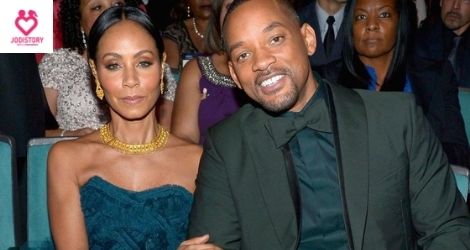 Will Smith and Jada Pinkett first met when Pinkett went to audition for the famous American sitcom 'The Fresh Prince Of Bel-Air'. She was auditioning for the role of Smith's character's girlfriend.
She was rejected. As she was too short for the role. Instead, Nia Long got the role. To date, they did not work (as actors) in any movie together but they produced few movies together and they have a joint production company called Overbrook Entertainment.
That's where Will Smith and Jada Pinkett's exceptional love story started. Even though Pinkett could not be Smith's on-screen girlfriend, she sure became his off-screen leading lady. After this encounter, soon they started dating and they are creating history since then.
Will Smith and Jada Pinkett started dating in 1995. Smith confessed in Red Table Talk. He was attracted to Jada much before they started dating. But he was not making a move on her. Because he was married to Sharee Zampino at that time. He knows divorce is never an option for him.
Smith said "once I went to have dinner with Sharee and I went to the bathroom and started crying and laughing hysterically. I knew I was not the person I am with and I knew I should be with Jada". He said, when he got to know Jada, he knew that she was the one for him. But his hands were tied as he was already married.
Soon after this bathroom-incident, Zampino filed for a divorce and finally, Smith was free. Subsequently, he asked Jada out. He asked her if she was seeing anyone and she replied no. And that was the beginning of an epic romance in the history of Hollywood. Will Smith officially got divorced in late 1995.
Will Smith and Jada Pinkett Wedding.
After dating for 2 years, Will Smith and Jada Pinkett tied the knot in December 1997. It is very interesting to know that the day after they got engaged Will and Jade found out that they are pregnant. It was a double celebration for them. So when Jade walked down the aisle on 31st December 1997, she was three months pregnant.
Jade Pinkett wore a velvet, champagne-colored gown for the wedding ceremony. Mr. and Mrs. Smith got married in a private ceremony at a hotel in Jade's native city, Baltimore. As it was a very intimate ceremony with only close friends and family involved, no invitations were sent out.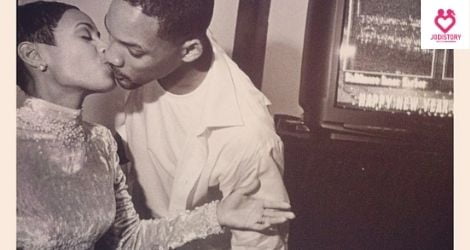 That is why there were very less pictures of the wedding. But Jade shared the picture above. It was on New Year's Eve right after their wedding ceremony. But it was not the fairytale wedding that all girls dream about. It was very intimate and meaningful.
Will Smith And Jada Pinkett Smith Children.
Will Smith and Jada Pinkett Smith have two kids together, Jaden Smith and Willow Smith. Jada Pinkett Smith is also step-mother to Trey Smith, Trey Smith is Will Smith and Sheree Zampino's son.
First Child: Jaden Smith.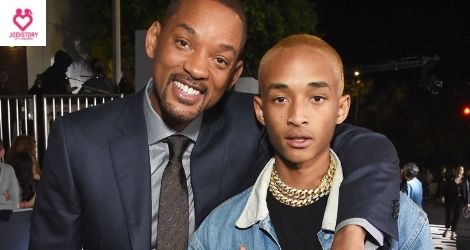 On 8th July, 1998, Jade Pinkett Smith delivered a healthy baby boy. He was named Jaden Smith. The first child of Will and Jada Smith. Jada Pinkett had a speedy delivery. In an interview with Fit Pregnancy, she said, "the doctors said that the baby would take around one and a half hours to deliver and I was too anxious to meet the baby. But surprisingly it took only 20 mins. My mother is a nurse and she was amazed."
Jaden Smith is blessed with his parents' amazing acting and singing skills. As we all know Jada is also a singer and Will Smith tried out his rapping skills too and he was successful in that too.
Jaden Smith did not work with her mother in any movies yet but he worked with his superstar dad in two of his movies namely, After Earth (2013) and The Pursuit of Happiness (2003). Both the movies were blockbusters.
Not just that, he released his debut studio album in 2017, called 'Syre' which is also his middle name. Will Smith used his son's hit song in a tribute video in May 2018 which is incredibly supportive of him. And we can only imagine how proud he must be of his son.
Jaden Smith has achieved a lot of things at a very tender age. Of course, he got more opportunities than ordinary people do but we need to keep in mind that opportunities only come when you have talent. And there is no doubt about this young superstar's talents. He surely has acquired a lot of it from his parents.
Second Child: Willow Smith.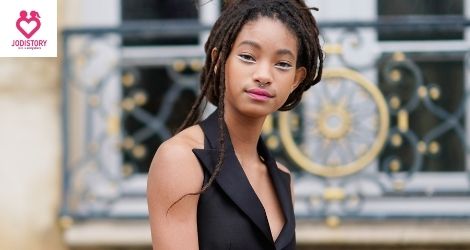 Willow Camille Reign Smith was born on 31ST October 2000. In an interview with Vh1, 'Dear Mama Special' Smith revealed that their daughter and their second child was conceived during a drunken trip in Mexico.
Like her brother and her parents, Willow Smith has numerous talents like acting and singing. This is what happens when two enormously talented people decide to have kids! Both their kids are equally talented like their parents.
Willow Smith appeared in the movie 'I am Legend' with her father, Will Smith. Other than that, she released her first song "Whip my Hair" in 2010. She was just 10 years old when she made her debut song! How amazing! She gained a lot of popularity with the song not because of her parents but for herself.
Nowadays, Willow spends most of her time modeling and co-hosting Red Table Talk with her mother and grandmother, Adrienne Banfield-Jones. Willow still keeps her singing career alive by performing in major music festivals.
We all can agree that Mr. and Mrs. Smith are blessed with one of the most amazing kids ever. They are not only making their parents proud but also doing a lot of things for themselves and enhancing their own talents. This will definitely help them being better singers or actors (whatever they chose to be) in the future. All we can do is wish the very best for them and see them shine bright!
Married Life of Will Smith And Jada Pinkett Smith.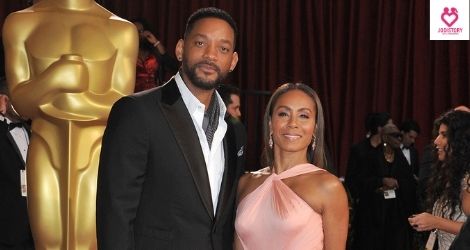 Will Smith and Jada Pinkett Smith's love story is exceptional and so is their married life. They went through many ups and downs and there were many bumps in the road but never did they give up on each other. They always knew they belong together.
Their love story contains betrayal, misunderstanding, separation, controversies, rumors, and all of that drama. I am sure you're eager to find it all out. But don't worry. We are here to tell you all about it. So sit tight and keep reading!
Rumors about being in an open marriage.
Recently, their relationship has been in the stoplight for a few of their marital issues. Jada Smith revealed she was involved in an 'entanglement' with singer August Alsina in 2016. while the couple was separated. We know you're excited to know all about it but before we get to know let's see what happened before this 'entanglement'.
In 2015, at an interview, Jada commented about her marriage. She said, "Will can do whatever he wants as long as he can stand in front of the mirror and feel alright about himself. Because at the end of the day he's his own man and I cannot decide for him as to what kind of man he wants to be. He has to decide for himself."
This particular comment raised many questions about their relationship and people suspected they were in an open marriage. The media and paparazzi started questioning them a lot and at last, Jada had to make a comment to stop the rumors.
Later, in a Facebook post, she denied all the rumors of being in an open marriage. And that surely calmed the media down. She also said that there were far more important issues going on in the world to discuss than her marriage. And that was quite sassy!
Rumors about Will Smith and Jada Pinkett Smith divorce.
For some reason or the other people started assuming Will Smith and Jada Pinkett Smith are divorcing each other. This rumor was spreading like fire. Finally, Will Smith made a statement on this issue. He was quite frustrated with this and wrote in caps "Jada and I are NOT GETTING A DIVORCE."
Later in 2018, Jada said "We are like family and life partners. At the end of the day I know I can rely on this man for the rest of my life." Isn't that the sweetest thing ever?
Jada Pinkett Smith's affair with August Alsina.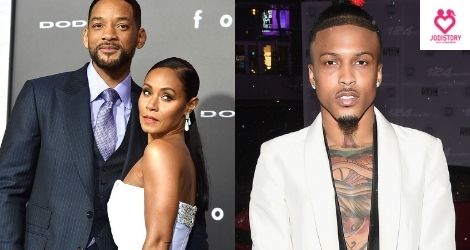 Reportedly, Jada Pinkett Smith had an affair with singer August Alsina in 2016. At that time she separated from her husband. She revealed that she had an "entanglement" with singer Alsin. She was apparently helping him through his struggle with addiction. And she thought her relationship was over with Will Smith at that time.
Not just that, rumors are that Will Smith was involved with Heidy De la Rosa at the same time. At this time they took a break from their marriage. And decided to separate for the time being. Though the involvement of Will Smith with the model is a rumor and has not been accepted by either of them.
Jada Pinkett Smith accepted in Red Table Talk. She involved herself in an 'entanglement' with singer August Alsin. She added, "I just wanted to feel good and it had been a long time since I felt good." Which probably indicated to their condition of marriage back then.
Fortunately, they got through it. They overcame this obstacle too and as of now, they are happily back together. Now they share, "unconditional love' for each other. In 2005, Will Smith said "Divorce is never an option for me. I stood in front of God with Jada and made a promise to stay together forever and said 'Til death do us part'.
Evidently, he kept this promise till date. He even said that no matter what Jada does he can never leave her because they are more than just husband and wife. They are partners for life. I think we all can agree that this kind of commitment is rare in today's world. Will Smith and Jada Pinkett Smith's love story is exceptional and out of the world.
MUST-READ LOVE STORIES-
Conclusion.
Will Smith and Jada Pinkett Smith's love story is exceptional. They have always stood by each other no matter what. Even on the darkest nights their love for each other never faded in that darkness. They are truly an inspiration for our generation.
In our generation, we lack this type of commitment. We tend to give up as soon as things get hard. And that is where we go wrong. We need to stick around for the people we care about and show them that we love them. But most of the time we fail to do and end up suppressing our feelings.
Will Smith and Jada Pinkett Smith have shown the world the true meaning of marriage. They always helped each other through everything and an impeccable amount of understanding between each other.