Sourabh Raj Jain and Ridhima Jain Love Story will leave you in awe. He is an Indian actor and former model. He was born and brought up in The City Of Dreams – Mumbai. This handsome young man belongs to a middle-class Jain family, but he follows Buddhism since his teenage.
This amazing actor has done many TV serials such as Uttaran, Chandragupta Maurya, Patiala Babes, and Kasamh Se. He is best known for his role of Lord Shiva in Mahakali. He has also played an important role in a Hollywood film Karma.
Sourabh gained a lot of popularity after acting in Ekta Kapoor's Parichay. This young gentleman then acted in Swastik Productions' Mahabharat and played the role of Lord Krishna. Sourabh described it as a "game-changer" for his career. He has also played his role phenomenally in movies Check in Bangkok and On Namo Venkatesaya. He also participated in Nach Baliye Season 9 with his wife.
Must-Read Love Story
Sourabh Raj Jain & Ridhima Jain Love Story Began In First Meet
Ridhima Jain was born in Delhi, India. Ridhima Jain is an Indian television personality. She is a software engineer. Ridhima has also worked at a post of manager with Lifetime TV Channel. Ridhima has also participated in Nach Baliya 9 as a celebrity contestant with her husband.
This beautiful young lady has always shown a keen interest in fitness. Since childhood, she had her interest in dancing. She has even shown a deep interest in the television world. She completed her graduation from Mumbai. For further studies, she went to Brazil as well as Sao Paulo. Read ahead, to find out how Sourabh Raj Jain and Ridhima Jain Love Story began in a moment.
Where Did Sourabh Jain and Ridhima Jain Meet?
Ridhima and Saurabh met at the Lobo Dance Academy in Noida. They felt connected instantly. After it, they started dating each other. Soon, they started dating. They didn't even take a year to decide that they are sent on Earth to be each other.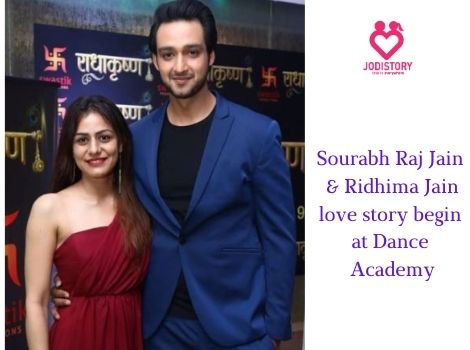 The couple dated for three long years and finally decided to marry each other. Three years down the lane, after being in a healthy relationship, the lovebirds took the wedding vows on November 28, 2010. Sourabh Raj Jain and Ridhima Jain Love Story were about to turn forever.
Their marriage was a private ceremony and there was no media coverage of the same. They kept it such a huge secret that no fan had an idea about the same.
Sourabh Raj Jain and Ridhima Jain accept relationship in public
On July 18, 2019, for the first time ever, the actor shared his wedding pictures on social media. Sourabh Jain got emotional while posting about his marital journey with ladylove, Ridhima Jain.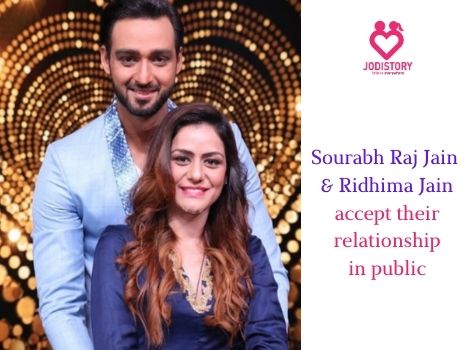 Sourabh wrote, "One we've never shared on social media earlier. One of the most special moments of our lives, when we 'officially' became life partners! A new journey started on this day (28th Nov) and each day with you has been special. I would love to say 'each day with you by my side' but we both know that while metaphorically we are ALWAYS there for each other, distance has existed which has strengthened our relationship but also thrown lots of challenges our way."
Adorable Couple Winning Hearts In Nach Baliye 9
In 2019, the couple participated in Nach Baliye Season 9. They won millions of hearts by their chemistry. The world was left in awe by seeing their love. Sourabh writes how 2019 is a new beginning, he wrote The actor wrote, "And now with 2019, a new journey is about to begin! They say your blessings come in disguise, I say mine is by my side!
You have truly been my pillar of strength, my support system, my life partner, my soul mate and so much more! I am looking forward to the time we will finally spend together this year, I am looking forward to taking on n new challenges together, I am looking forward to new beginnings in this journey of ours!." It has been seven years since actor Sourabh Raaj Jain tied the knot with Ridhima. The actor credits his wife for his success and says that she has brought out the best in him.
Sourabh Raj & Ridhima On His Marriage:-
When Sourabh Raj Jain was asked regarding his marriage, he said:- I think I don't get angry so often after marriage. This is primarily because initially when I used to get angry over things, it would make Ridhima unhappy and I can't see her not smiling," adding, "I think my life is much more sorted".
When he was asked what are the secrets of a happy marriage:- He answered:- There can be no tips as such. My suggestion to everyone would be to marry someone as long as you really want to get married and not for any other reason. If you agree to get hitched for some other reason and it doesn't materialize, then it just turns into a sad story,"
Sourabh Raj Jain and Ridhima Jain twin children
The couple was blessed with twin babies on 21 August 2017. According to reports, Sourabh was busy in a shoot. He received a call and ran off instantly Fri his wife's delivery. After one long year, On the occasion of their first birthday, Sourabh has posted the first picture of his twin babies.
Sourabh Raj Jain has posted a collage of two pictures on his social media account sharing the first glimpse of his twin babies along with announcing their names. The couple has named the twin babies Hrishika and Hrishivh. Mr. Jain posted the picture on Instagram with the caption, "Today our chipmunks turn one…..????????????????.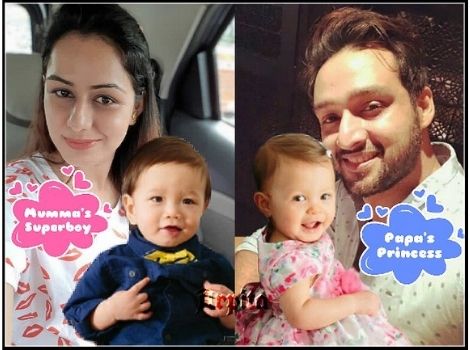 Sourabh Jain even announced the name of his children after one long year on social media. He announced it on their first birthday. When asked about his kids, Sourabh answered:- The feeling can't be described in words. One has to experience it to understand. I feel blessed."

Happily Ever After:-
The couple is living a very happy life together. Sourabh, Ridhima, Hrushivh, and Hrishika are each other's universe. Both are now enjoying being parents to their little bundle of joys.