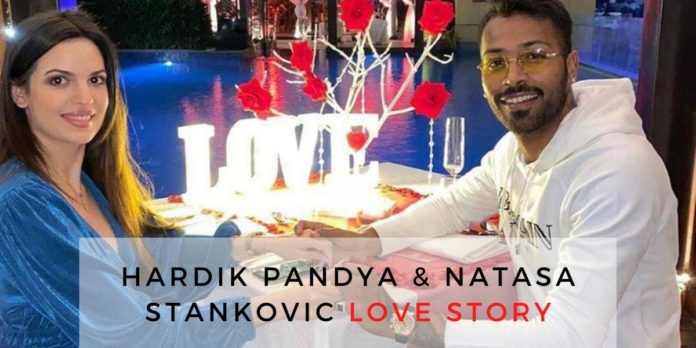 Hardik Pandya and Natasa Stankovic Love Story broke all orthodox barriers. Hardik Pandya was born in Surat. He is an Indian International Cricketer. His father, Himanshu Pandya, ran a small car finance business in Surat which he shut down and shifted to Vadodara when Hardik was five. he did so in order to facilitate his sons with better cricket training facilities.
Hardik studied at the MK High School until ninth grade. After it, he dropped out of school to focus on cricket. Pandya has been playing for the Baroda cricket team since 2013. He played for India during the 2016 Asia Cup and 2016 ICC World Twenty20. He has received the man of the match award for two times.
Hardik Pandya made a record by smashing 30 runs in one against bowler Ashok Dinda. He performed that great in the 2019 IPL season he earned a lot of name in the Cricinfo IPL XI. He became the fourth Indian to be named player of the match on ODI debut after Sandeep Patil, Mohit Sharma, and K. L. Rahul. He was selected in the ODI XI of the year 2017 by Cricinfo.
Must-Read Love Story
Hardik Pandya and Natasa Stankovic Love Story Will Touch Your Heart
Nataša Stanković is a Serbian dancer, model, and actress. She was born in Serbia in 1992. In 2012, she moved to India to pursue a career in acting. she made her first debut in Bollywood by playing her role phenomenally in the political drama Satyagraha directed by Prakash Jha. She became popular when she appeared in the music album "DJ Waley Babu.
Natasa has done many films, some of her popular movies are- 7 hours to go and Zero. She made her digital debut in 2019 with the web series The Holiday by Zoom Studios. This hot young lady has also been a Bigg boss season 8 contestant. She also participated in Nach Baliye Season 9. Read ahead, Hardik Pandya and Natasa Stankovic Love Story, the story of love birds.
Hardik Pandya & Natasa Stankovic Love Story Begin With Friendship
Hardik and Natasa met each other at a nightclub. They felt an instant connection, within a fraction of a second. Hardik introduced Natasa to his family when Natasa visited his family to celebrate Diwali. Natasa had also accompanied Hardik to a few of his cricket parties.
With time, Natasa and Hardik became really close friends. When Hardik Pandya was on Karan Johar's chat show, Koffee With Karan, he made headlines for his controversial comments. HE faced a lot of criticism. It was a tough phase for Hardik. He was even banned from a few matches.
The first factor due to which Hardik Pandya and Natasa Stankovic Love Story began was Natasa sticking by Hardik's side in a difficult time. While he was passing through this rough period, his friend Natasa was always by his side to support him. They started spending more time together and eventually came closer. Natasa soon became a part of every celebration Pandyas had.
The Dreamy Proposal, Engagement of Hardik Pandya-Natasa
Hardik proposed Natasa in the most dreamy way. He went on his knees in a ship and the live singer was singing romantic songs in the background. In December, Hardik Pandya proposed Natasa and announced engagement with her along with some beautiful pictures and videos on his Instagram. The couple got engaged in Dubai on a speedboat.
During a live session with cricket commentator Harsha Bhogle. Hardik Pandya talked about his engagement, he said, "My parents also didn't know that I was getting engaged. Two days before (the engagement), I told Krunal. I told him, 'I have had enough. I have found someone in my life who I love, and I am becoming better'. They (family) backed me and told 'do whatever you want'."
Marriage of Hardik Pandya and Natasa Stankovic
The couple announced their marriage on social media and surprised everyone. They had a very private ceremony and the public had no idea regarding the same. Everyone was left in shock when Hardik announced that he and his better half are married.
He posted a picture where he and Natasa could be seen performing wedding rituals. There wedding is much like " Chat Mangani Pat Vyaah". In May, the couple made news regarding Natasa's pregnancy official.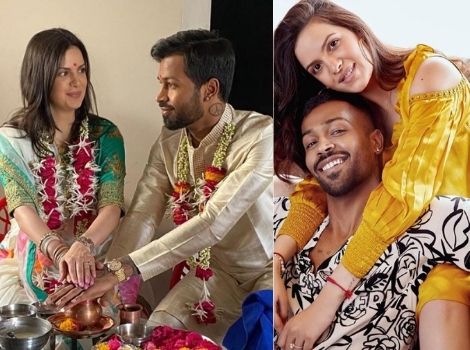 Hardik Pandya declared this news on his Instagram by posting beautiful pictures with the caption " Natasa and I had a great journey together and it is just about to get better. Together we are excited to welcome a new life into our lives very soon. We seek your blessings and wishes".
Must-Read love story
Hardik Pandya-Natasa Stankovic child is a baby boy
On July 30, 2020, the couple was blessed with a baby boy. Hardik socially thanked all hospital staff for doing the safe delivery of her woman and for bringing his baby in the world. Since then, the couple is enjoying Parenthood and is more than happy with each other. Together they set a couple of goals and teach us what true love actually is.