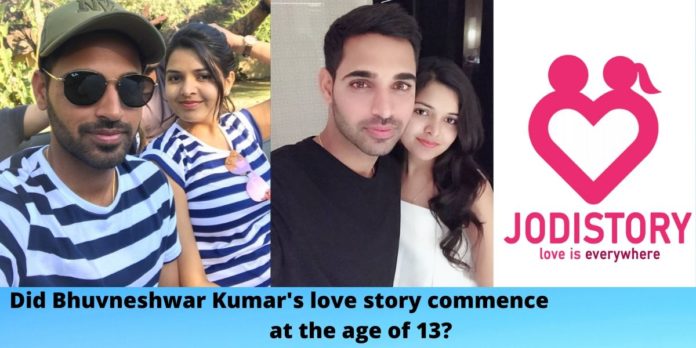 Those who are ardent cricket fans know about current Indian pace attack. With bowlers like Jasprit Bumrah, Mohd. Shammi, etc; Indian pace attack is at its best. However, there's one bowler who defies all qualities of an Indian Pacer. Unlike aggressive bowlers, he is calm, humble and peaceful. Who might be that bowler? Obviously, none other than, Bhuneshwar Kumar! Bhuvneshwar Kumar's love story with his childhood friend Nupur Nagar began at the age of 13. How it commenced? Was there a proposal?
Answers to such questions are revealed below!
Must Read the following stories:
Bhuvneshwar Kumar and Nupur Nagar are childhood friends
Bhuvneshwar Kumar has known Nupur Nagar since the age of 12-13. They used to stay in the same colony and hence have known each other like forever!
Apart from that, our quiet so shy bowler would use cricket as a tool to attract her attention. Whenever he used to hit a ball, he would aim at her house. The method proved impressive and ultimately gained results.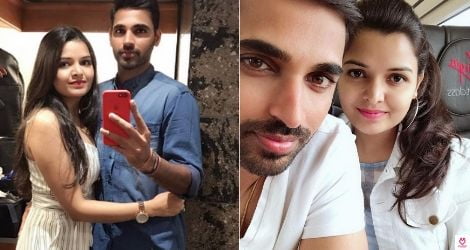 Bhuvneshwar Kumar's love story faces hurdles
Apparently, the talk about future career and relationships can either prove a miracle or one's worst nightmare. It was Nupur who initiated their future discussion.
Nupur Nagar is a software engineer by profession. At that time, her future with respect to her career was clear. But her future with respect to her relationship was not. Bhuvneshwar was a struggling yet talented cricketer, who played in Ranji Trophy.
However, Bhuvneshwar assured Nupur that if he continues to play well, he would get a chance in the Indian cricket team. Hence, Nupur took interview of Bhuvneshwar about his future, long before her parents could do it.
No wonder, the long term planning turned out to be successful.
Bhuvneshwar proposes Nupur
A proposal for marriage is the most difficult question that one can pop. And the time taken to answer that question seems like an eternity. For this happy couple, it proved no different than others.
Bhuvneshwar was quite creative when he popped the question to Nupur. In the game of question-answers, he proposed her first via a text message. The first proposal followed another via a phone call.
Nupur immediately agreed, embracing the happiest moments of her life. However, Bhuvneshwar proposed her for the third time face to face.
How cute that a taciturn man turns eloquent when it comes to his lady-love, isn't it?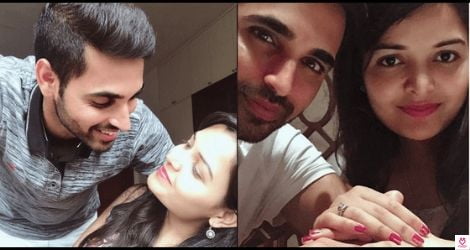 Bhuvnehswar Kumar's love story faces objections from parents
Surprisingly, neither of the couple's parents knew about their children's affair. Bhuvneshwar's parents learnt about it through someone else. For Bhuvneshwar it turned out to be a good thing. Otherwise, he may not have had the courage to confront them.
It took some time for their parents to accept it. Eventually, the agreed.
Bhuvneshwar and Nupur's marriage
When their parents agreed, they decided to get married. They got engaged in a private ceremony on October 4, 2017. The couple tied the pious knot in a grand ceremony at Meerut on November 23, 2017.
The newlyweds hosted two receptions. On November 26, it took place in Bulandshar, Nupur's home town with close friends and family in attendance.
On November 30, they hosted another in New Delhi with BCCI's members, Indian cricket team and UPCA in attendance.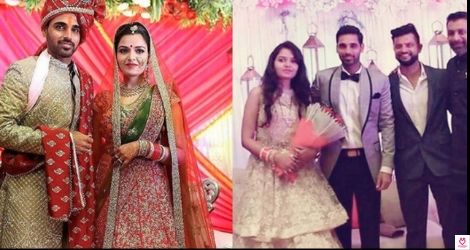 Must Read the following stories:
Conclusion
A cricketer has to face ups and downs not only in his career but in personal life as well. Bhuvneshwar managed to face them well with his wife's support. She supported him when he was just a struggling cricketer. However, when he succeeded, she was still with him. They say a man's loyalty is tested when he has everything and a woman's loyalty is tested when she has nothing. Nonetheless, the couple's love and loyalty towards each other is inspiring.