Last Updated on March 4th, 2020
Mesmerised by your looks when I saw you for the very first time. Not knowing what to say what to do. All I had in my head was to make you mine once and for all. Took a step forward to have a conversation with you.
Yuvraj first date with Hazel
I still remember that day when I asked you out for a cup of coffee and you said "Yes". I had fallen for you. But when the day was near you had switched your phone off. Not once but several times I had tried to meet you up, to just have a talk, to just know to better and just to fall in love with you even more. But couldn't.
Yuvraj broken heart
When I was suffering from cancer I thought I would tell you that. I don't know why I felt it's important to tell you. But Hazel your reply was a shock. It said "Good Luck, Take care". Confused by that I thought you are a weird person and deleted you from my contacts.
Must-Read Love Story
Yuvraj love reborn for Hezal
Three and a half years passed all this had happened. Well it was then I found out that we had one mutual friend on our Facebook profiles.
I tried contacting him just to know about you. You had got into my head, I made efforts to take this forward. Finally, got a chance to meet that mutual friend and ask him about how he knew you.
Casually he said he met you, that made me go "Brother, Stay away she's weird, I've been trying to meet her since three and a half years and got no response; She didn't bother and now it's only her I'll get married to".
Yuvraj Singh marriage
One fine day, you accepted my friend request, and I greeted you saying thanks for accepting my request after "Three and a half years". I remember when you said "Come on now, you have waited for years, let's meet up".
Our first meet I can never forget. Your manly walk, your "Oh so casual" way to dress. That's when I thought I should concentrate on your pretty face and yes I had fallen even more.
But yet again, Girls you see. One more year passed, after which you had accepted the proposal to you. And we tied a knot on 30th November 2016.
YUVRAJ
WEDS
HAZEL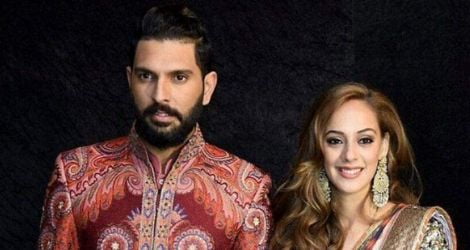 A day when I finally made you mine. When I could wake up to see your pretty face every morning. The feeling to call you mine is just so good. All I want to say to you my love is that..
*Thank you!!*
You may not know the favour you've done to the world
Life seems easier with you which was curled
You are as precious as a Diamond
Life has a meaning which was once an isolated island
No one could hear or understand this voice
Being with you every second of my life I rejoice
Every moment spent while with you is a delightful bliss
Before you it was just a remiss..
This was the wonderful Yuvraj Singh love story.