Two separate professions. Yet share common feelings for each other. Let's dive into and read Yuzvendra Chahal And Dhanashree Verma Love Relationship Story.
Yuzvendra Chahal is a very talented person. He is an Indian cricket player. And also a former chess player. Not just that. He represents India in both One Day Internationals and Twenty20 Internationals. He is also a world-class bowler. Now, this talented individual falls in love with another very talented person. Dhanashree Verma.
So, Dhanashree is a famous Youtuber. Also a successful dancer and even a dentist. And they both make an amazing couple. Not just their talent speaks about their bond. But also their fun-loving and bubbly nature binds them together. So, let us know how this diverse yet so similar people fell in love with each other. Scroll down to witness a fairy tale love story.
Must Read
Yuzvendra Chahal And Dhanahsree Verma's teacher-student relationship
Yuzvendra and Dhanashree came in contact through social media. It was Yuzvendra who wanted to learn dance. He came across Dhanashree's Dance videos. And contacted her for the same.
Soon he started to take dance classes. And slowly their dance classes changed to dates. They felt a spark for each other. And soon became close friends.
It was all during the lockdown in April. That they came close. They dated for a small time. But definitely made great memories. So let's have a look at them.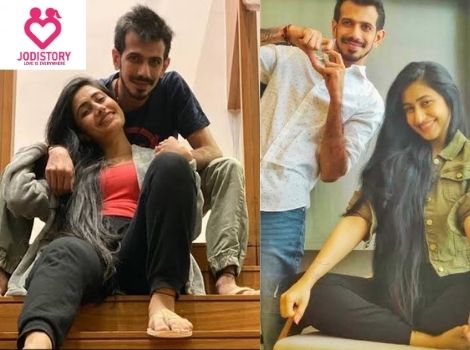 Don't they look damn adorable? Yaa, they definitely do. Although they have started dating in April. They haven't revealed it back then. It was in August that they surprised their fans with their engagement news.
They had a small Roka ceremony. But later had an amazing engagement and marriage. So, let us know about Yuzvendra Chahal And Dhanashree Verma Love Relationship Story in detail.
Yuzvender Chahal And Dhanashree Marriage.
The couple's engagement is one of a dreamy one. They both look spectacular in their outfits. The couple has uploaded a lot of pictures on Instagram. And their fans have just showered their pictures with love. Their marriage was as beautiful as their engagement. So let's have a look at their pictures.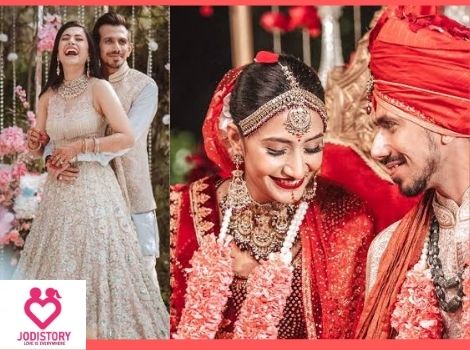 The couple has just rocked Insta and Youtube. With their lovely pics. They are now seen as the most happening power couples. The couple fell in love with each other's qualities. They loved the way how they were ambitious and supportive. This made them immediately fall in love. Though it was Yuzvender who proposed first. But Dhanashree also did not take a moment. And just said yes.
Yuzvender Chahal and Dhanashree Verma's Reception
Now after their amazing wedding it was time for the reception. The couple as usual look awesome in their outfits. Dhanashree nailed the look with her pink gown and a unique blouse. Where Yuzvender looked dashing in his black suit.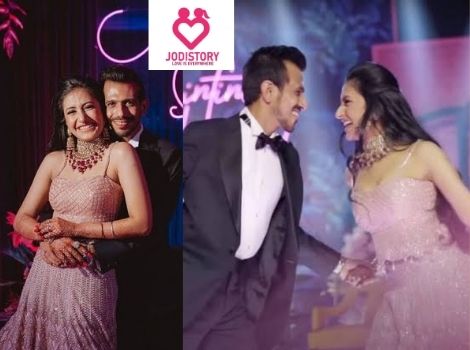 They both enjoyed it a lot. they danced together and just rocked the party. And According to them. This is what happens when two energetic enthusiastic people meet. All in all, they had a blast at their reception.
Yuzvender Chahal And Dhanashree Verma after wedding scenes.
The couple is undoubtedly too friendly. And this has continued even after their marriage. Yuzvendra has also started accompanying Dhanashree. With her cute and quirky reels. They continued roaming around the world. And Dhanashree took out time to support Yuz during his cricket matches.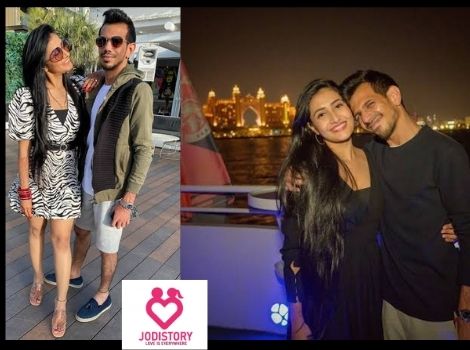 The couple just looks inseparable. And too much in love. Their bond hasn't changed. And have just got stronger with time. They also keep updating their fans with their awesome pictures. And entertain the fans with the cute reels. We hope they continue to do so. And stay happy.
Must Read
Conclusion
Behind a happy marriage or a successful relationship. They go into a lot of effort. And also it's first necessary to love yourself so as to love the other person. And as evident from their story. The couple had a lot of self-love. And so they also have a lot of love for each other. It's very important to stay happy so as to keep others happy. And so this duo always stays this happy. We hope their bond stays like this. And they stay consistent with their career as well as love. We hope their dreamy love story never breaks. What do you guys feel? Comment down below.