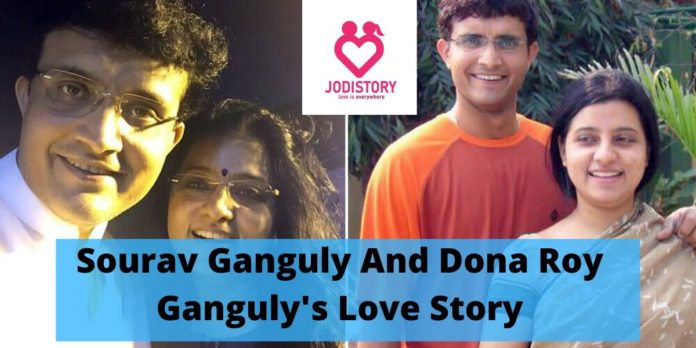 Sourav Ganguly is one of the successful Indian cricket team captains ever. When he captained team India they had the most number of wins in matches. He had a great quality of leadership. And which laid continuous success and made him superstars. Along with this he also has great skills of recognizing the young talent and always encouraged them in the Indian cricket team, thus also making him an excellent selector. Between all this are you all aware of Sourav Ganguly And Dona Roy Ganguly's.
Sourav married his childhood love, Dona Ganguly, in 1997 as their family was against their wedding. Their love story could have been written and turned into a film. Are you excited to know all about their love story?so don't go anywhere and join us to make your time memorable. Know where they met? How they married. scroll down.
How Sourav Ganguly And Dona Roy Ganguly's met?
Sourav and Dona's love began in childhood and they had puppy love. They both knew each other right since their teenage days, as both would stay next door to each other. Ganguly would pass by her home several times on his way to football match practice or for some activities and would see her. Sourav would also pass by Dona's school on certain days in the hope to see her.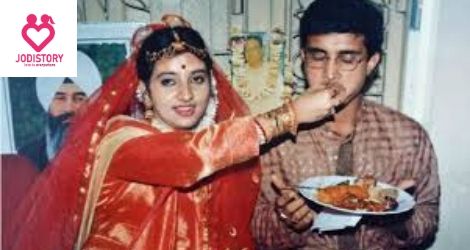 For Dona his wife, it began when Ganguly would play badminton outside his home. Whenever the shuttlecock would come into Dona's house, she would be happy because she could then go to give it and would get a chance to see Sourav. While the pair don't exactly remember when they fell in love, they do remember their first date.
Sourav Ganguly And Dona Roy Ganguly's first Date
They had their first date at a Chinese restaurant Mandarin, in Kolkata. Dona Ganguly remembers that Dada ordered a lot of food and they (majorly Sourav) ended up eating it all.
Must-Read love Story
She also remembers being surprised at the large quantity of food he would eat.
Sourav Ganguly And Dona Roy Ganguly's Love Story began
Things were slowly turning serious. While Dada's parents were against this initially, they became okay with the union. But the Roys (Dona's Family) were not, especially her father, who had problems with the Sourav family ages ago. But slowly all happened they had two marriages lets see that.
Sourav Ganguly And Dona Roy Ganguly's Secret wedding
After the Indian team's England tour Sourav already had a plan. Ganguly would take Dona away for marriage to the registrar. And both then married. They held the marriage at the cricketer's friend's place and Dona Roy thus became Dona Ganguly.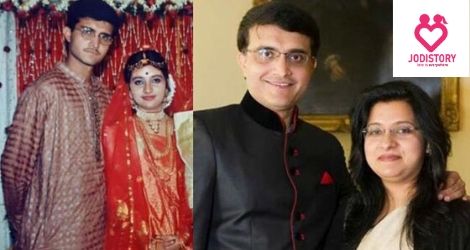 After they came back, the wedding was kept hidden for a long time. When Dona's family came to know about it, they were furious. However, they accepted Sourav and calmed down. Didn't their love story sounds like a script? It is.
Short Secret And The Second Marriage
The pair managed to keep their marriage a secret for six months, after which their families started looking for suitable matches for both. Then a local media got a whiff of the hidden wedlock and ran a column about the upcoming cricketing star and his less-known wife. It was the time they realized they need to make a revelation, which they did so in 1997.
On February 1st, 1997, an open wedding ceremony took place, where both received their parents' blessings. They invited many cricketers. Many years have passed after their wedding, they still remain happy, content and in love.
Even today, Ganguly prefers spending quality time at the house with his wife, then going outside and attending functions. They are normal people and are happy to be wrapped up in each other's company, at all times.
Happy Married life
Sourav Ganguly and Dona have been in a long relationship ever since. The couple has given birth to a beautiful daughter Sana.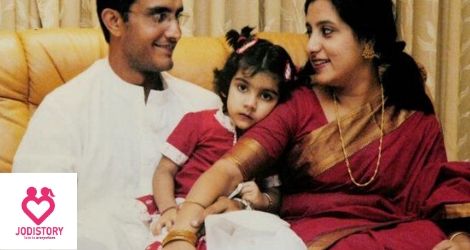 Must-Read love Story
And she is walking under the footsteps of her mother Dona and is learning classical Odissi dance.
Conclusion
Sourav family is one of the lowest profile families in the cricketing career as they love it that way. This is the end of Sourav Ganguly And Dona Roy Ganguly's Love Story. Their love story is just like a Bollywood film script. They have shown that true love exists. On that note, we wish them and their happy family all the very best for the coming years.Comment down your views.